You've done the map work, put in your time on the water, shook off bites in practice, and nobody else has found your spot as you pull up to it the first morning of the championship.   You line up and make the perfect cast time and time again.  With each cast you fill the livewell, culling up on occasion.  All of a sudden you notice some of your fish in the box aren't doing well.  The first thing that runs through your mind is the possibility of damaging the precious resource that is the fish.  Second, you begin worrying about the penalties that will be assessed at weigh-in due to dead fish. What next?
A good way to avoid finding yourself in this circumstance is through planning and preparation.  A good place to start in your preparation is to get ice before starting your day on the water.    "At the Collegiate Bass Fishing Championship we provide ice for the anglers every day of the event to help with fish care.  We also spend time educating anglers every year about fish care and companies like T-H Marine really standout when it comes to providing information and products to help with fish care," said Wade Middleton, Director of the Association of Collegiate Angers.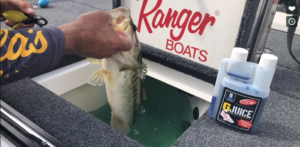 An additional asset that can assist in fish care is offered by T-H Marine.  The T-H Marine G-Juice Livewell Treatment and Fish Care Formula helps to keep fish healthy, and ensure anglers do not incurr costly penalties at weigh-in. This product is designed to add essential electrolytes to livewell water while removing harmful nitrates, ammonia, chlorine and heavy metals. T-H Marine G-Juice ensures your catch makes it to the dock at their optimum weight.
The G-Juice formula was developed from over 15 years of research and is proven to replace skin slime, and stop fish from bleeding. A fish under duress can experience weight loss or regurgitate what it has recently eaten, causing you to lose precious ounces. Protect yourself against penalties, and fish against injury, with the T-H Marine G-Juice Livewell Treatment and Fish Care Formula. T-H Marine G-Juice is the trusted choice of BASS Elite Series pro, Gerald Swindle.
Approved for use with THE OXYGENATOR
NON-TOXIC to Humans, Pets and Aquatic Life
Removes Nitrites, Ammonia, Chlorine, Chloramines, and Heavy Metals
Adds Essential Electrolytes
1 oz Treats 60 Gallons
For Use in Freshwater
https://www.collegiatebasschampionship.com/wp-content/uploads/2019/05/Culling-Fish-Has-Never-Been-Easier_TH-Marine_8May19.jpg
470
959
Shelley
https://collegiatestg.wpengine.com/wp-content/uploads/2021/02/CBFS_logo-300x212.png
Shelley
2019-05-15 10:16:19
2019-05-15 18:46:22
Fish Care means Everything!