BUFF UVX Mask and UVX Balaclava Provide Heads-Up Protection
BUFF UVX Mask and UVX Balaclava Provide Heads-Up Protection
Santa Rosa, CA  – Time to face the truth: outdoor recreation isn't always kind on the complexion. From whipping winds, to solar harshness, to hostile insects — nature guards its resources with some pretty tough sentries. Add to this the keen perception of the critters we seek to hunt, catch or photograph, and it's clear that anglers and hunters need topside protection beyond hats and glasses.
Buff, Inc., the U.S. subsidiary of ORIGINAL BUFF, SA, the original creators of versatile multi-functional performance headwear, addresses these concerns with a trio of head- and neck-protecting items that'll ensure your comfort on the water and in the woods.
UVX Mask — Covering your neck and shoulders and fitting over the back of the head, the UVX Mask is made with ultra-lightweight fabric and contouring two-way stretch. Providing a comfortable fit with a streamlined look, the mask wicks away moisture and dries quickly. Laser-cut breathing holes allow a free flow of air for optimal respiration without fogging your sunglasses, while UPF 50+ protection, wind resistance and thermal protection round out the benefits.
UVX Balaclava — For even greater coverage, Buff takes all the great features of the UVX Mask and extends the protection to reach over your entire head. Combining superior UV protection with the quick-dry advantage of moisture-wicking material and the comfort of enhanced two-way stretch and recovery, this versatile balaclava allows a full range of motion without skimping on its primary duty.
UVX Insect Shield® Balaclava — Take the impressive UVX Balaclava, bolster it with Insect Shield treatment and you have a full range of protection that'll make sure those flies, gnats and mosquitoes don't crash your party.
Between full uses, both the UVX Mask and UVX Balaclavas can be worn with the face guard up or down, or with the head covering down. This versatility ensures total comfort and adaptability for everything from talking on your Smartphone, to sipping the morning coffee or nibbling on those energy snacks.
"There's nothing more frustrating than investing the time and effort into establishing the ideal position for your fishing or hunting objective; only to find the insects and/or elements too distracting to focus on your pursuit," said Kevin Walker, Buff, Inc. Marketing Manager. "We know how important it is for anglers and hunters to maximize their time on the water or in the woods, so we've created highly functional masks and balaclavas from advanced materials to provide anglers and hunters the ultimate protection."
So where do you need such items? Scarce are the days when you don't need head and neck protection; but for anglers, consider the scorching reflection of the ocean's surface and the merciless lashing of windy days. Coastal anglers, you know what happens when you venture close to the mangroves and salt marshes — mosquito assault, horsefly bombardment, sand gnat sneak attack. And how about our northern outings? Black flies ever ruin your pike trip? No more.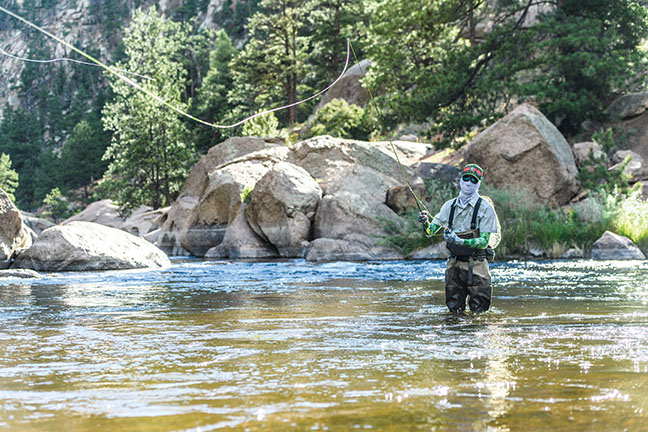 And don't overlook the sight-fishing relevance. From bass to bones, reds to tarpon; the ability block peripheral light by pulling your Balaclava over your BUFF® 10-4 Tech Cap and snugging the edges around your sunglasses can be a difference-maker.
Consider also the benefit of locking sunglasses and/or prescription glasses on your head. Sure, any of the many cord/lanyard options will do the same thing, but these accessories can create awkward, if not downright inconvenient fit issues when you're wearing a mask or balaclava. With temple stems secured beneath the protective fabric, your glasses stay put; no matter which way you turn, or how fast the boat is moving.
Hunters will appreciate the UVX Mask and UVX Balaclavas for spring turkey hunts, early season deer stands; and even those weeks of planting food plots and working trail cameras. Nature photographers — you're also on the invitation list. Never again will windburn, sunburn or buzzing bugs cause you to miss that stellar shot.
ABOUT BUFF®
Founded in 1991, BUFF® is the original multifunctional headwear brand, having premiered and innovated the tubular headwear category. Partnering with superior manufacturers of raw materials and incorporating state-of-the-art fabric technologies such as COOLMAX®, Polygeine®, Polartec® and 100 percent Merino wool, BUFF® has built a world-renowned lifestyle brand recognized by athletes and outdoor enthusiasts for its quality, craftsmanship, and customizable design and style options. BUFF® models are sold in more than 70 countries across the globe and top outdoor sporting retailers across the U.S. Original Buff is headquartered in Spain and its subsidiary, Buff, Inc, is located in Santa Rosa, California.
https://www.collegiatebasschampionship.com/wp-content/uploads/2018/03/Buff_UVX-Mask.jpg
432
648
Amanda
https://www.collegiatebasschampionship.com/wp-content/uploads/2023/03/2022_CBFS_JM-White-300x194.png
Amanda
2018-03-20 17:56:05
2018-05-30 12:58:13
BUFF UVX Mask and UVX Balaclava Provide Heads-Up Protection