The Perfect Way to End your Semester: The 2016 BoatUS Collegiate Bass Fishing Championship Presented by Cabela's
By Cody Levy
Throughout the schoolyear, collegiate anglers are first students and then anglers. While competing in various collegiate bass fishing events during the schoolyear, anglers must put their first priority in their school work in order to take the time to travel. If all school work is done then it's off to the lake, but what happens when anglers are done with school for the semester? Anglers get the chance to head down to Florence, Alabama for a week of uninterrupted fishing on Pickwick Lake; the host site for one of college fishing's most prestigious events, the BoatUS Collegiate Bass Fishing Championship Presented by Cabela's.
Collegiate anglers know the struggle of spending hours on end in the library and then heading out for a tournament with little to no practice; however, as the first major event of the summer, anglers are able to get in a weeks-worth of fishing without having to worry about the next chemistry test or when that term paper is due. The competition gets that much stronger on Lake Pickwick because of this as this is also where the best anglers from schools across the nation are represented, which is why the fishing world is always focused on what team will be raising the 2016 BoatUS Collegiate Bass Fishing Championship Trophy at the end of the tournament.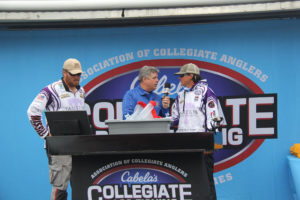 "It's easy to put your focus on fishing at this tournament," said Tarleton State University Senior and Bass Team President, Tanner Crim. "There are no worries about trying to balance fishing and school, and even work – you can just fish. It's awesome that we have the Championship to look forward to at the end of the year, after school is over for the summer. For us, on the fishing side of it, it's probably even more exciting than spring break."
During a weeklong practice and tournament schedule, Crim finds that the Championship is more than just a tournament, but a vacation with all the right ingredients.
"There's not a tournament that's like the Championship. For us being from Texas, there's not a lot of opportunity to spend a few afternoons off the water to catch up with friends from different bass teams and different states," said Crim. "There's also more friendly competition outside of the actual tournament with the Yamaha Angler Appreciation Night. It makes for a fun way to compete with your buddies and have a good time. It's really like a getaway for a week to hang out with friends, catch a lot of fish, and compete."
Starting on May 22nd, official practice for the BoatUS Collegiate Bass Fishing Championship Presented by Cabela's will take place on Pickwick Lake. Anglers will have a total of four practice days with two days of competition taking place on May 26th and 27th. Throughout the week of fishing, anglers will also be treated to free food, thousands of dollars in giveaways at the registration banquet, and one of the most favored nights of all, the Yamaha Angler Appreciation Night.
As a favorite by many, the Yamaha Angler Appreciation Night features a free meal for anglers getting off the water, seminars with some of Yamaha's top touring anglers, test rides on Yamaha powered Ranger Boats, and a Flip, Pitch, and Cast Event offering anglers the chance to compete for over $5,000 in prizes.
To register for the 2016 BoatUS Collegiate Bass Fishing Championship Presented by Cabela's, click here: Register Here
To see additional coverage on our Facebook, click here: https://www.facebook.com/CollegiateBassChampionship
Also, follow us on Instagram and Twitter at @CollegiateBass
About the ACA
The Association of Collegiate Anglers, a division of Careco TV, is a sanctioning body developed to facilitate growth, development, and structure within competitive collegiate bass fishing. The ACA provides support to dozens of school operated regional events nationwide and owns the Cabela's Collegiate Bass Fishing Series, the largest participatory collegiate tournament circuit in the country. With dedicated collegiate fishing programming on several television networks, three nationally televised collegiate bass fishing events, and thousands of members, the ACA is the leader in competitive collegiate bass fishing. For more information on the ACA, or the Cabela's Collegiate Bass Fishing Series, visit www.CollegiateBassChampionship.com. For more information on Cabela's visit Cabelas.com, for more information on CarecoTV, visit www.carecotv.com.
https://www.collegiatebasschampionship.com/wp-content/uploads/2016/06/CBFC_Button-e1480444540195.png
300
300
Shelley
https://www.collegiatebasschampionship.com/wp-content/uploads/2023/03/2022_CBFS_JM-White-300x194.png
Shelley
2016-04-18 19:11:37
2016-11-18 14:26:31
The Perfect Way to End your Semester: The 2016 BoatUS Collegiate Bass Fishing Championship Presented by Cabela's