Bethel Maintains Lead in Cabela's School of Year Race with West Virginia and North Alabama sitting in 2nd and 3rd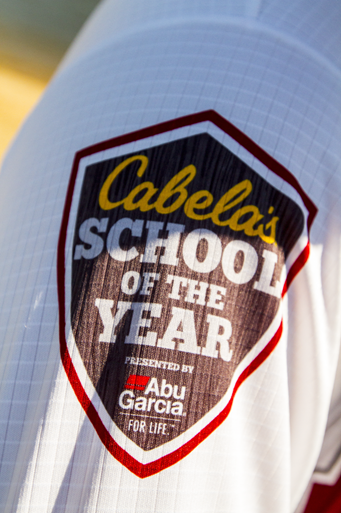 The 2017-2018 Cabela's School of the Year presented by Abu Garcia is off to a hot start with Bethel University out to an early lead. Bethel University has fished three events so far in the 2017-2018 Season. Some of the top finishes which have led Bethel to the number one ranking recently include Evan Owrey and Kristopher Queen third at the FLW Championship, Cole Floyd and Carter McNeil second at the B.A.S.S. Championship and the team of Hunter Louden and Cully Scroggins 8th at the B.A.S.S. Wildcard event.  Right out of the gate this season Bethel University has had six different anglers contributing points to the team which shows the depth at the program for this season.
"We think that it's a great honor and we hope that we can go all year this upcoming year and win the school of the year points. We have most of our guys coming back this upcoming year and many more great young anglers coming into our program this year. We look forward to competing this upcoming season." said Gary Mason, Bethel University Coach
In second place, is West Virginia University which is their highest ranking ever.  They've competed in all four qualifying School of the Year events this season with finishes by Nolan Minor and Casey Lanier finished 44th at the B.A.S.S. College Championship and 6th at the B.A.S.S. Wildcard event, the team of Kirkland Price and Bailey Gordon finished 23rd at the FLW Championship, and the team of Michael Shughart and Branden Newcome had a top ten at the FLW Northern event, finishing 10th.  We asked the team at West Virginia University what it means to be sitting in second place and what it would mean to win the Cabela's School of the Year presented by Abu Garcia.
"We're ecstatic to be sitting in second place in the School of the Year race. We don't have a coach or anything like that, and our funds are very limited by the school, so we have to work just as hard off the water as we do on the water just to be able to fish these tournaments and be successful. With that being said, to see all of our hard work paying off is very rewarding." said Branden Newcome, President of WVU Fishing "To win School of the Year would mean everything to this team. While we're happy to be in second place, we're going to everything in our power to try to win this thing."
Sitting in 3rd is the two time Cabela's School of year winners from the University of North Alabama.   The school this year has been led so far by Hunter McCarty and Sloan Pennington who won the 2017 BoatUS Collegiate Bass Fishing Championship presented by Cabela's tournament and have kept up the pace going into the new season with a seventh-place finish at the B.A.S.S. Championship and 30th at the FLW Championship.   In addition, the UNA team of Parker Davis and Austin Mize had a third-place finish at the B.A.S.S. Wildcard to earn valuable points going into the fall.
Here is a look at how the top 20 schools in the Cabela's School of the Year presented by Abu Garcia are stacking up:
1st – Bethel University (McKenzie, TN)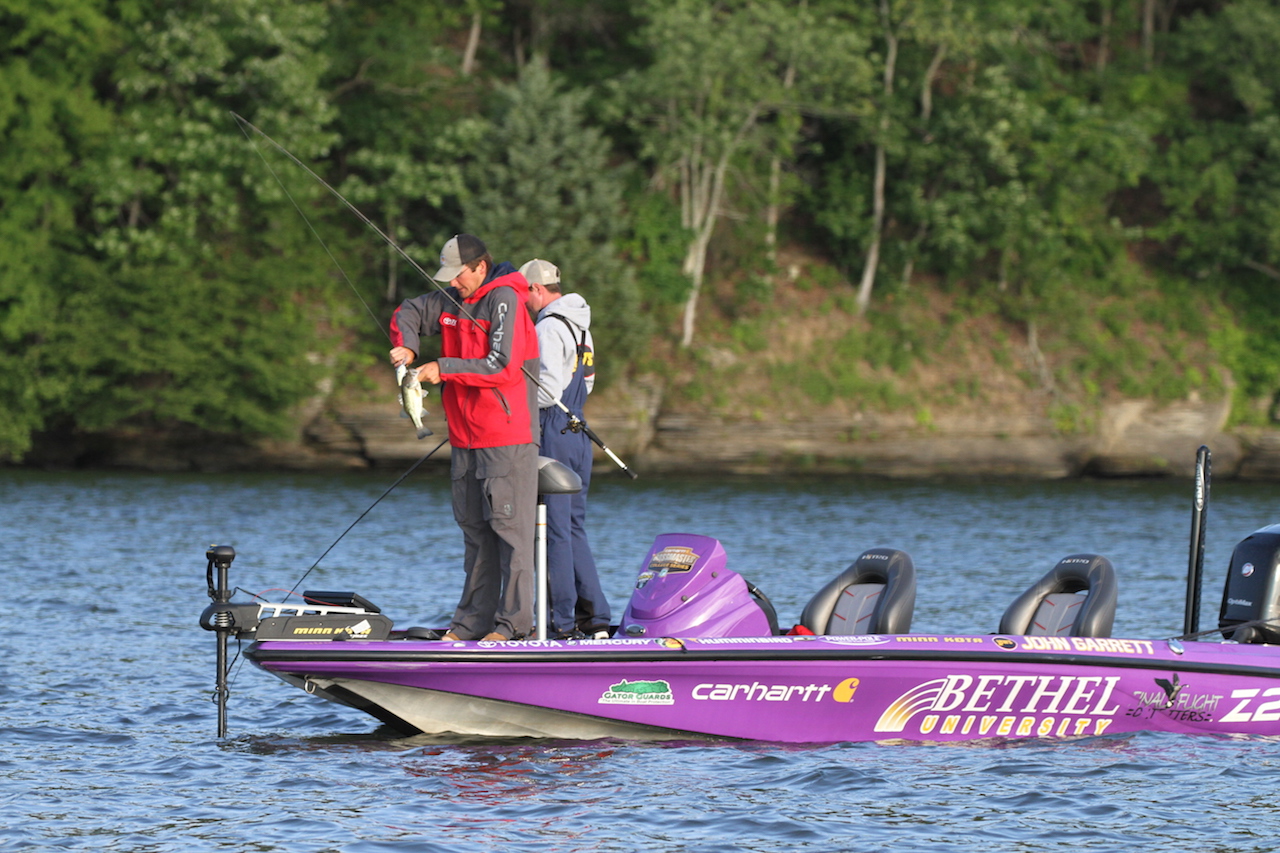 2nd – West Virginia University (Morgantown, WV)
3rd – University of North Alabama (Florence, AL)
4th – Kansas State University (Manhattan, KS)
5th – Adrian College (Adrian, MI)
6th – Lake Superior State University (Sault Ste. Marie, MI)
7th – Colorado Mesa University (Grand Junction, CO)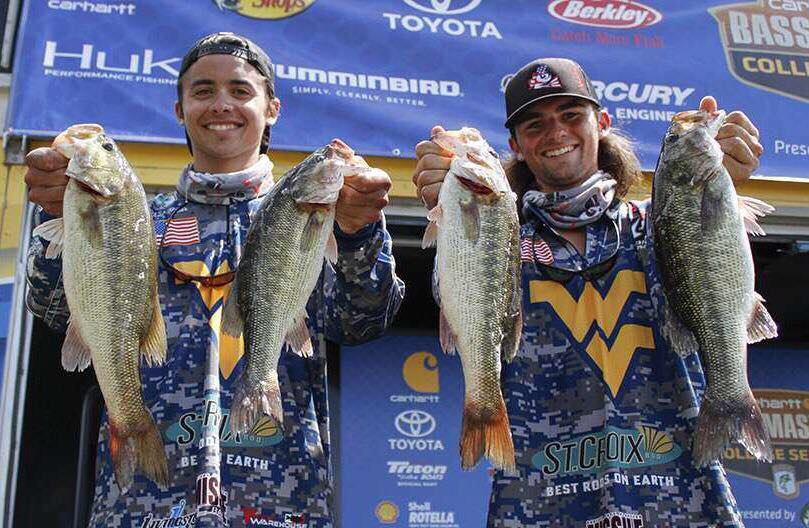 8th – University of Louisiana-Monroe (Monroe, LA)
9th – Bemidji State University (Bemidji, MN)
10th – Bryan College (Dayton, TN)
11th – University of South Carolina (Columbia, SC)
12th – Northwestern State University (Natchitoches, LA)
13th – Louisiana State University-Shreveport (Shreveport, LA)
14th – Indiana University (Bloomington, IN)
15th – Faulkner University (Montgomery, AL)
16th – Lamar University (Beaumont, TX)
17th – Auburn University (Auburn, AL)
18th – Dallas Baptist University (Dallas, TX)
19th – University of Pittsburgh (Pittsburgh, PA)
20th – Wallace State University (Hanceville, AL)
The Cabela's School of the Year presented by Abu Garcia is one of the most sought-after titles in all of collegiate bass fishing. The program has been built to reward and recognize teams that compete in numerous national level trails such as the Association of Collegiate Anglers (ACA) Cabela's Collegiate Bass Fishing Series™, as well as select national College B.A.S.S and FLW events, and other events as sanctioned by the ACA, in order to crown a true school of the year champion based on performance all season long.
"This is the ultimate trophy in college fishing because it's earned on the water over a full year of fishing.   It's not voted on, it's not a title bestowed on you by votes or because of finishing on top at one event or anything of that nature.  This title is earned by all the members of the school team and how they jointly fished as a school at events all year long," said Wade Middleton, Director of the Association of Collegiate Anglers. 
The 2016-2017 Cabela's School of the Year presented by Abu Garcia was won by Bryan College after an awesome season from start to finish!   They're currently in 10th place in their effort in this year's school of the year race.  Here is what Bryan College anglers had to say on winning the School of the Year Title:
"We have been so blessed to have strong showings in the events leading up to this. Winning School of the Year is huge for our young program because the school has invested so much in our team. The preparation that went into this season has been different for every team, but for us it was studying the lakes that we would be going to and getting the right gear to do well on those particular lakes," said Nathan Bell, Bryan College angler. 
In addition to the three national collegiate fishing trails, the ACA will also award points for select ACA-sanctioned events throughout the season. Competing in school-run ACA-sanctioned events will allow schools to earn additional points based on their top finishing team or teams. If the school-run ACA-sanctioned event is an Open, the top finishing team from each school will be awarded points at any open or championship event. When competing in an invitational trail, only the championship event will be counted for Cabela's School of the Year points, and only the top two finishing team from each school will earn points based on the breakdown below. A list of sanctioned Cabela's School of Year events can be found at:  https://www.collegiatebasschampionship.com/fishing-tournaments/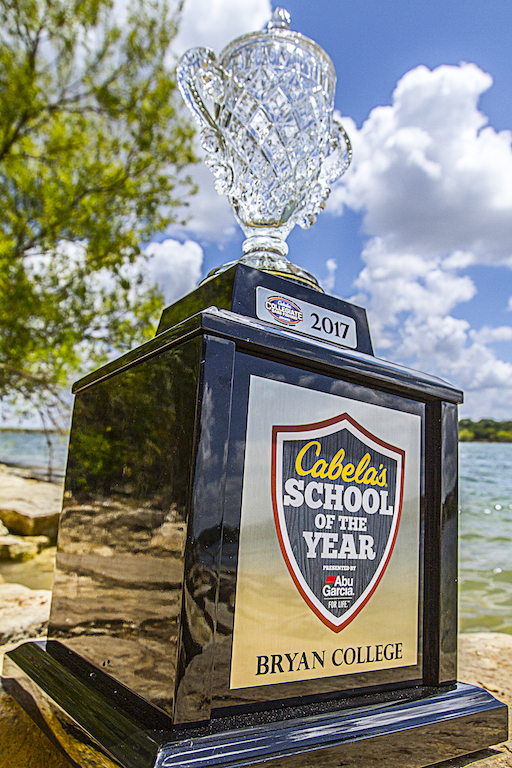 For the full current standing visit: https://www.collegiatebasschampionship.com/wp-content/uploads/2017/05/2017-2018-ACA-SOY-Standings-6-6-2017.pdf
For more information on the Cabela's School of the Year presented by Abu Garcia program visit: https://www.collegiatebasschampionship.com/cabelas-school-of-the-year-program-description/
https://www.collegiatebasschampionship.com/wp-content/uploads/2017/08/SOY-Graphic.jpg
600
1000
John Braig
https://www.collegiatebasschampionship.com/wp-content/uploads/2023/03/2022_CBFS_JM-White-300x194.png
John Braig
2017-08-23 14:56:31
2018-05-08 10:38:22
Bethel Maintains Lead in Cabela's School of Year Race with West Virginia and North Alabama sitting in 2nd and 3rd