Bethel Continues to Dominate the Cabela's School of the Year presented by Abu Garcia Race
UNA remains in 2nd, while Adrian moves up into 3rd
April is quickly coming to an end and with that comes the fast-approaching final showdown for the most prestigious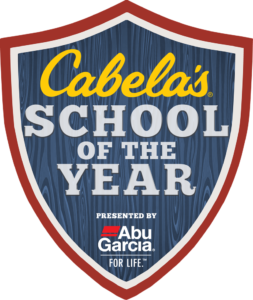 title in college fishing. Who will claim the 2017-2018 Cabela's School of the Year presented by Abu Garcia title? This season, the college fishing world has progressively become more and more competitive, but one constant has remained – fishing as many events is key and fishing consistently is even more important.
The ACA's Cabela's School of the Year presented by Abu Garcia was the first program of its kind to rank teams across all collegiate bass fishing circuits and provide the first national collegiate fishing rankings.  The program exemplifies the constant growth in collegiate bass fishing, with over 260 teams earning points so far in 2018.
Out of the last seven sanctioned events, Bethel University only fished one, taking third place at the B.A.S.S Southern event on Pickwick Lake this past weekend. The team of Joe McClosky and John-Austin Welch brought in a three-day total of 52.90lbs to take third and ultimately helping Bethel University to pull away from the group. Bethel University has remained a prominent competitor this season, making sure to send teams to all the major ACA, FLW, and B.A.S.S events to ensure that their school had the best opportunity to capture the Cabela's School of the Year title. They've come close before, and this season proves to have been a turning point for the ever-growing Bethel University bass fishing team.
"We must stay the course and continue to have a boat in the top five and another team in the top ten in every tournament that we fish which will give us School of the Year points," said Garry Mason, Coach for the Bethel University Bass Fishing Team. "Our Freshman and Sophomores have come on strong right here at the end of the season and our whole team must continue to finish strong as we compete in last few tournaments of this season."
"As a graduating senior, school of the year is something we strive to be contenders for every year and this year all of the pieces have seemed to fall into place up to this point. With only a few tournaments left in the season we are pushing more than ever to achieve our goal, 2018 Cabela's School of the year champions," said Brian Pahl, Bethel University Bass Fishing angler. "Being consistent as a team is important with a points format such as the School of the Year race and with the help of our young guys (freshman and sophomore teams) we have been able to keep the pedal down all season long.'
Other formidable challengers such as 2014 and 2015 Cabela's School of the Year Champions, the University of North Alabama are sitting in second place while Adrian College makes its way back up into third place. Both schools have fished efficiently this season, even traveling to events outside of their region to gain precious points.
UNA fished three out of the last seven events eligible for Cabela's School of the Year points. They also hosted their own school-run event that was sanctioned by the ACA which had twenty-five teams from nine schools participate and earning points for their respected schools.
Adrian College only fished two of the last seven events but made sure to make them count. Adrian College's team of Nick Marsh and Jarrod Layton took 1st at the B.A.S.S Southern event adding 200 points to their school's total. They also finished 13th at the FLW Northern event earning another 107 points to their school total.
Current Cabela's School of the Year Top 20 teams are as follows:
| | |
| --- | --- |
| 1 | Bethel University (McKenzie, TN) |
| 2 | University of North Alabama (Florence, AL) |
| 3 | Adrian College (Adrian, MI) |
| 4 | Auburn University (Auburn, AL) |
| 5 | Murray State University (Murray, KY) |
| 6 | McKendree University (Lebanon, IL) |
| 7 | University of Louisiana – Monroe (Monroe, LA) |
| 8 | Bryan College (Dayton, TN) |
| 9 | Dallas Baptist University (Dallas, TX) |
| 10 | University of Tennessee (Knoxville, TN) |
| 11 | Missouri State University (Springfield, MO) |
| 12 | University of Montevallo (Montevallo, AL) |
| 13 | Mississippi State (Starkville, MS) |
| 14 | Tarleton State (Stephenville, TX) |
| 15 | Louisiana Tech University (Ruston, LA) |
| 16 | East Texas Baptist University (Marshall, TX) |
| 17 | Rogers State University (Claremore, OK) |
| 18 | Northwestern State University (Natchitoches, LA) |
| 19 | Louisiana State University – Shreveport (Shreveport, LA) |
| 20 | Sam Houston State (Huntsville, TX) |
This year, the BoatUS Collegiate Bass Fishing Championship presented by Cabela's will be the last event to count towards the Cabela's School of the Year race with 500 points on the line. Each school's top 2 highest finishing teams will earn points allowing schools to possibly earn the max of 990 points. The final tally will take place after the BoatUS Collegiate Bass Fishing Championship day 2 weigh-in and a winner will be announced in front of the live crowd.
For more information about the Cabela's Collegiate Bass Fishing Series, please visit www.CollegiateBassChampionship.com.
Stay up to date and Follow Us!
Facebook –  https://www.facebook.com/CollegiateBassChampionship
Instagram – https://www.instagram.com/collegiatebass/
Twitter – https://twitter.com/collegiatebass
Subscribe to our videos!
https://www.collegiatebasschampionship.com/wp-content/uploads/2017/04/CBFTUPDATE.png
552
919
Amanda
https://www.collegiatebasschampionship.com/wp-content/uploads/2023/03/2022_CBFS_JM-White-300x194.png
Amanda
2018-04-30 11:57:37
2018-05-30 11:09:11
Bethel Continues to Dominate the Cabela's School of the Year presented by Abu Garcia Race