Berkley PowerBait Cast for Cash Classic fans vie for $100,000 for a simple cast
COLUMBIA, S.C. – Fans that attend the Classic have a unique opportunity to win $100,000 for a simple cast. During the final weigh-in on March 6th, some lucky fan has the chance to win it all in the Berkley PowerBait Cast for Cash.
The contest is simple. A single contestant is randomly drawn and provided the opportunity to make one cast to a target inside a giant fish's mouth.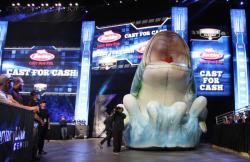 Berkley allows the contestant to choose between casting, spinning or spincast equipment, and each year legendary angling professional Hank Parker conducts a private casting lesson backstage. Parker, 1979 and 1989 Bassmaster Classic Champion, gives the lucky angler tips to better prepare them for the chance at the hefty prize.
It sounds so simple except for the pressure of making the cast in front of an electrified crowd of thousands.
Several have come very close but in all the years Berkley has hosted the contest no one has won the $100,000 prize. But contestants have not walked away empty-handed. Berkley has awarded each with a big surprise if the their cast did not connect. In addition, just for being chosen Berkley has given the fan $5,000 and a nice amount of fishing gear to match. Not a bad deal for just showing up to the final day of weigh in at the Bassmaster Classic.
"This is an event that we love to host," said Josh Silva, Berkley Brand Marketing Manager. "Fans of the fishing sport get a chance for a shot at winning $100,000. However, one of the coolest experiences is to have a private casting lesson with Hank Parker. Hank helps the contestant feel at ease."
There is no entry form or fee. All it takes is attending the BOK Center on March 6th around 3 p.m. CST for a shot at the Berkley PowerBait Cast for Cash. The decision to attend could make someone's day $100,000 better.
About Pure Fishing, Inc.
Pure Fishing, Inc. is a leading global provider of fishing tackle, lures, rods and reels with a portfolio of brands that includes Abu Garcia®, All Star®, Berkley®, Chub™, Fenwick®, Gulp!®, Hardy & Greys™, Hodgman®, Johnson™, Mitchell®, PENN®, Pflueger®, Sébile®, Shakespeare®, SpiderWire®, Stren®, Trilene® and Ugly Stik®. Pure Fishing, Inc. operates in 22 countries with a dedicated workforce conversant in 28 languages. Pure Fishing, Inc. is a subsidiary of Jarden Corporation and is part of the Jarden Outdoor Solutions business segment, a leader in developing outdoor and active lifestyle products. Additional information can be found at http://www.purefishing.com.
About Jarden Corporation
Jarden Corporation is a diversified, global consumer products company with a portfolio of over 120 trusted, authentic brands. Jarden's record of strong financial performance and organic growth is supported by a focused operating culture coupled with value enhancing acquisitions and shareholder focused capital allocation. Jarden operates in three primary business segments through a number of well recognized brands, including: Branded Consumables: Ball®, Bee®, Bernardin®, Bicycle®, Billy Boy®, Crawford®, Diamond®, Envirocooler®, Fiona®, First Alert®, First Essentials®, Hoyle®, Kerr®, Lehigh®, Lifoam®, Lillo®, Loew-Cornell®, Mapa®, Millefiori®, NUK®, Pine Mountain®, Quickie®, Spontex®, Tigex®, Waddington, Yankee Candle® and YOU®; Outdoor Solutions: Abu Garcia®, AeroBed®, Berkley®, Campingaz® and Coleman®, Dalbello®, ExOfficio®, Fenwick®, Greys®, Gulp!®, Hardy®, Invicta®, Jostens®, K2®, Marker®, Marmot®, Mitchell®, Neff®, PENN®, Rawlings®, Shakespeare®, Squadra®, Stearns®, Stren®, Trilene®, Völkl® and Zoot®; and Consumer Solutions: Bionaire®, Breville®, Cadence®, Crock-Pot®, FoodSaver®, Health o meter®, Holmes®, Mr. Coffee®, Oster®, Patton®, Rainbow®, Rival®, Seal-a-Meal®, Sunbeam®, VillaWare® and White Mountain®. Headquartered in Florida, Jarden ranks #348 on the Fortune 500 and has over 35,000 employees worldwide. For further information about Jarden, please visit www.jarden.com.
https://www.collegiatebasschampionship.com/wp-content/uploads/2016/06/CBFC_Button-e1480444540195.png
300
300
Shelley
https://www.collegiatebasschampionship.com/wp-content/uploads/2021/05/2019-BPS_CBFS_logo-300x179.png
Shelley
2016-03-01 13:25:03
2016-11-29 13:58:18
Berkley PowerBait Cast for Cash Classic fans vie for $100,000 for a simple cast