Inside Their Heads: What would Justin Lucas, Bobby Lane, or Brandon Palaniuk Do in the 2016 Cabela's Collegiate Big Bass Bash Presented by Berkley
By Cody Levy
The Cabela's Collegiate Big Bass Bash Presented by Berkley is finally under two weeks away. With only a few days until the tournament begins, some of Berkley's top pros wanted to shed some light on the event and give YOU some insight on how they would be breaking down one of the nation's hottest fisheries – Kentucky Lake in Paris, Tennessee.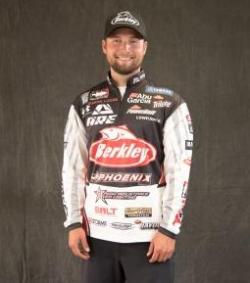 In preparation for the event, anglers utilize their maps, internet sources, past television shows, and any other resources they can get their hands on to try and have that extra advantage for the event; however, anglers rarely get the chance to pick the brains of some of the top touring Elite Professionals. Three of Berkley's top Elite Professionals, Justin Lucas, Bobby Lane, and Brandon Palaniuk, were able to give these college anglers exactly that – a chance to see precisely what they would be doing to try and win the 2016 Cabela's Collegiate Big Bass Bash
Presented by Berkley.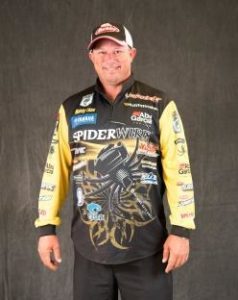 All three anglers stated that they believe starting in secondary points would be key in this event as the spawn is close and fish will be moving up. Justin Lucas stated that he "would start looking at small secondary gravel points in main creeks with the Berkley Digger 6.5 and 8.5. If they weren't there I would be checking some flats with the Berkley Warpig. When all else fails hit the rip rap with the Berkley Pitbull 5.5."
Bobby Lane added that "when targeting pre-spawn bass in March at Kentucky Lake, a lot comes into play. I would first start on points in the major creeks with a Carolina Rig in 5-10 foot of water with a 10 inch Berkley Powerbait worm, black/blue fleck. As the day warms up, I would make my way back into the creeks to find any lay downs or bushes with at least 3ft of water on them. Havoc Craw Fatty with a 3/8oz weight on 65lb braid. These fish are ready to start spawning so keep a close eye on water temperatures."
Brandon Palaniuk is also a believer in finding the secondary points to then find the big bass and he was able to further explain why these key areas will be holding fish.
"If I was searching for big bass I would start by looking at main lake and secondary points adjacent to the creek or river channels. There should be good current flow that time of year so any current break above or below the water could be key," said Palaniuk. "If you're fishing on a warming trend I would start looking shallow and target any isolated cover that was close to those channel swings and points. I would say black/blue jigs for sure with Berkley Pitboss, Chigger Craw, and Change Up trailers. I would imagine shallower end of the crankbaits will be a big player too."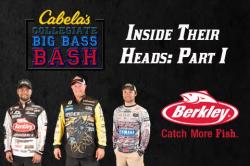 Anglers are encouraged to check back atwww.CollegiateBassChampionship.com for additional inside info from two more Berkley Touring Pros, Gary Klein and Josh Bertrand!
Anglers can find all of the baits listed above at www.berkley-fishing.com
About the ACA
The Association of Collegiate Anglers, a division of Careco TV, is a sanctioning body developed to facilitate growth, development, and structure within competitive collegiate bass fishing. The ACA provides support to dozens of school operated regional events nationwide and owns the Cabela's Collegiate Bass Fishing Series, the largest participatory collegiate tournament circuit in the country. With dedicated collegiate fishing programming on several television networks, three nationally televised collegiate bass fishing events, and thousands of members, the ACA is the leader in competitive collegiate bass fishing. For more information on the ACA, or the Cabela's Collegiate Bass Fishing Series, visit www.CollegiateBassChampionship.com. For more information on Cabela's visit Cabelas.com, for more information on CarecoTV, visit www.carecotv.com.
https://www.collegiatebasschampionship.com/wp-content/uploads/2016/06/CBFC_Button-e1480444540195.png
300
300
Shelley
https://www.collegiatebasschampionship.com/wp-content/uploads/2021/05/2019-BPS_CBFS_logo-300x179.png
Shelley
2016-03-01 17:27:04
2016-11-22 17:45:06
Inside Their Heads: What would Justin Lucas, Bobby Lane, or Brandon Palaniuk Do in the 2016 Cabela's Collegiate Big Bass Bash Presented by Berkley