Berkley to Release New Crankbait at ICAST
College Anglers Continue to Purchase Berkley Products at Discount
COLUMBIA, S.C. – Legendary pro angler David Fritts knows a thing or two about what makes a deep diving crankbait so effective. Combining the technology and innovation of Berkley® with the expertise of Fritts and the Dredger was born. The Dredger, on display in the ICAST New Product Showcase in July, is a smaller profile bait that dives deeper, faster than any other bait on the market.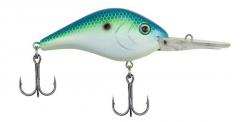 A combination of body shape and weighted bill drive this bait deep to stay in the strike zone longer. Whether cranked slowly or quickly, the Dredger has a tight, subtle action that is proven to trigger fish that hang out in the deepest water to strike without hesitation.
The Dredger is equipped with Berkley Fusion19™ treble hooks and comes in 14 standard colors with six additional trophy case colors created by Fritts himself.
Nowhere else on the market can anglers find a 3.25-inch deep diver that hits depths of 26 feet faster. This means anglers have the ability to fish the strike zone longer without the need to cast a country mile.
Available in five diving depth models (10.5, 14.5, 17.5, 20.5 and 25.5), the Berkley Dredger has an MSRP of $8.95.
Pure Fishing has been one of the top supporters of collegiate bass fishing since the early years of collegiate events and they continue to reward anglers today!
All Collegiate eligible anglers fishing the ACA, B.A.S.S. and FLW collegiate events are eligible for product purchase discounts across Berkley and all Pure Fishing Brands.  You must be participating in at least one major event in these programs to be able to get the discount that can be over 35% on many products.   To find out more about the discount program send and email to Andrew Marks  (awmarks@purefishing.com).   You must email from your school address to prove eligibility.
About the ACA
The Association of Collegiate Anglers, a division of Careco TV, is a sanctioning body developed to facilitate growth, development, and structure within competitive collegiate bass fishing. The ACA provides support to dozens of school operated regional events nationwide and owns the Cabela's Collegiate Bass Fishing Series, the largest participatory collegiate tournament circuit in the country.  With dedicated collegiate fishing programming on several television networks, four nationally televised collegiate bass fishing events, and thousands of members, the ACA is the leader in competitive collegiate bass fishing.  For more information on the ACA, or the Cabela's Collegiate Bass Fishing Series, visit www.CollegiateBassChampionship.com. For more information on Cabela's visit Cabelas.com, for more information on CarecoTV, visit www.carecotv.com.
https://www.collegiatebasschampionship.com/wp-content/uploads/2016/11/Berkley_Catch_More_Fish-squarelogo.png
225
225
Shelley
https://www.collegiatebasschampionship.com/wp-content/uploads/2023/03/2022_CBFS_JM-White-300x194.png
Shelley
2016-06-28 17:15:54
2016-12-01 16:42:20
Berkley to Release New Crankbait at ICAST