University of Alabama Bass Team Wins 2016 Cabela's School of Year Title! North Alabama and Murray State Finish 2nd and 3rd
SAN ANTONIO, Texas – The University of Alabama has won the 2016 Cabela's School of the Year title!  Widely regarded as the hardest and most sought after college fishing title in the nation, this is the first time that the University of Alabama has earned this prestigious award.
The Cabela's School of the Year program offers college anglers the chance to compete at the highest level in numerous collegiate fishing events held all over the nation. The Association of Collegiate Anglers created this program with Cabela's to both rank and reward collegiate fishing teams based on their performance in the Cabela's Collegiate Bass Fishing Series, Carhartt College B.A.S.S. Series, and FLW College Series, as well as select school-hosted and operated events.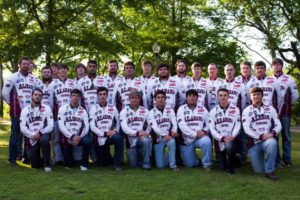 "This year the Alabama Bass Team really set our goal to win Cabela's School of the Year.  We set our entire college fishing schedule to be able to compete in a variety of events so we could earn points toward this title. Fortunately, we got the job done catching fish this year at events all over the nation," stated John Davis, President of University of Alabama Bass Club. 
When asked just how prestigious this title is, the Director of College Operations for the Association of Collegiate Anglers, Wade Middleton, said that "This is the ultimate trophy in college fishing because it's earned on the water over a full year of fishing.   It's not voted on, it's not a title bestowed on you by votes or because of finishing on top at one event or anything of that nature.  This title is earned by all the members of the school team and how they jointly fished as a school at events all year long."
Coming in second place is two-time Cabela's School of the Year Winners, University of North Alabama, perennial powerhouse Murray State University in third, followed by McKendree in fourth, and Mississippi State in fifth.  A full list of the teams finishing in the top 20 can be found below and for a full breakdown of all the teams in the nationwide rankings click here.
The Top Twenty Schools for 2016: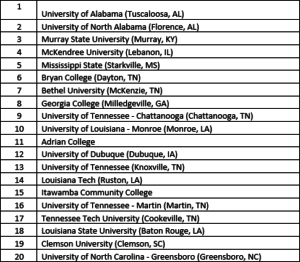 Full coverage and insight from numerous members of the University of Alabama Bass Club will be coming soon as we take an in depth look at the team, what it took to win this prestigious tittle and what's ahead for the teams 32 active team members in the 2017 season.
About the ACA
The Association of Collegiate Anglers, a division of Careco TV, is a sanctioning body developed to facilitate growth, development, and structure within competitive collegiate bass fishing. The ACA provides support to dozens of school operated regional events nationwide and owns the Cabela's Collegiate Bass Fishing Series, the largest participatory collegiate tournament circuit in the country.  With dedicated collegiate fishing programming on several television networks, four nationally televised collegiate bass fishing events, and thousands of members, the ACA is the leader in competitive collegiate bass fishing.  For more information on the ACA, or the Cabela's Collegiate Bass Fishing Series, visit www.CollegiateBassChampionship.com. For more information on Cabela's visit Cabelas.com, for more information on CarecoTV, visit www.carecotv.com
https://www.collegiatebasschampionship.com/wp-content/uploads/2016/11/UofA_3-1.jpg
640
960
Shelley
https://www.collegiatebasschampionship.com/wp-content/uploads/2023/03/2022_CBFS_JM-White-300x194.png
Shelley
2016-07-06 16:48:21
2016-11-17 15:57:49
University of Alabama Bass Team Wins 2016 Cabela's School of Year Title! North Alabama and Murray State Finish 2nd and 3rd