University of North Alabama Anglers Qualify for the Ranger Cup University Team of the Year Challenge
Teammates Harville, Maner will face qualifiers from FLW College Fishing National Championship
FLIPPIN, Ark. (June 14, 2016) – Colby Harville and John Maner, collegiate anglers from the University of North Alabama, qualified for the 2016 Ranger Cup University Team of the Year Challenge with a fourth-place finish in the recent BoatUS Collegiate Bass Fishing Championship presented by Cabela's at Lake Pickwick.
With their performance at Pickwick, the highest place of finish by a Ranger Cup-qualified team, Harville and Maner also added $1,000 in contingency money from Ranger Cup University.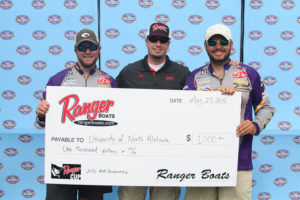 The University of North Alabama teammates will be matched against anglers from South Carolina University, which had the highest place of finish for a Ranger Cup University-qualified team in March's FLW College Fishing National Championship. Anglers from the two schools will square off in a made-for-TV competition that will be televised nationally on "Americana Outdoors." The fish-off will be contested later this year. Both teams will receive a grand-prize package that includes travel, lodging and meals, as well as the opportunity to compete for cash and prizes from fully rigged Ranger boats.
"It is real blessing. This is a really awesome thing that Ranger has done for the college angler. It gives us an excellent opportunity to get our names out there and the Ranger Cup contingency money means a lot to a college angler," Harville said. "It's going to be an awesome experience. The beauty about this competition is it puts both teams on a level playing field. Hopefully we'll pull out a win."
Modeled after Ranger Cup, the most lucrative contingency rewards in the industry, Ranger Cup University is the first program designed exclusively for collegiate anglers and is open to those fishing in either FLW- or BoatUS-affiliated competitions. Signup is free, regardless of which brand of boat the anglers own. To remain qualified in the program, anglers need only adhere to clothing and logo requirements. As part of the Ranger Cup University program, participants will be able to receive specially discounted tournament gear through Gemini Custom Apparel, with no artwork or set-up fees. Through this partnership, Ranger Cup University anglers can purchase fully customized tournament jerseys for as low as $48.
For complete program guidelines and details on Ranger Cup University, including payout, clothing requirements and informational videos, go online to http://www.rangerboats.com/staticPages/includes/RangerCupUniversity.cfm.
About Ranger Boats
Headquartered in Flippin, Ark., Ranger Boats is the nation's premier manufacturer of legendary fiberglass and aluminum fishing boats, which include series of bass, multi-species, fish 'n play, waterfowl utility and saltwater boats. Founded in 1968 by Forrest L. Wood, Ranger Boats continues its commitment to building the highest-quality, strongest-performing boats on the water. For more information, go to RangerBoats.com.
About the ACA 
The Association of Collegiate Anglers, a division of Careco TV, is a sanctioning body developed to facilitate growth, development, and structure within competitive collegiate bass fishing. The ACA provides support to dozens of school operated regional events nationwide and owns the Cabela's Collegiate Bass Fishing Series, the largest participatory collegiate tournament circuit in the country.  With dedicated collegiate fishing programming on several television networks, four nationally televised collegiate bass fishing events, and thousands of members, the ACA is the leader in competitive collegiate bass fishing.  For more information on the ACA, or the Cabela's Collegiate Bass Fishing Series, visit www.CollegiateBassChampionship.com. For more information on Cabela's visit Cabelas.com, for more information on CarecoTV, visit www.carecotv.com 
https://www.collegiatebasschampionship.com/wp-content/uploads/2016/06/RangerCUP-squarelogo.jpg
200
200
Shelley
https://www.collegiatebasschampionship.com/wp-content/uploads/2023/03/2022_CBFS_JM-White-300x194.png
Shelley
2016-06-15 17:26:26
2016-11-23 17:18:07
University of North Alabama Anglers Qualify for the Ranger Cup University Team of the Year Challenge