Adrian College Cruises into 1st Place as the Cabela's School of the Year Race Heads into the Fall Season
It's a month into the new school year, and fall weather is beginning to set in across much of the country.  Fall is quite possibly one of the best times of the year.  One word that is synonymous with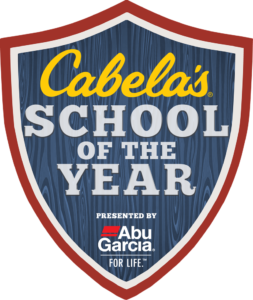 fall is change.  Leaves start changing colors, temperatures tend to fluctuate, and bass start to shift focus on the prey they are feeding on.  There is also a lot of change occurring in the most recent standings for the Cabela's School of the Year Presented by Abu Garcia.  The top 3 is comprised of two new schools.
Bethel University, the 2018 SOY winners, and Bemidji State University have both fallen to 6th and 4th respectively.  In fact, the only team remaining in the top 3 from the most recent rankings this season is Adrian College.  The Michigan based anglers challenged for the title last year, and they appear poised to make a run for it all this season.
Seth Borton, Head Bass Fishing Coach at Adrian College, is well aware of the significance of the team's hot start, "It basically means that we have done all we can to set ourselves up for a great run here this spring.  There are obvious geographical hurdles that we have to overcome as the tournament schedule hits the winter months, so it is always imperative to take care of business in the first half of the season."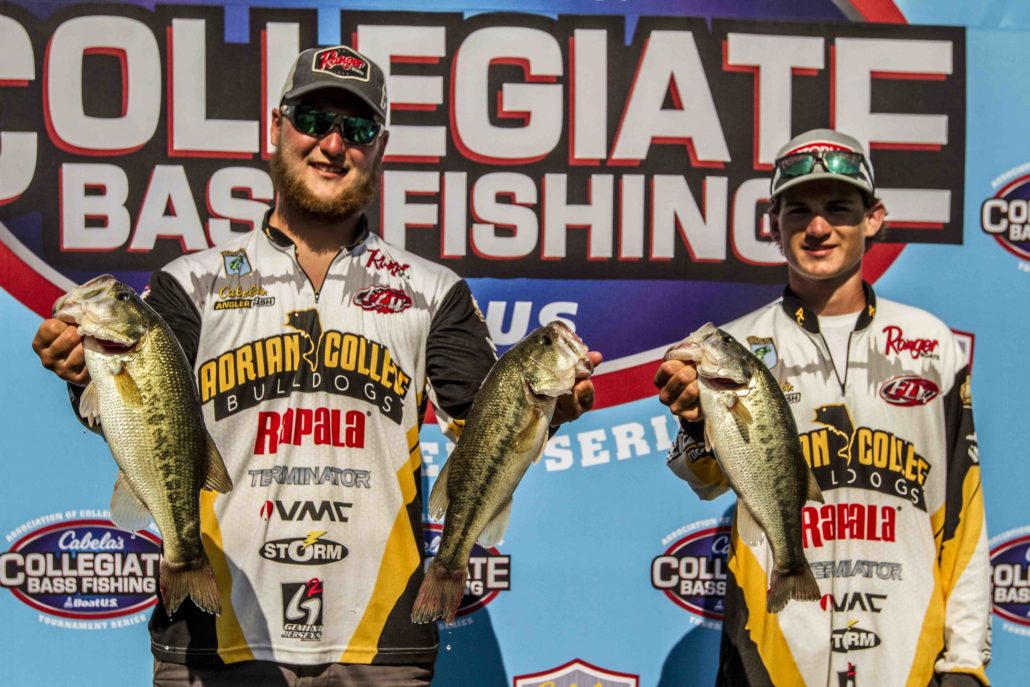 Adrian College has been on a hot streak this summer.  Numerous victories and top 10 finishes have helped to propel them to an early lead of just under 500 points over 2nd place.  The team has taken care of business on both national and regional levels.  A good bit of Adrian's success has occurred through school run events.  School run events provide an opportunity for teams to compete against others in their area more frequently, as well as offer a shot at gaining more valuable SOY points.  "The sanctioned collegiate events are huge for a number of reasons, but first and foremost they give us a chance to compete on some more familiar water without having to travel quite so far," says Borton.  Of the seven events Adrian College has earned points from three have been from events fished as part of the Michigan College Bass Circuit, a group of qualifying school run events.
Sitting in 2nd place, roughly 500 points behind 1st, is Grand Valley State University.  Located near Lake Michigan, just outside of Grand Rapids, GVSU has rocketed out of the gates to start this new school year.  Their most recent showing at the FLW Northern Regional on Lake Erie earned them 500 points.  Lucas Murphy & Nolan Hitt weighed in 19 lbs. 2 oz. to claim 1st place overall and help extend their team's lead over 3rd place by 85 points.  Murphy says that as a team GVSU is thrilled with their current standing and are looking forward to the rest of the season, "We are so excited to get GVSU on the map.  We are excited to make a run at School of the Year and hope to make the trip to as many events as we can!"
Rounding out the top 3 is West Virginia University.  Having fished only three points earning events, the team from Morgantown is putting up a fight early on in this young season.  They are just under 800 points behind Adrian College, and have a minuscule 60 point lead over 4th.  Several more solid showings could jet them further up the standings.  In the same respect, a few bad finishes could see them drop out of the top 3.  It will be fun to see how the remainder of the season plays out for the talented anglers from WVU.
Take a quick glance at the results for the top 2 teams in the standings and you will quickly notice a northern influence.  Grand Valley State University, also located in Michigan, is currently in 2nd place.  Like Adrian College, GVSU has been able to combine their success on the national scale with their regional prowess to propel them into this spot.  Michigan produces a lot of quality anglers, beginning with the master himself Kevin VanDam.  The expertise and knowledge these anglers gain by fishing the diverse waters of Michigan allows them to compete at a high level all across the United States.  "Michigan waters require anglers to be very versatile to be successful in tournaments.  We have a lot of smaller lakes and they all fish a little differently, and I think that makes Michigan anglers comfortable fishing many different techniques," says Lucas Murphy of the 2nd place team from GVSU.  Grand Valley State finished in the top 5 of each of the qualifying Michigan College Bass Circuit events.
Here's a look at the top 20:
Adrian College (Adrian, MI)
Grand Valley State University (Allendale, MI)
West Virginia University (Morgantown, WV)
Bemidji State University (Bemidji, MN)
University of Pittsburgh (Pittsburgh, PA)
Bethel University (McKenzie, TN)
Ohio State University (Columbus, OH)
Northwestern State University (Natchitoches, LA)
Murray State University (Murray, KY)
Kent State University (Kent, OH)
Slippery Rock University (Slippery Rock, PA)
University of Louisiana – Monroe (Monroe, LA)
University of Missouri (Columbia, MO)
SUNY-ESF (Syracuse, NY)
Ramapo College (Mahwah, NJ)
Gannon University (Erie, PA)
University of Wisconsin-Platteville (Platteville, WI)
Penn State University (University Park, PA)
McKendree University (Lebanon, IL)
Charles Community College (Cottleville, MO)
View the complete standings HERE.
With the added value to school sanctioned events this season, schools will be wise to use these events to aid their standings in the Cabela's School of the Year presented by Abu Garcia.  "Having the College Bass Tour and Michigan College Bass Circuit here in the state of Michigan is a huge addition to the collegiate platform and we are super grateful to have such great opportunities closer to home," says Head Bass Fishing Coach at Adrian College, Seth Borton.  Trails such as this are not significant solely for their value in the SOY race.  These events provide anglers the opportunity to hang out and share their fishing knowledge with one another.  "We get a lot of support from other Michigan competitors, and I think it's awesome that we have such a camaraderie between all the Michigan anglers," states Murphy.  For a list of school run events in your area, click HERE.
The season is young, and there are a great deal of points opportunities still left out there.  It is obvious that Adrian College is determined to put their best foot forward to breakthrough this year and claim the prestigious Cabela's School of the Year Presented by Abu Garcia.  There are plenty of other schools out there like Grand Valley State and West Virginia who will have something to say about that before season's end.  Continue to follow the Cabela's Collegiate Bass Fishing Series online and through social media to keep up with the latest news and notes.
For more information about the Cabela's Collegiate Bass Fishing Series, please visit www.CollegiateBassChampionship.com.
Stay up to date and Follow Us!
Facebook –  https://www.facebook.com/CollegiateBassChampionship
Instagram – https://www.instagram.com/collegiatebass/
Twitter – https://twitter.com/collegiatebass
Subscribe to our videos!
YouTube –  https://www.youtube.com/user/CollegeBassFishing
About the Association of Collegiate Anglers
The Association of Collegiate Anglers, a division of Careco TV, is a sanctioning body developed to facilitate growth, development, and structure within competitive collegiate bass fishing. The ACA provides support to dozens of school operated regional events nationwide and owns the Cabela's Collegiate Bass Fishing Series, the largest participatory collegiate tournament circuit in the country. With dedicated collegiate fishing programming on several television networks, three nationally televised collegiate bass fishing events, and thousands of members, the ACA is the leader in competitive collegiate bass fishing. For more information on the ACA, or the Cabela's Collegiate Bass Fishing series,visit www.CollegiateBassChampionship.com. For more information on CarecoTV,visit www.carecotv.com.
https://www.collegiatebasschampionship.com/wp-content/uploads/2018/08/2018-2019-SOY-Update.jpg
600
1000
Amanda
https://www.collegiatebasschampionship.com/wp-content/uploads/2021/05/2019-BPS_CBFS_logo-300x179.png
Amanda
2018-09-18 16:10:00
2018-09-19 11:36:43
Adrian College Cruises into 1st Place as the Cabela's School of the Year Race Heads into the Fall Season