2020 Championship: 3rd Place – Crowder & McCravy, University of North Alabama
SAN ANTONIO, TX (6/17/2020) – The third-place team in the 2020 BoatUS Collegiate Bass Fishing Championship presented by Bass Pro Shops was the University of North Alabama pairing of Triston Crowder & Martin McCravy.  Weighing in 21.03 pounds on Day 2, the hometown team from Florence, AL jumped up from 50th on Day 1 to end the event in third overall.  They were also the highest-finishing team from UNA at the Championship last week.
"After the first day of only having 12.66 on our home lake.. we were heartbroken that our shot at the title was gone," explained Crowder.  "But that night Martin and I decided that even though the places we have fished for years on the lower end of Pickwick didn't have anything on them on Wednesday, we were just going to go fishing and we would still check those places on Thursday."
The duo had to do a major reset after Day 1 of competition.  They knew that their areas held fish, they just had to remain locked in and find a way to garner some confidence on Day 2. "We cruised around the lake and pulled up on a spot at 7:00 that morning and seen a wad of 40+ fish pulled up on a flat, not a ledge, and I caught a 6.30 my first cast. That gave us the momentum we needed," Crowder continued. 
"Day 2 we just went out fishing, we just took off down the lake taking it easy and stopping on all the schools that were open and fishing them," noted McCravy.  "We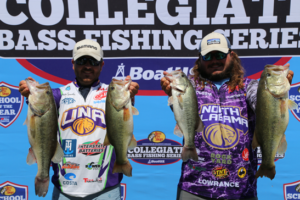 knew if we caught 25+lbs we would have a shot at winning and Triston and I both knew it's possible to do on Pickwick."  Though the UNA anglers couldn't exactly pinpoint what the difference was between Day 1 and Day 2, they just put their heads down and went to work on the places they knew best.  "Where we had our weight the 2nd day we didn't see many fish on it the first day. The key baits we threw were mostly swimbaits and crankbaits. We knew those baits would get us the bigger bites so we glued them in our hands all day," McCravy concluded.
The agony of defeat is not always an easy pill to swallow.  When an event concludes there are always a million different scenarios that you play back in your mind thinking, 'Should of, could of, would of.' "But knowing that you were two pounds away from having a shot at winning the second day, it makes you hate your Day 1 performance," said McCravy.  "We only had 12 pounds the first day. One four-pounder could've easily bumped us up to 14-15 pounds, and we would've been right up there with Bryan College in weight."
A third-place finish at a National Championship level event like the BoatUS Collegiate Bass Fishing Championship presented by Bass Pro Shops is nothing to hang your head about.  The UNA pairing of Crowder & McCravy weighed in the heaviest bag brought to the scales on Day 2.  For their efforts, they earned $1,500 and claimed the Mossy Oak Elements contingency for having the pattern on their team's jersey.
https://www.collegiatebasschampionship.com/wp-content/uploads/2020/06/IMG_9806_lo.png
364
547
Kyle Curry
https://www.collegiatebasschampionship.com/wp-content/uploads/2021/05/2019-BPS_CBFS_logo-300x179.png
Kyle Curry
2020-06-17 12:18:13
2020-06-17 12:18:13
2020 Championship: 3rd Place – Crowder & McCravy, University of North Alabama