Yamaha to Host Annual Angler Appreciation Event on Tuesday of Championship Week

The event will take place at McFarland Park in Florence, AL on Tuesday, May 24th from 1:00 PM – 5:00 PM
San Antonio, TX (May 13, 2022) – Championship Week is one of the most anticipated moments of the season on the Bass Pro Shops Collegiate Bass Fishing Series.  400 of the nation's top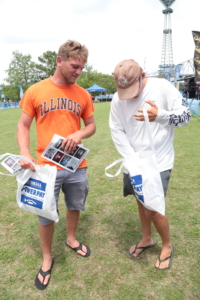 collegiate anglers will be in Florence, AL at Pickwick Lake to compete in the 2022 BoatUS Collegiate Bass Fishing Championship presented by Bass Pro Shops.  Following the start of official practice at safe light on Sunday, May 22nd, the next major event on the schedule for Championship Week is the Yamaha Angler Appreciation Event at McFarland Park.  The event will run from 1:00 PM – 5:00 PM and consist of free pizza, great prizes, a casting contest, registration for Yamaha Power Pay and much more!   Anglers can use that time to take a break from practice and come learn about Yamaha while grabbing a bite and talking fishing!
Yamaha is a long-time supporter of the Association of Collegiate Anglers, and has been a partner with the elite college trail since the first Championship event contested in 2006.  Throughout the years, college anglers have become huge fans of the Yamaha Angler Appreciation Event, and mark it down on their calendars as a must-attend event.
The 2022 Yamaha Angler Appreciation Event will take place at McFarland Park in Florence, AL.  Set along the shores of Pickwick Lake, the event is scheduled to run from 1:00 PM – 5:00 PM on Tuesday, May 24th.  Anglers attending the event can stop by any time between the allotted time frame and they will be treated to free pizza, along with a long list of door prizes and activities.
This year's Angler Appreciation Event features an all-new setup from Yamaha!  Anglers will start by walking up to the Yamaha trailer on-site and signing up for the event via an iPad.  After signing up, anglers will then receive a brief history lesson about Yamaha Outboards.  Learn about the origin of the company and the evolution of its products throughout the years!  Upon the conclusion of that presentation, anglers will participate in a 'Spin to Win' contest.  Take a spin of the wheel to earn some great door prizes from Yamaha!
Along with the many door prizes available to event participants, Yamaha will also be raffling off some major prizes throughout the afternoon.  Here is a list of several of those big ticket items that you can spin to win!
– Audio Speakers
– Oil Change Kits
– Custom Mad T-Shirts for the Event
– Duffle and Storage Bags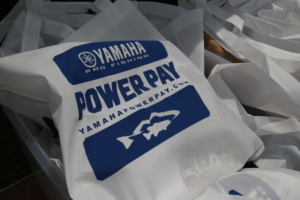 The ACA will also be hosting a hole-in-one casting contest awarding special prizes to participants who successfully complete the challenge, with winners walking away with gift cards, fishing gear, clothing and more.   Lets see who has the skill to make the perfect cast!
At the Yamaha Angler Appreciation Event, representatives for Yamaha Power Pay will also be on-site.  Anglers participating in the 2022 Championship are eligible to register for the Yamaha Power Pay tournament contingency and potentially win an additional $2,000 at the conclusion of the tournament.  Find out more details about Yamaha Power Pay here.  Anglers will be able to register for Yamaha Power Pay on-site at McFarland Park during the Yamaha Angler Appreciation Event.
https://www.collegiatebasschampionship.com/wp-content/uploads/2022/05/YAMAHA-FEATURE-IMAGE.jpg
1000
1000
Kyle Curry
https://www.collegiatebasschampionship.com/wp-content/uploads/2023/03/2022_CBFS_JM-White-300x194.png
Kyle Curry
2022-05-13 13:09:02
2022-05-16 11:42:55
Yamaha to Host Annual Angler Appreciation Event on Tuesday of Championship Week