University of Wisconsin-Platteville Team of Neu & Clisch take 1st in the 2017 Midwest College Shootout
This past weekend, University of Wisconsin-Madison hosted their annual Midwest College Shootout on Madison Chain O'Lakes. With 42 boats and 9 universities/colleges represented, it was the team of Adam Neu and Zach Clisch from University of Wisconsin-Platteville who took the top spot with a 2-day total of 38.14lbs. Coming in 2nd was University of Wisconsin-Stout's team of Mitch Van Ert and Steven Sellnow, and in 3rd was University of Wisconsin-Madison team of Spencer Hahn and Ben Wanke. This school-run event was sanctioned by the Association of Collegiate Anglers and eligible for Cabela's School of the Year points.
"Mostly tubes and drop-shots. Being super slow about everything, they [the bass] were being super finicky and spending a lot of time on a spot was key. We saw a lot of guys come in and fish for like 5 minutes and leave and that wasn't cutting it," said Neu and Clisch about their strategy. "Both days we had our limit pretty early; I think both before 9 o'clock. Key was staring at the graphs. We did a lot of scanning – didn't do much fishing in practice, but we were scanning a lot. Spot that we caught all our fish on today [championship Sunday] we found yesterday after we had our limit," continued Neu and Clisch.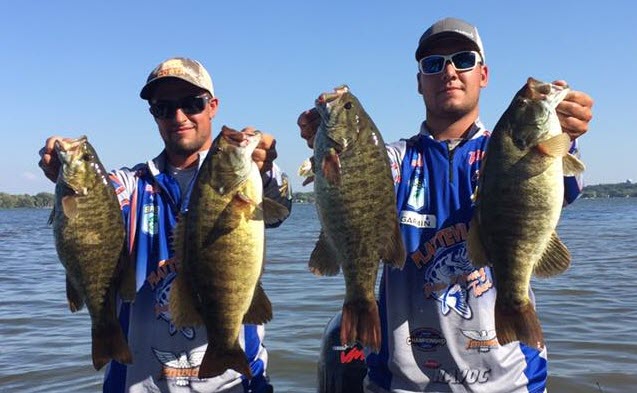 Having this event qualify for Cabela's School of the Year points, is something Neu and Clisch along with the other schools find important when picking tournaments to fish. "Every year we try to send quite a few boats to each event to try to be competitive in Cabela's School of the Year. This is a really good tournament for us. I know we get a little behind because we don't have easy access to as many tournaments as people down south do," said Neu and Clisch.
Most bass fishing clubs who put on "School-Run" events have the opportunity to have their event sanctioned to receive Cabela's School of the Year points. With the program growing and becoming more competitive, the points become all-the-more valuable with each event.
"Hosting this tournament gives many teams from the Midwest, and especially from Wisconsin, an opportunity to fish a close-to-home tournament. Being a northern bass angler can be difficult because we don't have access to as long of a fishing/tournament season, so it's really nice to get be able to fish a tournament in our own backyard," said the UW-Madison bass fishing club. "To have our event be backed by the Cabela's School of the Year is very important because it gives everyone a little extra incentive to do well. Platteville won the tournament and had 2 other boats in the top 8. Going forward for them that has to give them a boost over a lot of other teams in the School of the year race."
To see all the events that will qualify for Cabela's School of the Year points, click here. For details on the rest of the 2017 fall schedule, visit https://www.collegiatebasschampionship.com/fishing-tournaments/#schedule
https://www.collegiatebasschampionship.com/wp-content/uploads/2017/10/Wisconsin-SOY-Event-Results.jpg
326
486
Amanda
https://www.collegiatebasschampionship.com/wp-content/uploads/2023/03/2022_CBFS_JM-White-300x194.png
Amanda
2017-09-29 12:35:47
2017-11-09 14:32:45
University of Wisconsin-Platteville Team of Neu & Clisch take 1st in the 2017 Midwest College Shootout