Snead State Seals the Deal on Dardanelle
Russellville, AR (10/27/19) – That's a wrap!  The 2019 AFTCO Collegiate Bass Open is in the books.  Lake Dardanelle presented a tough playing field thanks to constantly changing weather conditions for 350 of the top collegiate anglers in the nation.  Facing a fog shortened, post front day these young anglers had their work cut out for them to catch a limit or kicker with only a few hours of fishing. As to be expected, they gave it their best effort and brought in plenty of bass to shake up the leaderboard on this final day.
One team that did not slip on day two are the overall winners for the event, Garrett Warren and John Owens from Snead State Community College.  Weighing in a total of 27.15 pounds over two days, these anglers from Alabama accomplished what they came here to do.  "We were coming out here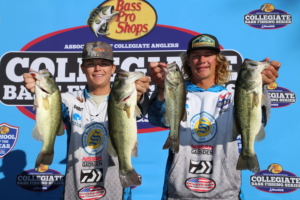 to win.  We wanted nothing more or less but to win.  It feels awesome.  It feels like a real accomplishment to finally get a win under our belt.  It feels nice to finally get it done," said Warren.  Warren's teammate, John Owens, is just as excited about their first place finish.  "I'm just speechless.  It's just awesome.  Had a good weekend, and executed as much as we could," added Owens.
The two anglers had control of the day one lead after weighing in 17.85 pounds.  On day one, they happened into their winning spot as they fished along the bank and found a good looking piece of bank.  Today their luck came in the form of one clutch bite this afternoon executed by Owens.  "I made a clutch catch, probably about an hour ago.  I flipped up a three pounder.  That's what really helped us out today," Owens explained.  That clutch bite allowed the Snead State anglers to best second place by roughly three and a half pounds.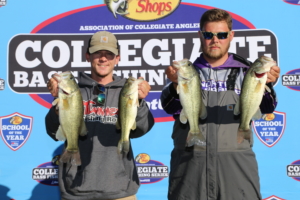 Ending the event in second place are Luke Mason and Justin Lane from the University of North Alabama.  They finish as runner-up with 22.69 pounds, a result that caught them both by surprise.  "It's very surprising for us.  Practice was absolutely terrible.  We didn't fish anything in the tournament that we practiced.  And we didn't fish anything in the tournament twice," Lane said.  That comment pretty much summarizes their performance throughout the entire event.  They junk fished their way to a great week here at Lake Dardanelle.  "We just junk fished.  If I had to guess, ten keepers probably seven different baits or so," Mason added.  The points earned for second place will help out the past School of the Year winners from North Alabama as they position themselves yet again for a run at the most prestigious title in college fishing.
Completing the top three is another group from the state of Alabama.  The University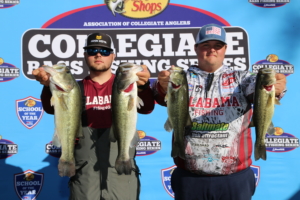 of Alabama pairing of Jared Turnbloom and Jake Turnbloom finish in third place with 22.69 pounds.  "It's awesome, can't complain about it.  Should have done better, but it's a national event.  All of these guys are really really really good fishermen, can't complain about top three," Jared explained.  The two found one specific pattern that worked, and fished it consistently for both days.  That consistency paid off to the tune of 11 pounds both days.  "The only place we could get bit was basically grass that grew off riprap walls up and down bridges.  We would basically just start and go up and down them all day.  Eventually they would bite.  You would go down a stretch three or four times and all of a sudden you would get five or six bites on one pass," said Jake.
This was a great weekend here at Lake Dardanelle and Russellville, AR.  Although the weather threw the anglers a curveball, a large majority of the field put together several key bites to create an exciting and competitive event.  Click here to view the complete standings and be sure to visit the website all week long as we'll be sharing more recaps from top finishing teams to include a complete breakdown of the winners pattern.
https://www.collegiatebasschampionship.com/wp-content/uploads/2019/10/IMG_7347.jpg
3648
5472
Kyle Curry
https://www.collegiatebasschampionship.com/wp-content/uploads/2021/05/2019-BPS_CBFS_logo-300x179.png
Kyle Curry
2019-10-27 19:17:14
2019-10-27 19:24:13
Snead State Seals the Deal on Dardanelle