JASPER, TX (2/22/2020) – Early spring time is hands down one of the best times of the year to catch a giant prespawn bass.  Add into the equation that you're fishing on one of the best bass lakes in America, and you have the formula for catching a world-class trophy fish.  This weekend at Sam Rayburn Reservoir may just be setting up as the perfect storm for hundreds of college fishing's most elite anglers to catch the fish of a lifetime, and walk away with thousands of dollars in prizes and contingencies at the 2020 Texas Lunker Challenge presented by Mossy Oak Fishing.
The Texas Lunker Challenge is the first event of the 2020 season out on the Bass Pro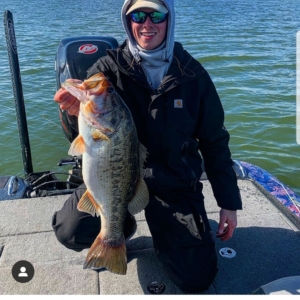 Shops Collegiate Bass Fishing Series.  A one-day big bass format event, this no entree fee tournament put on by the Association of Collegiate Anglers promises a total payout of $20,000 in prizes and contingencies.  Anglers are permitted to bring in their largest bass of the day to weigh-in. The Top 40 anglers will receive prizes, along with exact weight prizes being awarded to bass weighing 2.00, 3.00, 4.00, 5.00, and 6.00 pounds.
The race for Bass Pro Shops School of the Year presented by Abu Garcia is also taking center stage this weekend.  As the 2019-2020 season progresses, we have now moved into the second half of the quest for college fishing's most prestigious title.  Adrian College, based out of Michigan, enters the weekend with a slim margin over second place McKendree University.  Numerous teams inside the Top 10 for School of the Year will be competing tomorrow on Sam Rayburn Reservoir.  The winner of the Texas Lunker Challenge presented by Mossy Oak Fishing will earn 1,000 points for their respective school.  A school's highest two finishing teams inside of the Top 75 will earn points to count toward their total for the season.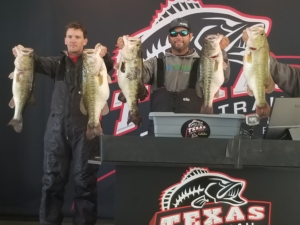 Bass fishing right now out on Sam Rayburn Reservoir is really starting to catch fire.  The Texas Team Trail presented by Bass Pro Shops and Cabela's held a 300+ boat tournament on Sam Rayburn today, and 49+ pounds claimed first place.  That tournament winning bag was anchored by both a 12+ and 11+ pound bass.  The total average per fish of that bag is just under 10 pounds.  Once the scales closed, a handful of fish in the double digit range crossed the stage.  Today's results in the Texas Team Trail event point towards good fish catching opportunities for the college anglers tomorrow.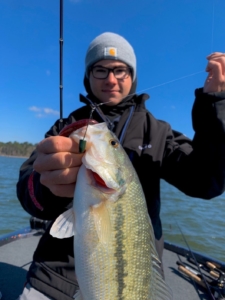 Through two days of practice, the college anglers have had a great time out on Sam Rayburn Reservoir.  Changing weather patterns and cooler than normal temperatures are not keeping them from finding quite a few bites.  Last night we had the opportunity to talk with Kayden Tanner and Samuel Climer from Tarleton State University.  They have had the chance to practice each of the last two days.  One popular pattern out on Sam Rayburn Reservoir this time of the year is to run deep water brush piles near creek channel bends.  Tanner & Samuel have tried this, as well as a variety of other techniques over the last 48 hours. The duo has found some success and hope to run into a double digit bass on derby day.
Tournament action will begin bright and early tomorrow morning. The first flight of boats will take to the water at 7:00 AM, with that flight being due back in at 2:15 PM.  Live weigh-in will be streamed on the Outdoor Action TV app.  Keep up with more live updates and coverage on our website and through various social media channels.
https://www.collegiatebasschampionship.com/wp-content/uploads/2019/06/SamRayburn_TexasLunkerChallenge_2020.png
800
800
Kyle Curry
https://www.collegiatebasschampionship.com/wp-content/uploads/2021/05/2019-BPS_CBFS_logo-300x179.png
Kyle Curry
2020-02-22 20:34:22
2020-02-22 20:34:22
Sam Rayburn Provides Premier Stage for Texas Lunker Challenge presented by Mossy Oak Fishing