Registration is Now Open for the Bass Pro Shops Big Bass Bash presented by Berkley
Rescheduled event to be held on Kentucky Lake in October
Starting today, collegiate anglers nationwide will be able to register for the Bass Pro Shops Big Bass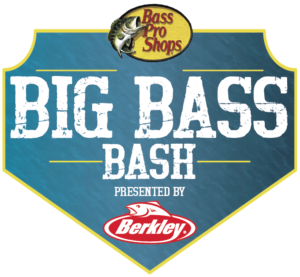 Bash presented by Berkley. The event, hosted by Henry County Tourism Authority, was initially set to take place back in March, but with major flooding in the area the ACA decided to reschedule the event for October. The event will include an angler check-in and dinner in Paris, Tennessee the night before the event, as well as two days of fishing on Kentucky Lake in the fall, which is a first for this event. This event will also be televised on several national networks to include CBS Sports, The Pursuit Channel and numerous on-demand platforms as part of the largest ever collegiate bass fishing television series.
This event has always been an angler favorite and continues to showcase the fantastic fishing opportunities on Kentucky Lake, not only to the collegiate anglers fishing the event, but also to the fans of fishing that watch the national coverage.
Second, this will be a no entry fee event that features a big bass format which rewards not only the biggest catch of the day but numerous other catches on a rotating hourly basis that will result in over $30,000 in total prizes being on the line when combining all the prizes and contingency opportunities available.
Third, this tournament will also be a key event in the race for Bass Pro Shops School of the Year presented by Abu Garcia with schools earning valuable points towards standings based on their catches. This year there will be a large amount of School of the Year points on the line and anglers can click here to see the new way points are allocated.
Competition will take place October 4th-5th, with the onsite angler check-in/registration, dinner, and pre-tournament meeting to be held Thursday, October 3rd at the Henry County Fairgrounds.
"This is always one of the most anticipated and largest turnouts every year in college fishing and it was unfortunate we had to reschedule it due to high water and unsafe boating conditions in the spring. However, this fall's event will give anglers a new time to be on the water and with all the twists in the format who knows what all sizes of fish will be rewarded with prizes," said Wade Middleton Director of Association of Collegiate Anglers and President of CarecoTV.
To register today and find out more information on the 2019 Bass Pro Shops Big Bass Bash presented by Berkley, click the link below and stay tuned for more information to follow!
For more information about the Bass Pro Shops Collegiate Bass Fishing Series, please visit www.CollegiateBassChampionship.com.
Stay up to date and Follow Us!
Facebook –  https://www.facebook.com/CollegiateBassChampionship
Instagram – https://www.instagram.com/collegiatebass/
Twitter – https://twitter.com/collegiatebass
Subscribe to our videos!
YouTube –  https://www.youtube.com/user/CollegeBassFishing
Listen to our #WeAreCollegiateBass Podcast!
About the Association of Collegiate Anglers
The Association of Collegiate Anglers (ACA), a division of CarecoTV, is a tournament organization created to facilitate growth, development, and structure within competitive collegiate bass fishing.  The ACA created the original BoatUS Collegiate Bass Fishing Series,15 seasons ago, which is now the Bass Pro Shops Collegiate Bass Fishing Series, and the longest running collegiate bass fishing series in existence.  The ACA provides support to dozens of school operating regional events nationwide, and owns the Bass Pro Shops Collegiate Bass Fishing Series, Bass Pro Shops School of Year Program, and associated assets.   The ACA also provides the largest amount of televised coverage of any collegiate fishing series with dedicated programming on several television networks ranging from Discovery Channel, CBS Sports, NBC Sports, Pursuit Channel, World Fishing Network, as well as other regional and national networks.  For more information on the ACA or the Bass Pro Shops Collegiate Bass Fishing Series, visit www.CollegiateBassChampionship.com. For more information on Bass Pro Shops, visit www.BassProShops.com.  For more information on CarecoTV, visit www.CarecoTV.com.
https://www.collegiatebasschampionship.com/wp-content/uploads/2018/06/BIG-BASS-BASH-EVENT-GRAPHIC.jpg
600
600
Shelley
https://www.collegiatebasschampionship.com/wp-content/uploads/2023/03/2022_CBFS_JM-White-300x194.png
Shelley
2019-08-01 10:18:02
2019-08-01 10:53:10
Registration is Now Open for the Bass Pro Shops Big Bass Bash presented by Berkley