Order Your New Gemini Jerseys Today
It's about that time again…tournament season time! With that comes anglers and teams gearing up for the upcoming season. Apart of that preparation is buying jerseys and there is no one better in the fishing industry to help get you started than Gemini Jerseys.
Gemini Jerseys provides the best custom tournament jerseys options available. Their jerseys are made using light weight, performance materials that will keep you comfortable all day. The G2 galleries are constantly updated with new products and cutting edge designs, so stop back often to see why G2 is the industry standard for professional dye sublimated and embroidered apparel. You also get your choice of banded zipper or crewneck jerseys, and they even offer hooded jerseys for the cold weather events.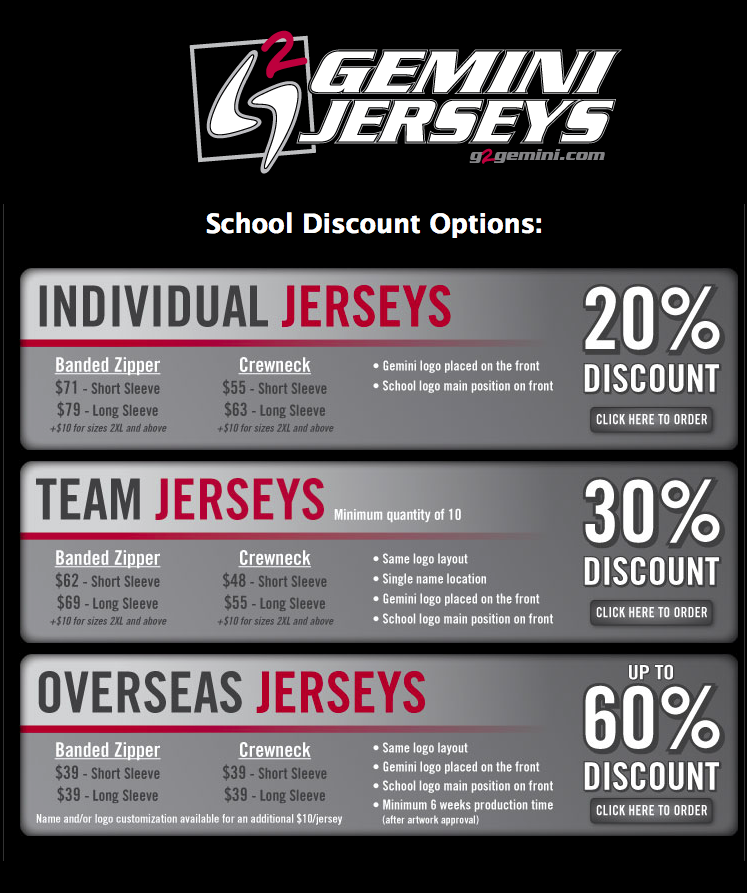 Order Process
We make dye sublimated jerseys and hoodies & outerwear, featuring complete background customization.
Full Custom Setup fees are as follows:
Stock Background – $25 (includes 3 proofs)
Custom Background – $75 (includes 3 proofs)
Setup fees include the initial design & logo placement. Exceptions that incur additional charges may apply. If necessary, a proof of your apparel will be emailed to you for your approval. Current timelines are on the sidebar to the left. Orders must be paid in full before they will be sent to production.
Full Custom Size Charts
How to use the size charts:
Find a shirt that fits you comfortably and lay it out

completely flat on the floor.

Measure straight across the chest from side seam to side seam directly under the armpit – this is the "A" measurement.

If this falls in between sizes, ALWAYS go with the larger size.

Measure the front of the shirt from the bottom hem to the very top of the collar seam – this is the "B" measurement.

If this falls in between sizes, ALWAYS go with the larger size.
Our G2 apparel is described as being true to size, however, if there are any questions please refer to the size chart below. Our full custom apparel is also available in a Women's Specific Cut which is only available in sizes XS-2XL.
Artwork Requirements
We design all of our jerseys using vector images. All artwork/logos provided to us must be provided in vector format in order to be printed correctly. A logo being displayed on the Gemini site is an indication that we already have the logo in vector format. We currently have over 4000 vector logos available.
What are Vector Images? Vector images are the opposite of bitmap images. Vector images are used in most aspects of graphic design and are the preferred format for printing, both on paper and on clothing. The reason for this is that while a bitmap image can look great on the screen, which usually has a resolution of about 72 pixels/dots per inch (DPI), it will normally have to be scaled by a factor of 8 or more when printed since modern printers routinely produce resolutions of 600 pixels/dots per inch. Vector artwork can handle this type of scaling without any problems while bitmap images struggle with it.
Logos are usually created in vector format. If you are having problems locating a vector version of your logo you may want to try contacting the company that printed your business cards.
What about images from the web? In most cases we cannot use images or logos taken from the web because they are not vector files and they are not high enough quality to be printed clearly.
What if I don't have a vector image of my logo? You have a couple of options. If your logo file is high resolution, we can usually convert it to a usable format for $20 per logo. Some complex logos may require that our designers re-draw the artwork, resulting in a larger conversion fee. In other cases we may not be able to convert the logo at all.
How It's Made
All of our apparel is produced using a process called Dye Sublimation. Most pieces of G2 apparel start out as a single section of large white material. This material is then dyed using a ultra high temperature heat press to create one large piece of dyed fabric. All of the smaller pieces (sleeves, collar, front, back, ect.) are then cut out from the larger piece, hemmed, and subsequently sewn together to become the finished product.
Material Specs
Wear-Resistant
We use a patented Intera® fabric on all of our jerseys that will not fade and it is extremely resistant to wear. Because the material itself is dyed it will not peel or wear off like screen printing.
UV Protection
G2 apparel is built to handle extreme sun exposure with an outer shell that shields your body from harmful UV rays. All of our apparel* features a UPF rating of 25. This advanced technology aids in extending the time you are able to spend outdoors—it also increases comfort during and after the competition. *Aside from some semi-custom apparel.
Anti-Microbial
Our fabric resists bacteria and continues to smell fresh—wash after wash. Specially finished using a micro-thin coating, our jerseys continue to look new even after months of wear.
Temperature Management
Intera patented material keeps you cool in the summer and warm in the winter. The pores of the fabric expand whenever it is warm outside, which allows air to freely pass through. The pores contract in colder weather, which serves to insulate.
Moisture Transfer
Our fabrics are designed to transport moisture away from your body and toward the outer layer of the fabric where it can quickly evaporate.
Ventilation
Breathable fabric means always feeling fresh—even under the most strenuous conditions.
Moisture Wicking
Surface moisture and sweat wick to accelerate evaporation, keeping you dry while also serving to regulate body temperature.
https://www.collegiatebasschampionship.com/wp-content/uploads/2017/08/IMG_5206.jpg
533
800
John Braig
https://www.collegiatebasschampionship.com/wp-content/uploads/2023/03/2022_CBFS_JM-White-300x194.png
John Braig
2017-08-02 14:42:36
2017-08-02 14:43:23
Order Your New Gemini Jerseys Today