Northern Kentucky Looks for Repeat at 2016 BoatUS Collegiate Bass Fishing Championship Presented by Cabela's
By Cody Levy
As part of the championship team at the 2015 BoatUS Collegiate Bass Fishing Championship Presented by Cabela's, Northern Kentucky University's Brandon Knapmeyer is thrilled to once again have the opportunity to compete on the world-famous Lake Pickwick to defend Northern Kentucky University's Championship title. With less than a month until anglers will be making the journey to Florence, Alabama, Knapmeyer is already preparing for the weeklong event.
"Keeping the title at NKU is super important to us," said the Northern Kentucky University Junior and Bass Team President, Brandon Knapmeyer. "There are over 150 other teams fighting for it, but we want to bring [the title] back again. We're fishing against some other pro's basically – that's how good these guys are. But at the end of the day, we're building friendships and competing against our friends and some of the best collegiate anglers in the industry. That's the beauty of it, is that this is one of the most difficult tournaments to win, which is why we want to win so bad."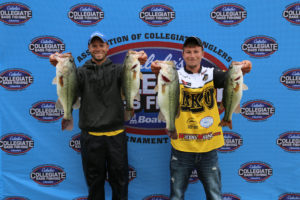 Knapmeyer's experience in the Cabela's Collegiate Bass Fishing Series has led him coming back time after time, which has spurred his excitement in once again traveling down to Florence.
"The championship is such a great experience. The ACA takes care of us and Cabela's Collegiate Bass Championship event is just top notch. It's an event that you put on the calendar at the beginning of the year and is one that you don't want to miss," said Knapmeyer.
The NKU junior is ready to be back on Pickwick Lake for some of the hottest fishing in the nation around the month of May. After getting a taste of the Pickwick Lake ledges, Knapmeyer is confident that he will be able to find schools of quality bass once again.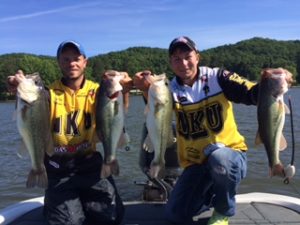 "It's going to be like it is every year – the bass are going to be on the ledges or at the Wheeler dam on Wilson lake, but I think the bigger fish are definitely going to be out on the ledges. When we get down there for practice, we'll be graphing for three days and fishing just a little bit here and there to check the average size in some of the schools," Knapmeyer said.
Knapmeyer added that "graphing is probably the most important thing. When you get good at reading a graph and figuring out how to pattern those bass, it's easy for those who can do that to catch fish and catch the big ones."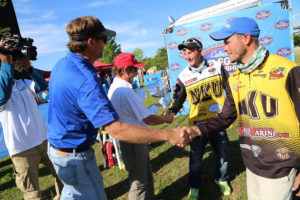 Florence, Alabama is a community that caters to anglers, which many BoatUS Collegiate Bass Fishing Championship competitors have taken note of over the past four years. Knapmeyer has also taken note, and plans to make Florence his future home.
"I'm really looking forward to getting down to Florence again," said Knapmeyer. "Honestly, I love the area down there. I'm planning on moving down there after I graduate. The people and the community are great and the fishing is great so I can't wait to get down there."
Register today for the 2016 BoatUS Collegiate Bass Fishing Championship Presented by Cabela's by clicking here: https://www.collegiatebasschampionship.com/tournament-schedule.html
To see additional coverage on our Facebook, click here: https://www.facebook.com/CollegiateBassChampionship
Also, follow us on Instagram and Twitter at @CollegiateBass
About the ACA
The Association of Collegiate Anglers, a division of Careco TV, is a sanctioning body developed to facilitate growth, development, and structure within competitive collegiate bass fishing.  The ACA provides support to dozens of school operated regional events nationwide and owns the Cabela's Collegiate Bass Fishing Series, the largest participatory collegiate tournament circuit in the country. With dedicated collegiate fishing programming on several television networks, three nationally televised collegiate bass fishing events, and thousands of members, the ACA is the leader in competitive collegiate bass fishing.  For more information on the ACA, or the Cabela's Collegiate Bass Fishing Series, visit www.CollegiateBassChampionship.com. For more information on Cabela's visit Cabelas.com, for more information on CarecoTV, visit www.carecotv.com.
https://www.collegiatebasschampionship.com/wp-content/uploads/2016/06/CBFC_Button-e1480444540195.png
300
300
Shelley
https://www.collegiatebasschampionship.com/wp-content/uploads/2021/05/2019-BPS_CBFS_logo-300x179.png
Shelley
2016-05-05 16:29:07
2016-11-18 13:49:28
Northern Kentucky Looks for Repeat at 2016 BoatUS Collegiate Bass Fishing Championship Presented by Cabela's