Movement in the Cabela's School of the Year presented by Abu Garcia's Top 3
Bethel University followed by Murray State University in 2nd, and Auburn University in 3rd 
The latest Cabela's School of the Year presented by Abu Garcia Standings have been released and holding steady with a 564-point lead is Bethel University. Rounding out the top 3 are Murray State University, who moves from fifth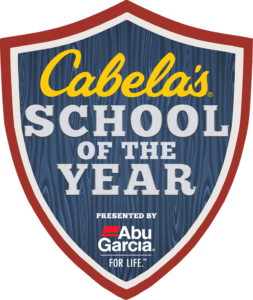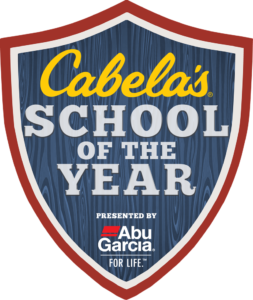 place to second place, and Auburn University jumping back up into third.
At this point in the season, teams know it's crucial to fish as many events as possible to earn as many points for Cabela's School of the Year in hopes of making a last-minute move in the standings, and ultimately taking the top spot. But with a stacked field,  featuring top notch fishing clubs, it's much more than just fishing every event possible, it's also about fishing consistently well. No team has done that better than Bethel this year.
This year's program saw the addition of a point system for all FLW, B.A.S.S, and ACA events, as well as a point system for all sanctioned school-run events. This move implemented by the ACA was designed to provide more points earning opportunities than ever before. With less than three weeks to go before crowning the next Cabela's School of the Year team, it appears that Bethel University has taken advantage of the points, holding on to the top spot with no plans of letting up. Still up for grabs though are the top spots, as well as the prestige of finishing the year ranked in the Top 25 in the nation.
Bethel University has been in the top 10 all year, taking an early lead back in June after the first couple of events of the 2017-2018 season. Bethel no doubt has depth when it comes to their team, which currently consists of 32 active members allowing them to travel and compete in events as needed. That being said, it doesn't take away from the simple fact that since the start of the season Bethel has been able to fish consistently and effectively. It's safe to say that Bethel University has their sights on the prize.
"Winning the 'School of the Year' award would mean so much to our program here at Bethel. This is one of the highest awards in college fishing and we have never won this great award even though we have been in the top seven schools or closer each year," said Bethel University Coach, Garry Mason.
Moving from fifth to second place is another powerhouse, Murray State University. Murray State made moves from the last update, competing in the FLW Central event on Kentucky-Barkley Lakes, taking first place and earning 200 points that helped move them into second place. Murray State University Bass team has long been a contender since the beginning of the Cabela's School of the Year program, and by all accounts has always had their eye on winning the Cabela's School of the Year title.
Still in the hunt and rounding out the top 3 is Auburn University. Auburn has been a steady presence in the top 10 this year. Just this past weekend at the FLW Southeastern event on Lake Chickamauga, Auburn placed third overall and gained 180 points to their team total. With that top 3 finish, Auburn moves one spot back into the top 3.
As many teams, have found out over the years, in order to be competitive in the Cabela's School of the Year presented by Abu Garcia race, teams must work together and share the same mind set in order to accomplish their goals.  Only three weeks remain in this season's race, and it's going to be an exciting ride to the end of the season for all the teams vying for the title, but also to end the season ranked in the Top 25 in the nation.
A look at current Top 25 schools are as follows:
Bethel University (McKenzie, TN)
Murray State University (Murray, KY)
Auburn University (Auburn, AL)
University of North Alabama (Florence, AL) *2014 & 2015 SOY Champs
McKendree University (Lebanon, IL)
Adrian College (Adrian, MI)
Bryan College (Dayton, TN) *2017 SOY Champs
University of Louisiana – Monroe (Monroe, LA) *2013 SOY Champs
University of Tennessee (Knoxville, TN)
Dallas Baptist University (Dallas, TX)
University of Montevallo (Montevallo, AL)
Missouri State University (Springfield, MO)
Mississippi State (Starkville, MS)
Tarleton State (Stephenville, TX)
Louisiana Tech University (Ruston, LA)
East Texas Baptist University (Marshall, TX)
Rogers State University (Claremore, OK)
Northwestern State University (Natchitoches, LA)
Louisiana State University – Shreveport (Shreveport, LA)
Sam Houston State (Huntsville, TX)
Drury University (Springfield, MO)
Slippery Rock University (Slippery Rock, PA)
Wallace State Community College (Hanceville, AL)
Stephen F. Austin (Nacogdoches, TX)
University of Wisconsin – Platteville (Platteville, WI)
The final showdown will take place in Florence, AL on Pickwick Lake as the Cabela's Collegiate Bass Fishing Series hosts its final event of the 2017-2018 season – the BoatUS Collegiate Bass Fishing Championship presented by Cabela's. This event will be the last qualifying event to count towards Cabela's School of the Year presented by Abu Garcia with the winner being announced after the final weigh-in of the Championship.
For more information about the Cabela's Collegiate Bass Fishing Series, please visit www.CollegiateBassChampionship.com.
Stay up to date and Follow Us!
Facebook –  https://www.facebook.com/CollegiateBassChampionship
Instagram – https://www.instagram.com/collegiatebass/
Twitter – https://twitter.com/collegiatebass
Subscribe to our videos!
https://www.collegiatebasschampionship.com/wp-content/uploads/2017/04/CBFTUPDATE.png
552
919
Amanda
https://www.collegiatebasschampionship.com/wp-content/uploads/2023/03/2022_CBFS_JM-White-300x194.png
Amanda
2018-05-09 09:41:05
2018-05-18 09:33:19
Movement in the Cabela's School of the Year presented by Abu Garcia's Top 3