Montevallo Claims Bass Pro Shops Collegiate School of the Year presented by Abu Garcia
McKendree University finishes in 2nd, and Adrian College moves up one spot to claim 3rd
SAN ANTONIO, TX (June 2, 2021) –  The 2020-21 season out on the Bass Pro Shops Collegiate Bass Fishing Series came to a historic end last week at Lake Murray in South Carolina.  Following the conclusion of weigh-in at Dreher Island State Park last Thursday points totals were calculated, and the standings finalized for this season's Bass Pro Shops School of the Year presented by Abu Garcia.  The final standings revealed several shakeups to be one of the most dramatic reveals of the season as one new team leapt up into the Top 3 and Montevallo's lead over 2nd place shrank to its slimmest margin in the past several months.  When it was all said and done, Montevallo did just enough at Lake Murray to claim the school's first-ever title as Bass Pro Shops School of the Year presented by Abu Garcia.  Back-to-back defending winners McKendree University closed the margin to less than 300 points to finish the season in 2nd, and Adrian College leap-frogged Murray State to earn 3rd place honors.   There were also several other moves inside the Top 25 national rankings which can be seen below.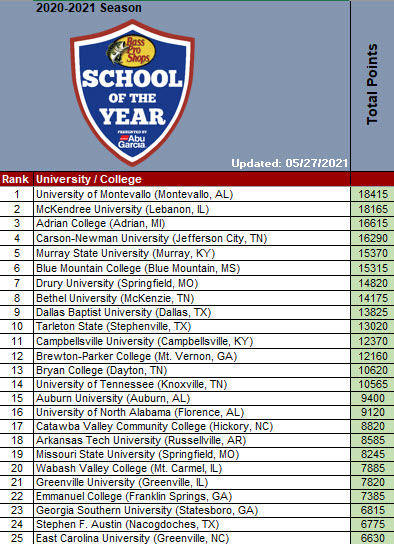 "It was very exciting to see all the hard work finally pay off. This is my 6th season at Montevallo and each year I felt that we were getting closer and closer of reaching that top spot in collegiate bass fishing," said William Crawford, Head Fishing Coach at the University of Montevallo.  "Being this is the first-ever title for the program or the University there has been a lot of excitement around our campus, community, state and even in the fishing community. I am amazed at the amount of support we have received since winning the title."
Montevallo's quest for its first-ever School of the Year title was not accomplished without a slight bit of drama.  Following Day 1 of competition, the number one ranked team in the nation had two teams inside of the Top 10 and looked poised to build on its 1,000 plus point lead and run away with the title.  James Willoughby & Chance Schwartz were in 5th place with 15.37 pounds, and fellow teammates Solomon Glenn & Ryan Thomas occupied 6th at 15.12 pounds.
Day 2 proved not to be as stress-free as Montevallo likely expected following a picture-perfect start on Day 1.  ACA camera crew staff covered both the 5th and 6th place teams throughout the morning, and it quickly became evident that those two angler pairings were finding the conditions to be much more difficult.  At weigh-in that afternoon, Montevallo's confidence quickly began to shrink as several of the nation's other top teams began to place teams inside of the Top 20 of the tournament standings and pushing Montevallo downward in the standings.
Willoughby & Schwartz zeroed on the final day of competition, dropping from 5th place after Day 1 all the way down to 66th overall.  Montevallo's other highest-placing team after Day 1 struggled immensely on the final day as well.  The duo of Glenn & Thomas dropped from 6th overall down to 51st after weighing in just 2.75 pounds of bass on Day 2.  In just a matter of 24 hours, Montevallo went from having a commanding seven-month run atop the standings, to possibly watching its title hopes to dwindle as college fishing powerhouse McKendree University lurked within striking distance on the final day.
The team that had Montevallo looking back over its shoulder on Day 2 had won the Bass Pro Shops School of the Year presented by Abu Garcia the past two years and was just over 1,000 points shy of first place.  Upon the closing of the scales on the final day of competition, McKendree placed two teams inside of the Top 25 in the tournament standings earning valuable points in its quest toward claiming a third straight title.  Nate Doty & Bailey Bleser finished in 12th with a two-day total of 26.18 pounds, and Trevor McKinney & Blake Jackson took 24th with 22.48 pounds.
McKendree earned a total of 2,320 points at the 2021 BoatUS Collegiate Bass Fishing Championship presented by Bass Pro Shops.  This point total was nearly 1,000 points higher than that of top-ranked Montevallo.  However, the lead Montevallo built up over the past seven months proved to be too much to overcome as McKendree came up 250 points short of claiming a three-peat as School of the Year winners.
A season full of hard work, dedication, and proper scheduling paid off for the University of Montevallo as it claims its first-ever title as Bass Pro Shops School of the Year presented by Abu Garcia.  For three to four seasons now, Montevallo has been building towards this moment.  The team's spring season has been chalked full of Top 10 finishes across the national stage, including two victories at ACA double points event.
"While the season wrapped up a bit closer than expected, I personally don't think I've seen a school have such a good run as what Montevallo has had this season.  The talent pool at the school runs deep as they had a large roster of anglers that all contributed to earning points all season long.   Congratulations on a job well done on the water by this fine group of anglers," said Wade Middleton, Director of Association of Collegiate Anglers.
"This is a group of guys that dedicates their heart and soul into the sport of bass fishing. This means a lot for us because this is something all of us dreamed of and strives for when we came to fish for Montevallo. Our coach, William Crawford, has put everything he has into trying to build the best team in the nation," added Cal Culpepper, Montevallo angler.  "His drive to bring guys in from all over the country is one of the reasons why we ended up on top. Our team is full of versatility. It's always someone different at the top at every tournament, and you need that if you want to be the best team in the nation."
A majority of the anglers on this current roster have been at Montevallo for three to four years now and have seen steady growth through that time.  Last season ended in a runner-up finish, and the team's goal entering the 2020-21 season was to cap this year off as the top-ranked team in the nation.
"It really means the world to all of us involved considering this has been one of our top goals, if not the top goal, for this organization for the past couple of years," noted Adam Carroll, Montevallo angler.  "Back when I first came to the University of Montevallo, we established this goal and it seemed pretty far fetched, but after we came so close last year, and have now won it, it just goes to show that with hard work, teamwork and great effort and determination that anything is possible."
https://www.collegiatebasschampionship.com/wp-content/uploads/2021/06/2021-SOY-WINNER.jpg
1080
1920
Kyle Curry
https://www.collegiatebasschampionship.com/wp-content/uploads/2023/03/2022_CBFS_JM-White-300x194.png
Kyle Curry
2021-06-02 14:29:32
2021-06-02 14:29:32
Montevallo Claims Bass Pro Shops Collegiate School of the Year presented by Abu Garcia