McKendree University Hosts Fall Invitational
Vandalia Lake, IL
Saturday, September 30, 2017
6:30 a.m. – 2:30 p.m.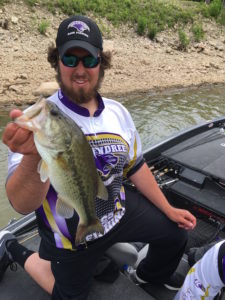 McKendree University is set to host their 5th Fall Invitational at the of September on Vandalia Lake.  "The lake is fishing strong right now.  You won't catch huge numbers of fish, but the ones you catch will be good ones.  It should take 14 – 16 pounds to win it," said Shane Campbell, Senior at McKendree University.
"This will be the fifth year for the McKendree University Fall Invitational Tournament.  The McKendree Bass Fishing program began five short years ago and jumped on board with the Association of Collegiate Anglers (ACA) in its very first fall season. Since that first fall, we have always looked forward to fishing both the Cabela's Collegiate Bass Fishing Series, as well as other collegiate invitationals that are sanctioned for the Cabela's School of the Year.  The ACA organization and the Cabela's Collegiate Bass Fishing Series do everything they can to help make all of their events, as well as our Fall Invitational, an extra special tournament for the collegiate anglers," said Jon Rinderer, Coach of McKendree University's bass fishing team.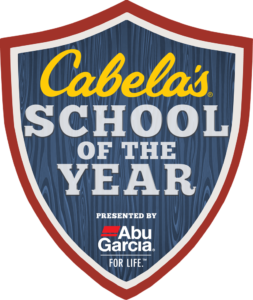 The Association of Collegiate Anglers will also be sanctioning the event allowing teams competing to earn Cabela's School of the Year presented by Abu Garcia points.  All School-Run events that are sanctioned for Cabela's School of the Year points will be eligible to receive a max of 50 points for 1st place regardless of the field size. Points will decrease in 5 point increments up to 6th place (25 points) and from 7th through 25th will decrease by 1-point increments (25th place will receive 6 points).
"Having our McKendree Invitationals sanctioned by the ACA is extremely beneficial since a sanctioned tournament allows the teams fishing the tourneys another chance to earn valuable points in the highly competitive Cabela's School of the Year race.  The Cabela's School of the Year title is highly coveted by the Collegiate fishing world.  The attention, prestige, and prize packages associated with this title are incredible!  Our tournament being sanctioned as a "points tourney" allows teams an extra opportunity to earn points and especially offers many Midwestern teams the opportunity to earn these valuable points without having to drive quite as far to fish.  The opportunity to earn points and the assistance with prize packages for these sanctioned events has definitely helped to boost the attendance at our events," added Coach Rinderer.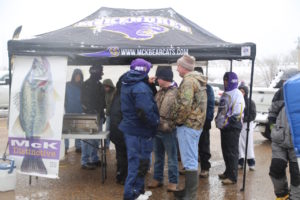 Vandalia is a fantastic little lake with a great population of largemouth bass. "Our tourney that we put on at Vandalia Lake is one of the most enjoyable tournaments of the year to me. There are always quite a few boats, and it's fun fishing against all the guys. Vandalia is a great lake that has the potential for a big bag on the right day," said McKendree Sophomore, Trevor McKinney.
This past spring, the McKendree Spring Invitational included 8 universities and 22 boats that yielded several great limits, with a winning weight of 15.33 pounds.  The team of Kyle Schingoethe and Mason Bishop from Southern Illinois University-Carbondale brought in an outstanding Big Bass Honor with a 7.73-pound largemouth.  The lake has continued to produce larger than average fish for local anglers throughout the year and is prime for some great limits this fall. "Small lake…Big potential!" added Brock Wilke, Senior at McKendree University.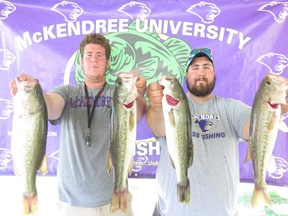 Last year, the McKendree University Fall Invitational had 34 teams from 13 schools competing. The team of Jacob Louis and Curtis Lilli from McKendree University took home first place. Followed by Murray State's team of Joe Bardill and Jow Benda coming in second, and Jordan McGinnis and Mason Bishop from Southern Illinois University – Carbondale coming in third. For more on the McKendree Fall Invitational event and to register, click here.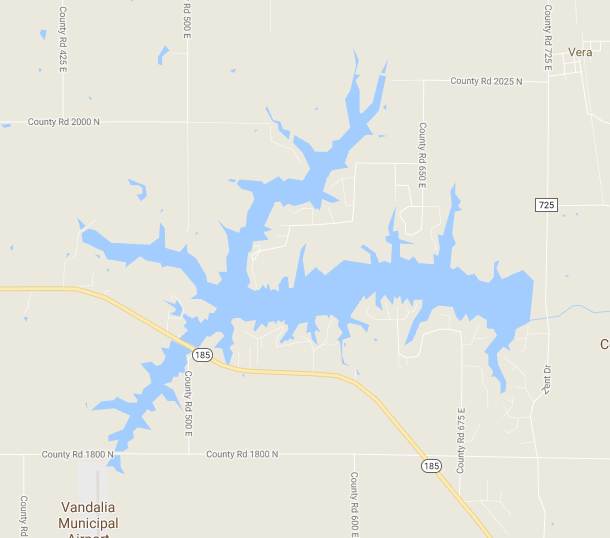 https://www.collegiatebasschampionship.com/wp-content/uploads/2017/08/11.jpg
600
1000
John Braig
https://www.collegiatebasschampionship.com/wp-content/uploads/2023/03/2022_CBFS_JM-White-300x194.png
John Braig
2017-09-01 11:00:12
2017-11-09 15:38:00
McKendree University Hosts Fall Invitational