2:45pm
Anglers are starting to pull off the water to head to registration.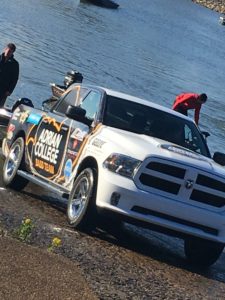 1:45pm
Anglers are still out on the water finalizing their strategy for tomorrow's big day. They don't have much longer before they have to be in and head to Henry County Fairgrounds for tonights angler check-in/dinner/pre-tournament meeting.\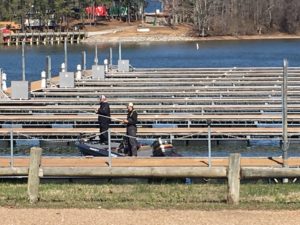 12:55pm – PLEASE USE CAUTION WHILE OUT ON THE WATER!
Those winds are no joke!
12:15pm
Our staff is busy organizing prizes for tomorrow's 8 sessions! Presenting sponsor, Berkley, has provided these tackle bags w/bait & line for places 7th-9th in each session!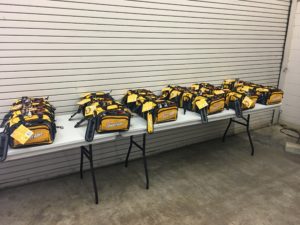 11:25am
Adrian College is launching their boat, towed by their Ram Truck, for the last practice day before the event.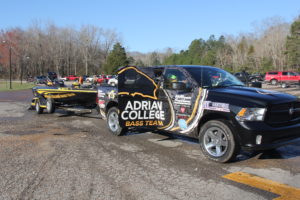 10:45am
We've been seeing a lot of different schools today!
9:00am – FORMAT CHANGE!
Due to winter weather for the Kentucky Lake area, the event has been changed from a two-day event to a one-day event that will feature all 8 weigh-in sessions.  
6:45am
Some teams are just getting their first day of practice in today, like Clay Johnson and Ethan Raleigh from MoreHead State University. They drove 5 and 1/2 hours to be here and are hoping to have a good day on the water. Johnson and Raleigh, who are also a part of 2017 Garmin College Fishing Team, are looking to go south on this final day of practice.
Big Bass prediction – 7.5 to 8.5 pounds to win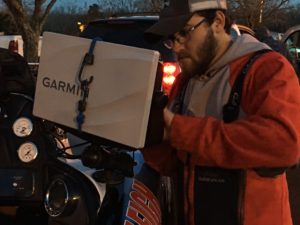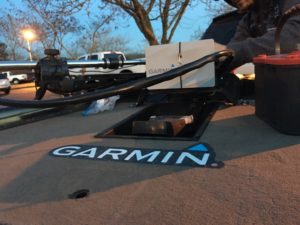 6:22am
Good Morning from Kentucky Lake! Anglers are headed out for their last day of practice before the tournament begins tomorrow.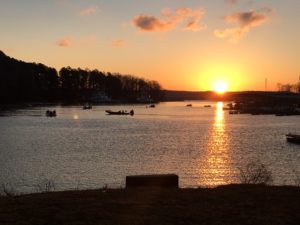 Thursday, March 9th
5:00pm
Teams loading up their boats and calling it a day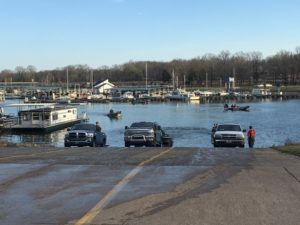 4:10pm
While most teams were out on the water testing out spots, Greenville College's
Daniel Ellebburg and Chris Brooks spent the day mapping. They strongly think that the fish are gonna pull back.
Big Bass prediction – 8.5lbs, maybe a 9lbs
3:35pm
Andrew Marquez and Jesse Mann from MoreHead State have had a good day on the water. Pretty good fish, had one 4+ pounder. Cold front is going to change it all up. Pattern will change completely for most teams.
Big Bass prediction – 7-8lbs
2:00pm
UT-Martin's bass anglers, Cameron Moore and Jacob Stone, say that fishing is tough. So far they have caught a few 3-4 pounders. They are catching them shallow, but feel that the weather is gonna push them back.
Big bass predictions – 7.02lbs
https://www.collegiatebasschampionship.com/wp-content/uploads/2017/05/BBB_Practice-Day-2.jpg
600
1000
John Braig
https://www.collegiatebasschampionship.com/wp-content/uploads/2021/05/2019-BPS_CBFS_logo-300x179.png
John Braig
2017-05-18 16:24:32
2017-05-18 21:20:11
LIVE BLOG: Practice Days