Friday, April 28th, 2017:
4:50pm – Mike Lowry & Luke Ripple from Murray State checking in for the Texas Team Trail event. They will compete with 211 teams for a change to win a new fully rigged boat!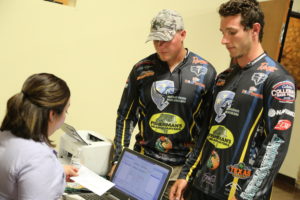 7:30am – First official practice day for the Texas Collegiate Challenge presented by Abu Garcia
Thursday April 27th, 2017: 
7:30pm- Tomorrow college anglers from all over the nation head out on Lake Texoma for the first of two official practice days for the Texas Collegiate Challenge presented by Abu Garcia. After spending time on the lake last weekend, the anglers are going to be able to target the last wave of fish up shallow spawning to fish that have already started working back to their summer homes. They will be able to fish everything from spinnerbaits to crawling a worm on the bottom.
Water clarity on Lake Texoma was great on the southern end towards the dam with 3-4 feet of visibility. As anglers move up the rivers they are going to find more stained water.  The lake is currently almost two feet low, but that hasn't affected the bite and fish are still feeding. The shad spawn has just started on the lake and may be a key factor for some of the anglers on what they plan to target.
The big question on the minds of all the anglers is how much rain will fall on the area on Saturday. Local weathermen have been calling for up to two inches of rain on Saturday and this may have a great impact to the anglers on Sunday. The weather on Sunday is supposed to be cloudy with a high of 61 degrees. Winds will be out of the west at 15mph to 25mph; on Lake Texoma a wind out of the west can make for some great fishing. The anglers will have lots of creeks and areas that will be protected from the wind allowing them to hopefully bring some great bags to the scales.
Check back in tomorrow for updates throughout the first official day of practice.
6:50pm Thursday April 27th, 2017: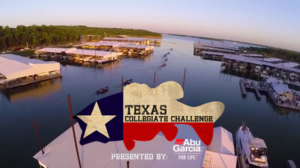 Check out the lake preivew for Texas Collegiate Challenge presented by Abu Garcia on Lake Texoma
https://www.collegiatebasschampionship.com/lake-preview-lake-texoma.html
Only a couple days away from the third stop of the Cabela's Collegiate Bass Fishing Series  for the Texas Collegiate Challenge presented by Abu Garcia on Lake Texoma
https://www.collegiatebasschampionship.com/next-stop-lake-texoma-and-the-texas-collegiate-challenge-presented-by-abu-garcia.html
https://www.collegiatebasschampionship.com/wp-content/uploads/2017/05/IMG_9871.jpg
3456
5184
John Braig
https://www.collegiatebasschampionship.com/wp-content/uploads/2023/03/2022_CBFS_JM-White-300x194.png
John Braig
2017-05-18 13:44:37
2017-05-18 14:40:42
LIVE BLOG: Practice Day