Friday, October 24 2:45 PM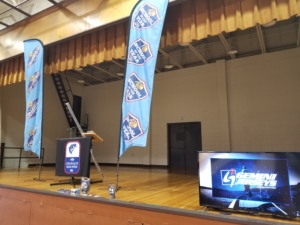 Registration starts at 4:00 pm.  Anglers will be treated to a bbq dinner after they finish signing up tonight.  We will have a full recap article following registration breaking down the conditions on Lake Dardanelle.  Stay tuned!
Friday, October 24 1:25 PM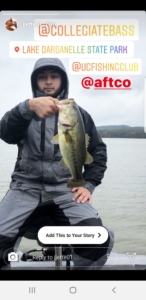 Anglers are wearing their AFTCO rain gear during the final day of official practice.  We are receiving quite a few reports from on-the-water of fish catches during practice.  Lake Dardanelle looks to be fishing very well right now.
Friday, October 24 12:40 PM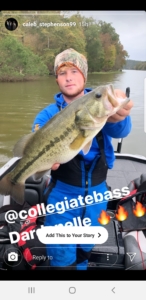 As was stated earlier, big bass are showing up out on Lake Dardanelle.  We received this picture yesterday.  Now the goal for everyone competing is to bring one or more like this to the scales on tournament day!
Friday, October 24 11:45 AM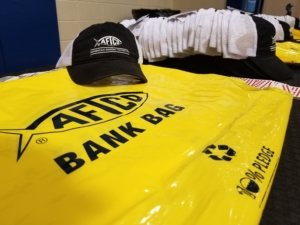 This week's event is sponsored by AFTCO.  One of their main initiatives as a company is conservation.  They push those causes through a variety of promotions like the Bass Bus Live Release Boat and the AFTCO Bank Bag program.  Anglers will be able to participate in the Bank Bag initiative this week at Lake Dardanelle.  Any competitor who fills one of these yellow bags full of trash from around the lake will receive a $25 AFTCO gift card in return.
Friday, October 24 10:45 AM

Weather is going to be a factor for the next two days.  A steady rain is falling in Russellville now, and it appears as though it will be hanging around for the next 24 hours or so.  Cooler temperatures are also setting in with this added rain.  Highs are roughly 20 degrees cooler than what it had been all week.  One would be led to believe that this could really help out the fishing this weekend.
Friday, October 24 10:05 AM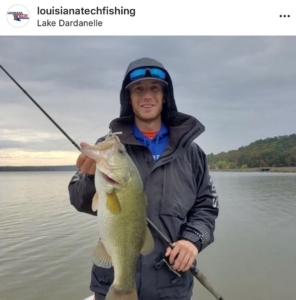 Over the past few days of practice, it appears as though the bite is pretty good right now out on Lake Dardanelle.  We have received several pictures of nice fish being caught the past few days.  This is the kind of bass it will take to separate a team from the field.
Friday, October 24 8:50 AM
Good morning from Russellville, AR!  Anglers are out on Lake Dardanelle for the final day of practice for the AFTCO Collegiate Bass Open.  We will be sharing updates of the weather conditions, discussing various promotional programs, and show you some of the fish catch pictures we've received from the anglers.  This weekend is shaping up to be a great event and we are ready to get things started!
https://www.collegiatebasschampionship.com/wp-content/uploads/2017/07/Denali-Rods_2017icast.jpeg
2250
3000
Shelley
https://www.collegiatebasschampionship.com/wp-content/uploads/2018/11/2019-Bass-Pro-Shops-Collegiate-Bass-Fishing-Series-Association-of-Collegiate-Anglers-Boat-US-2-300x179.png
Shelley
2019-10-25 04:00:27
2019-10-25 15:42:46
Live Blog: October 25 - Final Practice Day!