Live Blog: March 9 – Final Practice Day!

Friday March 9th, 6:45 pm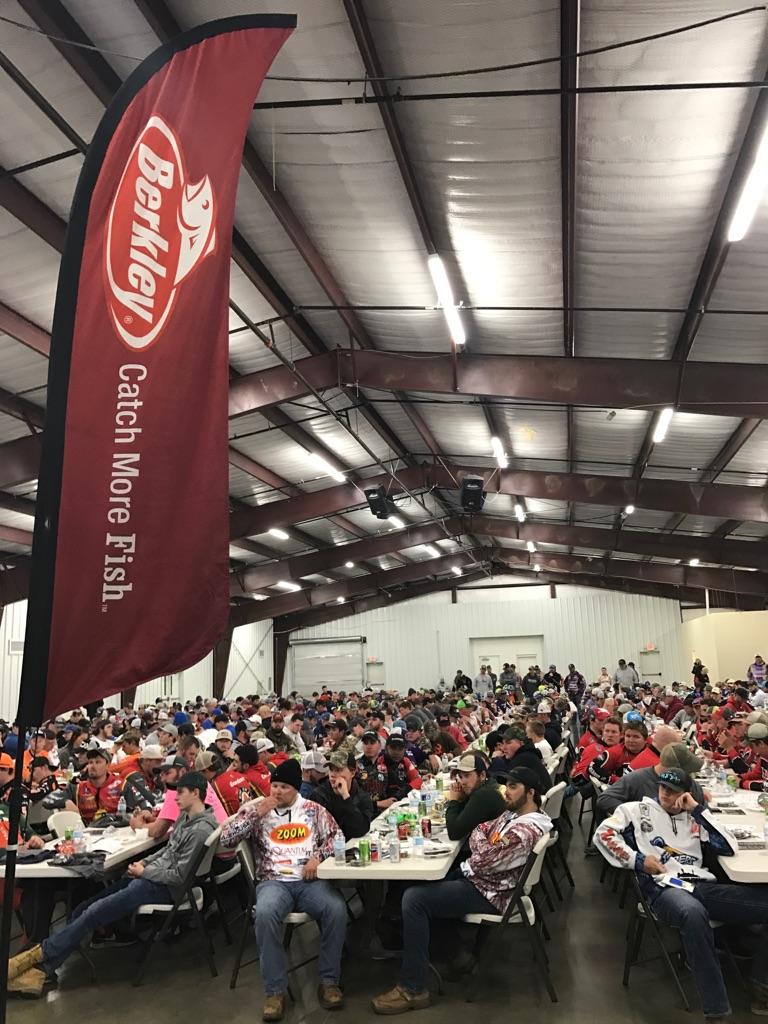 Registration is complete and anglers are receiving instruction for the next two days of competition.  This year's field for the Cabela's Collegiate Big Bass Bash – presented by Berkley is anticipated to be over 500 anglers strong.  The total prizes up for grabs are worth $35,000.
Some of the best college anglers in the country will be taking to Kentucky Lake in search of the biggest bass they can catch.  To see the tournament in its entirety and to watch episodes from tournaments earlier in the season, check the local listings for your cable provider beginning in April. The Cabela's Collegiate Bass Fishing Series can be seen on CBS Sports Network, Pursuit, and other national networks.
Friday March 9th, 6:00 pm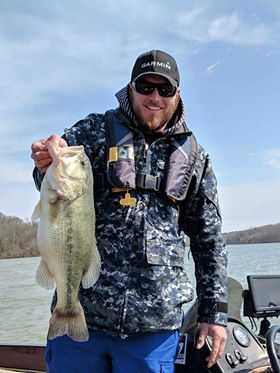 As the anglers stroll into registration tonight, we are starting to get a better idea of the conditions they are finding out on Kentucky Lake.  The main focus seems to be on the water level, and how that is impacting the fishing.
Lake levels are dropping at a quick pace, posing a tough set of circumstances to these anglers.  All of the flooded cover in the water is very enticing, but these fish will probably not be positioned up shallow for much longer.  Falling water levels will force these fish to pull out from the banks and position on the first bit of deeper structure they can find.
The anglers tonight seem to share the same consensus, that these fish are setting up out deeper as the lake falls. Just how active will these fish be with the changing conditions?  A lot of the anglers are reporting catching fish on reaction style baits.  Crankbaits and lipless crankbaits have been mentioned frequently tonight.  The other main player appears to be a jig.  With this being a big bass format event, a jig could be the ticket to catch one of these Kentucky Lake giants.
Friday March 9th, 5:25 pm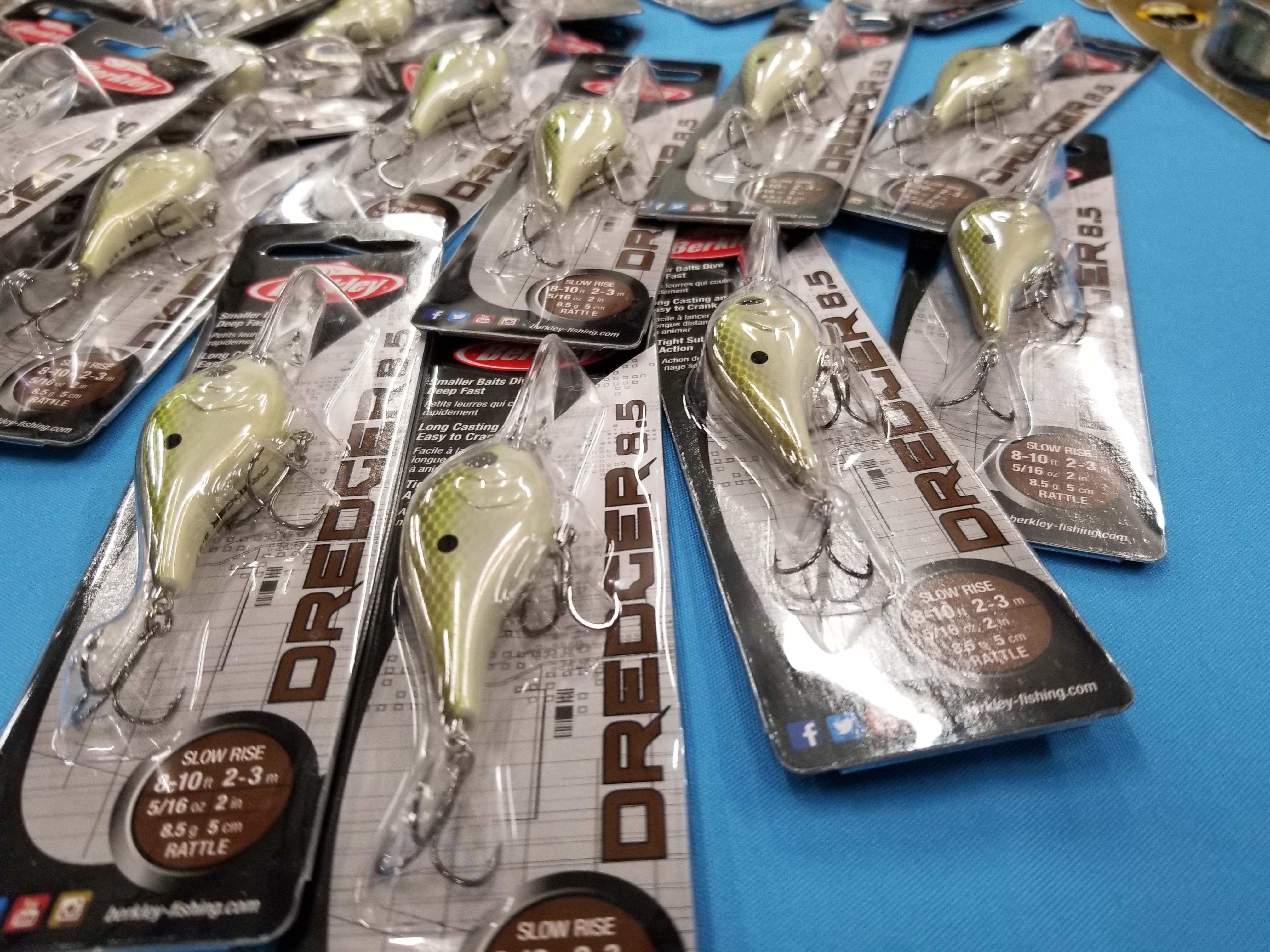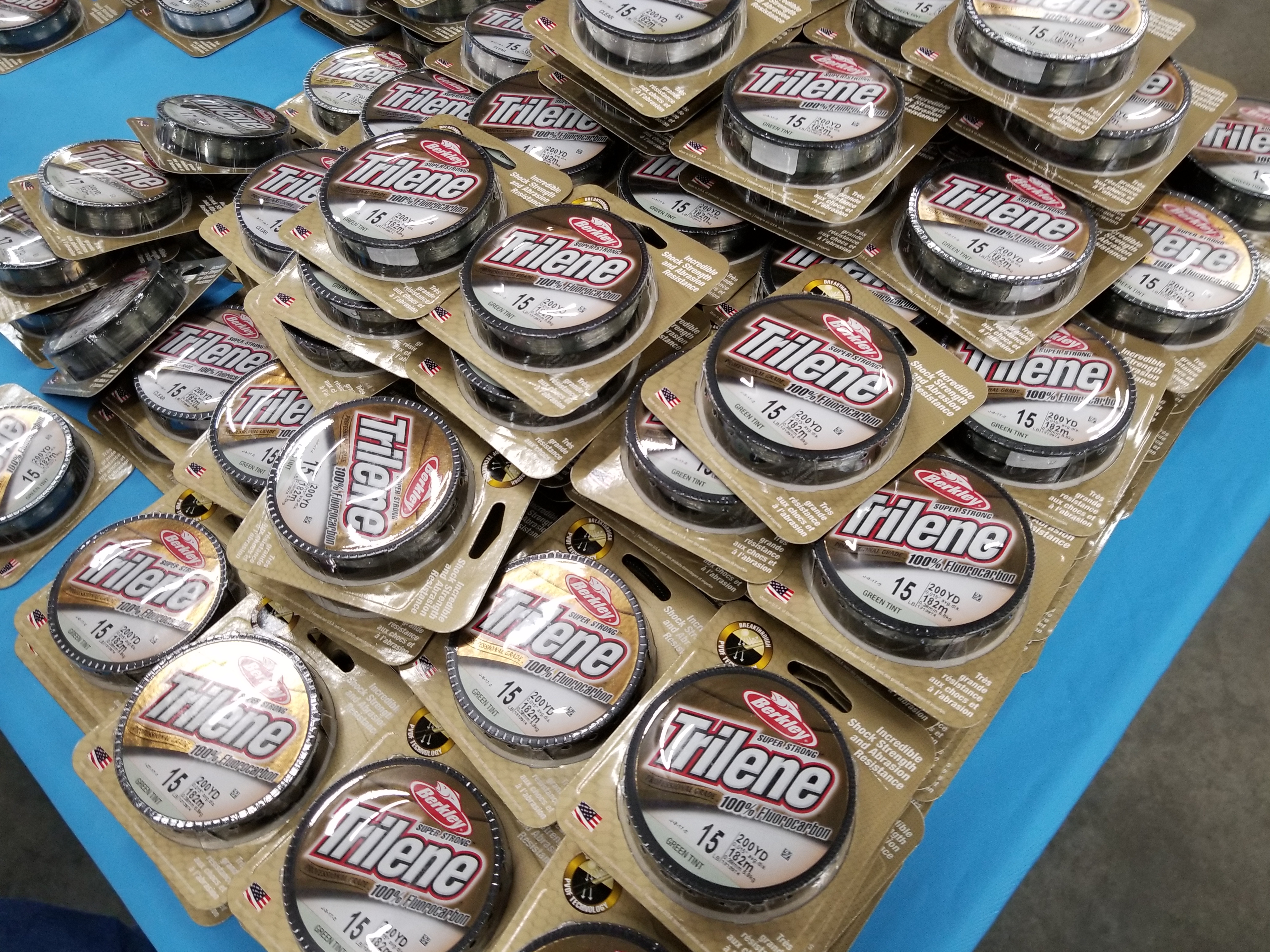 We'd like to give a shout out to our presenting sponsor Berkley, for helping to put on this event.  Berkley has provided the anglers with fishing line and baits at tonight's registration.  These products will come in handy for the anglers this weekend out on Kentucky Lake.
Friday March 9th, 3:50 pm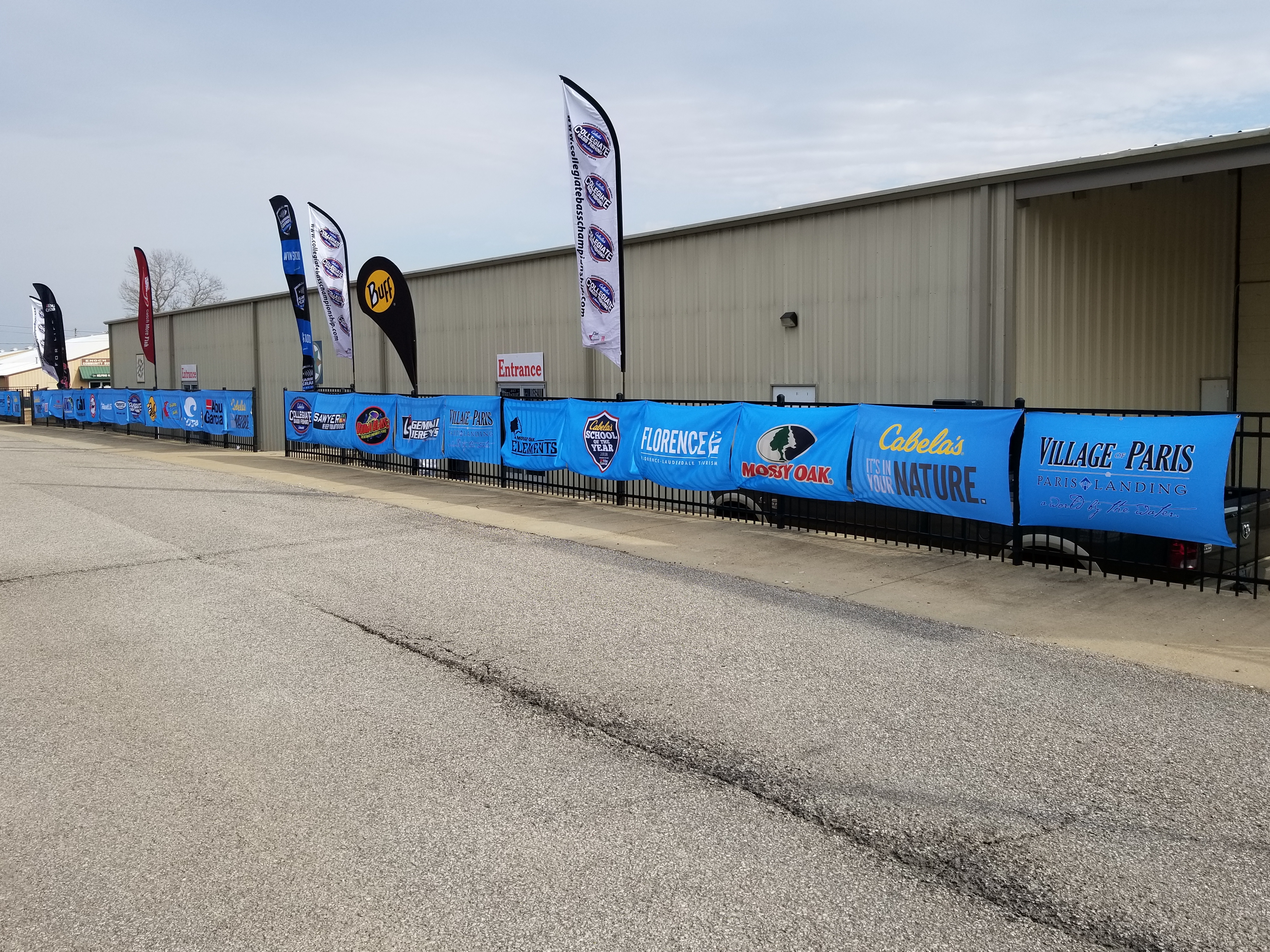 It's about time for registration to begin here in Paris, TN.  Everything is set up and ready to go.  Anglers are starting to roll in, and festivities are underway for the 2018 Cabela's Collegiate Big Bass Bash – presented by Berkley.
Friday March 9th, 3:00 pm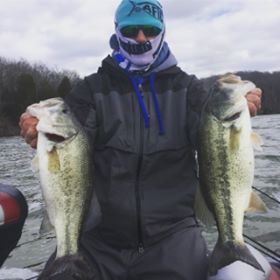 The final day of practice in preparation for the Cabela's Collegiate Big Bass Bash – presented by Berkley has concluded.  Anglers are off the water and preparing to head into Paris, TN for registration.
It remains to be seen what it will take to win the event, but one thing is for certain, there will be some good fish brought to the scales.
Official registration starts at 4 pm this afternoon.  As the anglers begin to roll in, we will provide updates and insight into how they plan on catching their fish.
Friday March 9th, 2:00 pm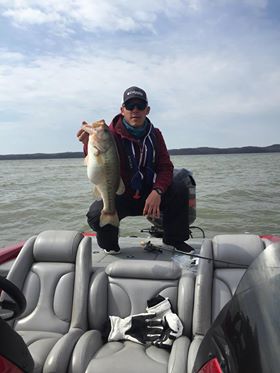 Here is another solid fish caught on the final official practice day today.  Pictured above is Clay Seitz from the University of Southern Indiana with a fish weighing an even 8 lbs.  This is the kind of fish that can have a great chance at winning the event.
Recent events held on Kentucky Lake have resulted in winning weights averaging around 20-25 lbs per day.  That is an average of about 5 lbs per fish.  It is safe to say 4 – 5 lb class fish will be pretty common coming across the weigh-in stage.  These 8 lb class fish being caught during practice can be the difference makers in deciding who walks away with the title.
Friday March 9th, 12:25 pm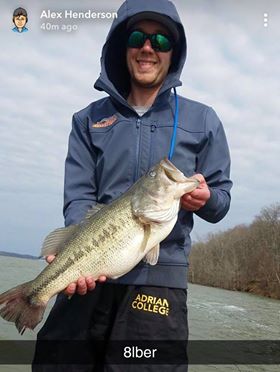 Here is Adrian College angler Alex Henderson with what is reported to be an 8 lb. bass caught today in practice.  Kentucky Lake has been showing out so far throughout practice.  We have received pictures of numerous nice fish today.  With the warmer weather and sunshine, that should be expected this time of year.
Friday March 9th, 11:45 am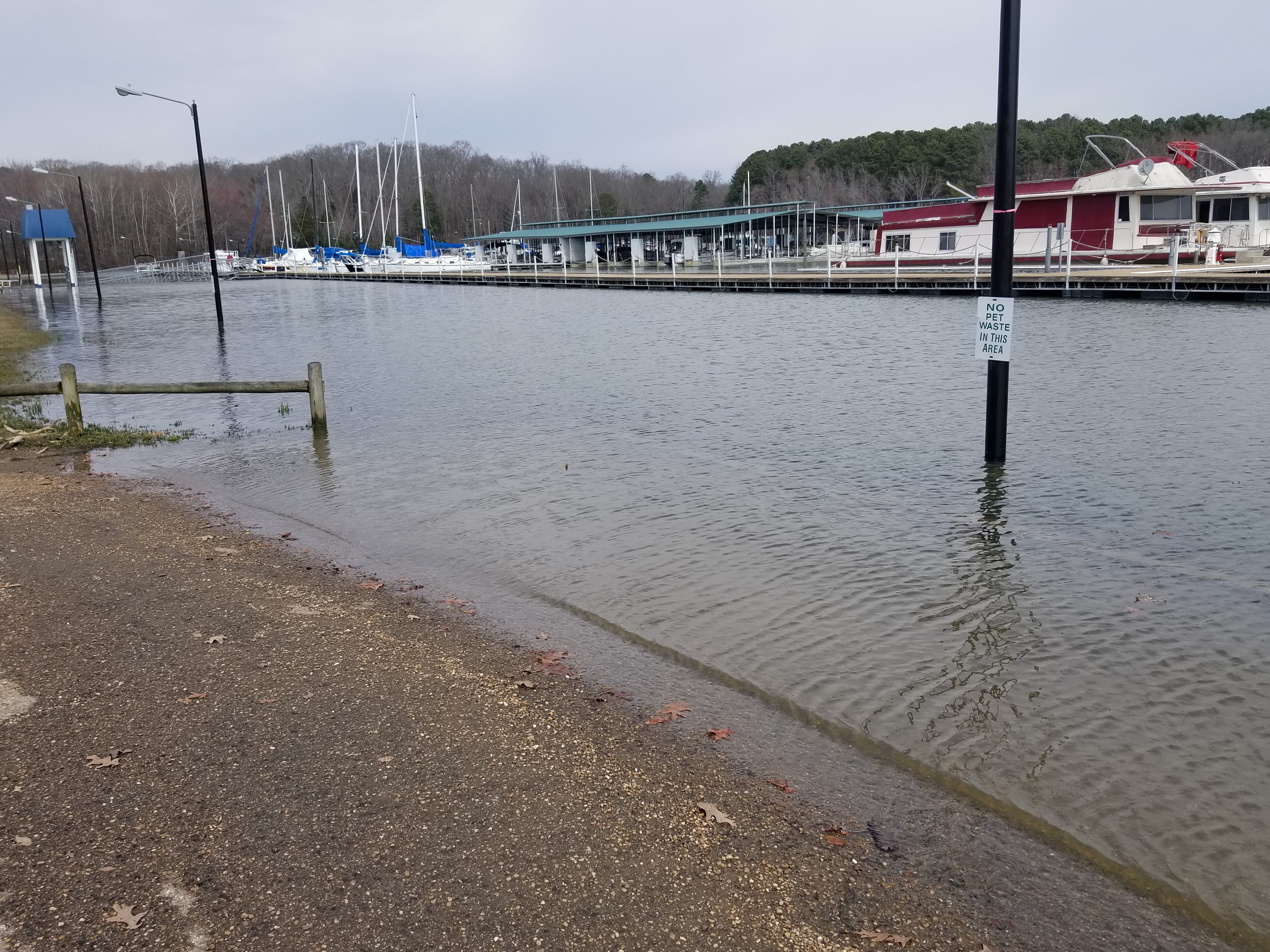 We are over halfway through the final day of practice for the Cabela's Collegiate Big Bass Bash – presented by Berkley.  One important thing of note, lake levels on Kentucky  Lake are beginning to fall.
As it sits right now, total elevation is at 363.82 feet.  This is about a half of a foot lower than at this same time yesterday.  It can be seen in the picture above that the water levels are still very high.  As we move into the weekend, the lake is expected to continue to drop.  Numbers provided by the TVA project an expected elevation of 362.80 feet at midnight tonight. Water is moving through the system at a high rate right now.  We will continue to follow the lake levels as competition nears, as well as throughout each tournament day.
Friday March 9th, 10:00 am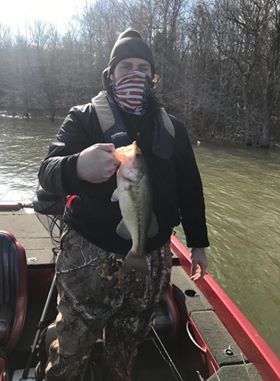 Strategy will be a key component for success this weekend.  Each day, anglers will have the opportunity to bring fish to the scales in four separate weigh-in sessions.  The sessions will be two hours long apiece, and prizes will be awarded to the 10 largest fish in each session.
"Is this fish worth weighing in?  If yes, when should I take it back to weigh in?"  These are the types of questions facing these collegiate anglers.  This is a big bass event, but there's a chance that in one period, for some reason or another, there just won't be a giant bass weighed in.  We see it every year at these events.  One session the weights could be down, and then the next session will have several good fish cross the scales.
This fish pictured above, caught by Michael Cone of Tusculum College during practice, is a perfect example of the type of fish that could cause these anglers to start putting strategy into play.  Though a fish like this, likely, will not win top prize in a given weigh-in session, it could very easily claim a top 10 spot and earn valuable school of the year points.
"Is it worth the run back to the weigh-in site to put this fish on the scales?"  "If I find a school of two to three pounders close to weigh-in, do I fish that spot all day and make it to every weigh-in?"  The wheels will be spinning in the minds of these anglers throughout the weekend.  On the surface, a big bass event sounds pretty straight forward.  The goal is to weigh-in the largest fish and go home the winner.  If you take a closer look into all of the variables involved, it is much more complicated than that. It will be interesting to see what these anglers decide to do come derby day!
Friday March 9th, 9:05 am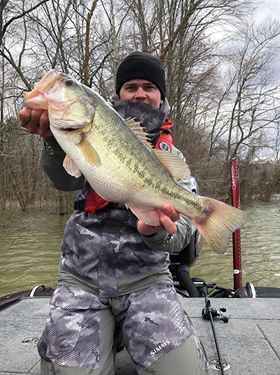 Pictured above is Hayden Lee from Missouri State University.  Hayden caught this nice largemouth bass earlier in practice.
This is the quality of fish it will take to place high in this event, and to possibly win one of the sessions or maybe even the overall prize.  Kentucky Lake is full of bass in the four to five pound range.  For those anglers able to break that five pound mark, their chances at finishing high in this tournament increase significantly.
Friday March 9th, 8:20 am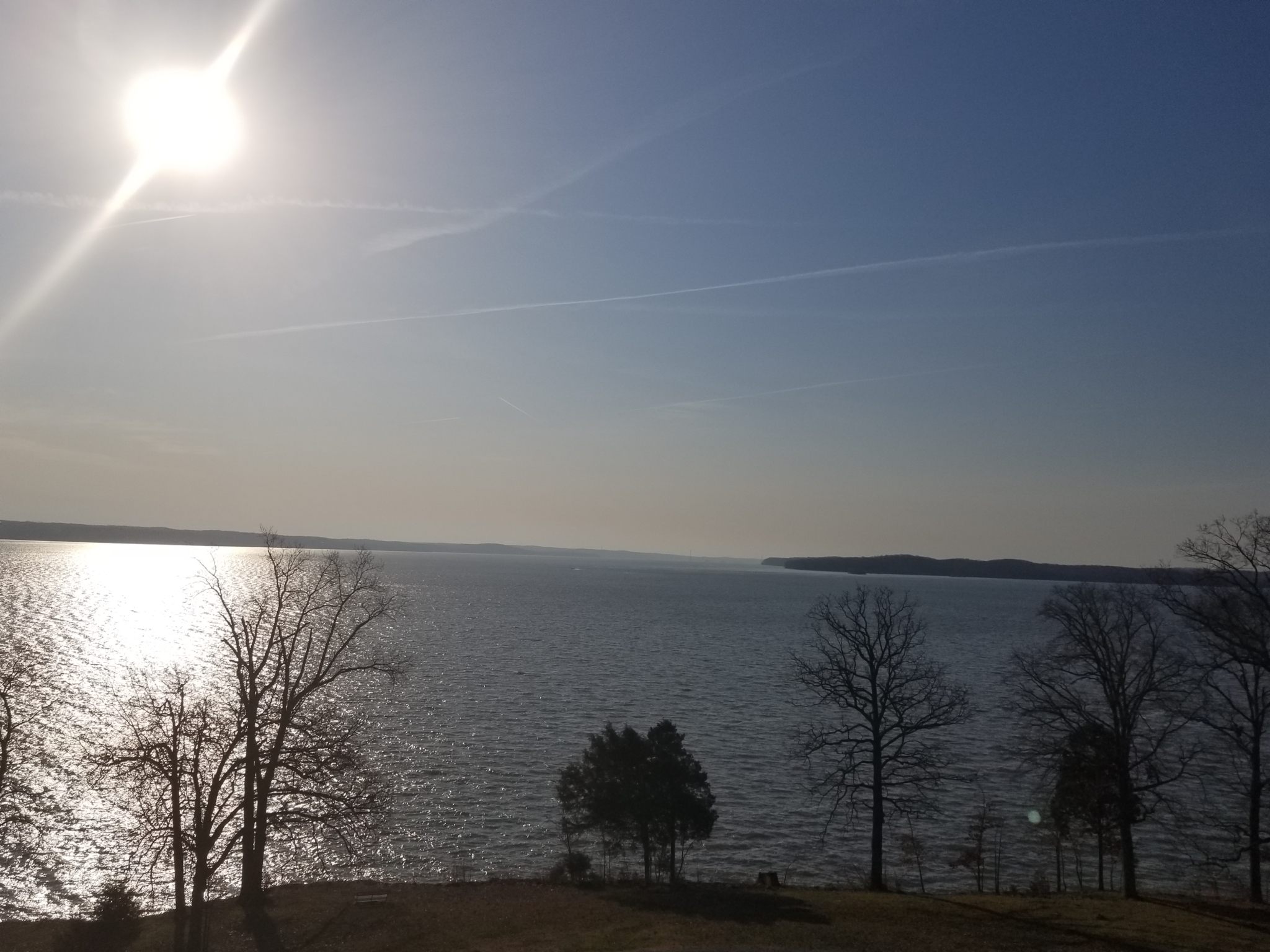 Early on this morning, it looks like it is going to shape up to be a beautiful day here in Paris, TN.  Morning temperatures in the mid 30's greeted anglers as they prepared to take to Kentucky Lake for the final practice day of the Cabela's Collegiate Big Bass Bash – presented by Berkley.
Weather will be a key factor in this weekend's event, and the angler's will get a small taste of that on this final practice day.  Wind gusts are expected to be steady out of the southwest at around 10 – 15 mph.  On a river system such as this, it is difficult to hide from the wind and find protected areas to fish.  The wind will also have an impact on the teams planning to make long runs.  Rough water makes for slower travel while running across the lake.
One of the positives to be taken from the weather pattern today is the projected high.  With highs expected to reach into the low 60's, this ample amount of sunshine will work to warm up the water at a quick rate.  Some might say, "there's no such thing as too much of a good thing."  That can be said for sunshine and warm temperatures when fishing this time of year.  The longer the sun is out, with temperatures rising throughout the day, the more active these fish will become.
Be sure to check back throughout the day for more information and updates on preparation for the tournament.  Later today we will shed more light on the current fishing conditions, and provide more pictures from practice as these anglers work to put together a pattern out on Kentucky Lake.
Friday March 9th, 6:00 am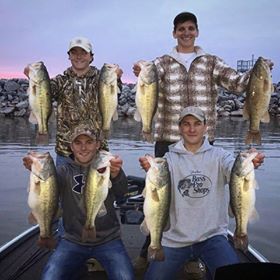 Today marks the final practice day for the 2018 Cabela's Collegiate Big Bass Bash – presented by Berkley.  The field of collegiate anglers will be taking to Kentucky Lake in search of the magical spot that could possibly produce the tournament winning fish.
Spring time on Kentucky Lake can be a great time to catch solid numbers of bass, along with quality sized fish.  Last year's event saw plenty of healthy fish come to the scales.  Evan Owrey from Bethel University was the overall winner, weighing in an 8.49 lbs. largemouth bass.
Pictured above are members of the current Bethel University team that are set to compete in this year's event.  Coming into this weekend, Bethel has a commanding lead of the Cabela's School of the Year – presented by Abu Garcia.  The 2018 edition of the Big Bass Bash is a double points event, providing teams a great opportunity to take advantage of.  For the teams toward the top of the pack, this is a chance to grow their lead on the field and separate themselves from the competition.  On the other hand, teams who sit lower on the standings could make a significant move towards the top of the leaderboard with a good showing in Paris, TN this weekend.
https://www.collegiatebasschampionship.com/wp-content/uploads/2018/03/BLOG_PracticeDayandCheckIn.jpg
600
1000
Amanda
https://www.collegiatebasschampionship.com/wp-content/uploads/2023/03/2022_CBFS_JM-White-300x194.png
Amanda
2018-03-09 06:00:11
2018-03-09 20:41:45
Live Blog: March 9 – Final Practice Day!