Live Blog: June 11 – Tournament Day 2 Early Coverage

Thursday, June 11 – 9:55 AM
This will be the last post for the early blog today.  Here shortly we will crank up the final blog that will cover the remainder of today's action.  Be back soon!
Thursday, June 11 – 9:50 AM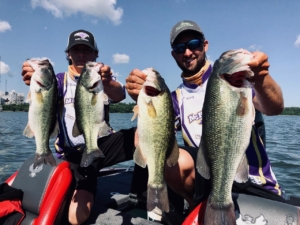 Here are Jackson & McKinney with McKendree.  Those are some good looking fish for the final day of competition!
Thursday, June 11 – 9:45 AM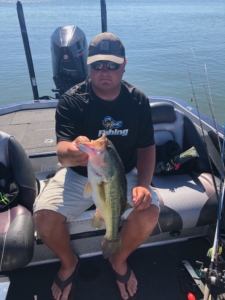 Pictured here is Rudy with one of the five fish that comprise their current limit.  This team from Blue Mountain estimates they have another 15-16 pounds today.  If they can manage to cull up another few pounds, they have a real shot at landing in the Top 5.
Thursday, June 11 – 9:40 AM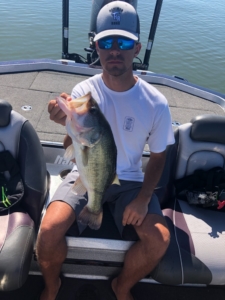 Rudy Worley & John David Nowlin are checking in for the first time today with a few good ones.  They sat in 10th entering today with just under 16 pounds.
Thursday, June 11 – 9:20 AM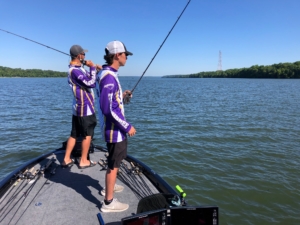 Our crew has caught up with the fifth place pairing of Trevor McKinney & Blake Jackson from McKendree University.  We will provide any updates that we receive from them.
McKendree University is wearing the Yellow Jersey BUFF® this week.  The Yellow Jersey is reserved for the team that is leading the Bass Pro Shops School of the Year presented by Abu Garcia.  McKendree is on the quest for winning back-to-back SOY titles if they can weigh in two quality bags today.
Thursday, June 11 – 9:00 AM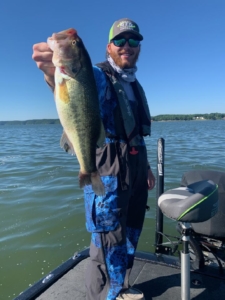 The Snead State Community College team of Garret Warren & Tyler Mitchell have a limit for roughly 10 pounds.  They were in 40th place entering Day 2 with 13.32 pounds.
Thursday, June 11 – 8:45 AM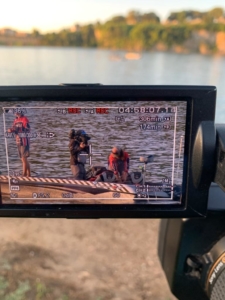 It's been a busy morning around here.  We are fielding a lot of updates from out on the water.  Early on today we captured some great footage of the first place team from Bryan catching quality keepers near take off.  They are leaving now to head to a new area.
One thing we referenced earlier this morning on the blog was how the changing weather pattern could effect the fish.  It started of calm and clear with cooler temperatures.  Everything is looking about the same as we near 9:00 AM, however a slight breeze is picking up here in Florence.  Not much current is moving through the system, so a little bit of wind could help get those fish fired up.
With conditions changing, it could very well make an impact on the leaderboard.  5th through 60th place after Day 1 are separated by just four pounds, meaning there is a lot of room for someone to come up from back in the pack and make a big move.  Our crews are working to track down some of those teams within striking distance.  We'll see how the bite plays out as the morning progresses.
Thursday, June 11 – 8:25 AM
Trevor McKinney & Blake Jackson from McKendree University are in 5th place entering today.  They have four fish at the moment for about 13 pounds.  If one other team from McKendree can manage a decent limit today, there's a good chance that they secure back-to-back School of the Year titles.
Thursday, June 11 – 8:10 AM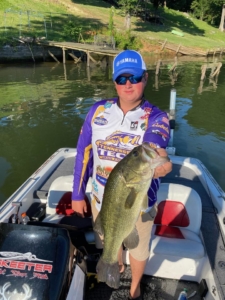 Kyle Stephens from Tennessee Tech just sent in this good fish that he estimates to be about 3.85 pounds.
Thursday, June 11 – 7:50 AM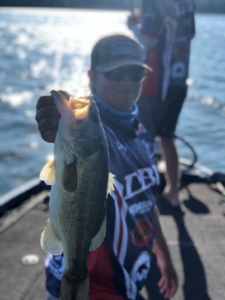 The DBU team of Rhodes & Harris are slowly working their way up to a limit.  That fish there makes keeper number three.
Thursday, June 11 – 7:45 AM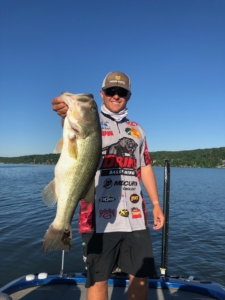 Cole Breeden and Cameron Smith from Drury University check in with the biggest fish of the day that we've seen reported.  Drury enters this week ranked sixth in the Bass Pro Shops School of the Year presented by Abu Garcia and is looking to finish the season with the highest rank in program history.
Thursday, June 11 – 7:40 AM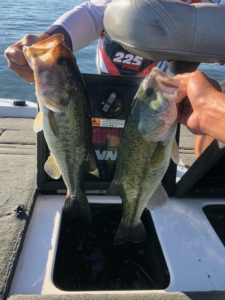 Chase Cardoza and Thomas Mingle from the University of Tennessee have a few nice largemouths in the well.
Thursday, June 11 – 7:35 AM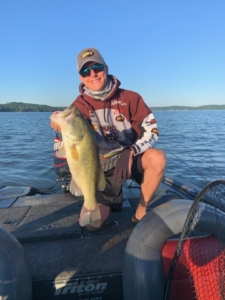 Kirk Stilwell and Cole Crossman from Missouri State University landed a nice one early this morning!
Thursday, June 11 – 7:30 AM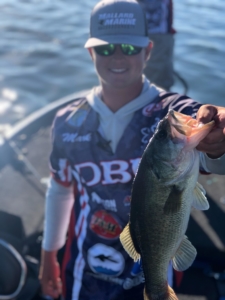 Rhodes & Harris from DBU entered today in second place.  They now have two fish in the box for maybe five pounds.  Here is a look at one of them!
Thursday, June 11 – 7:25 AM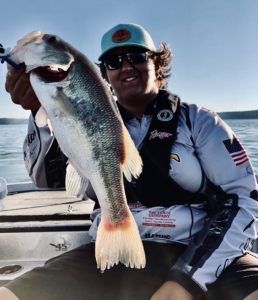 Willoughby and Schwartz from Montevallo are on the board with one keeper.
Thursday, June 11 – 7:15 AM
Fain & Kendrick just landed their fifth keeper of the morning to fill out an early limit.  I would estimate that they have somewhere in the neighborhood of 12 pounds.
We will have updates from the other teams in the Top 3 momentarily.
Thursday, June 11 – 6:20AM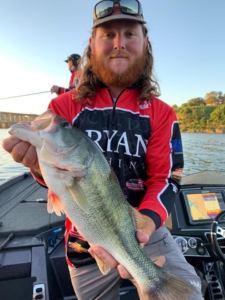 Here's a look at the biggest of their three fish in the box currently.  It's been exciting watching them this morning.  Bailey is working a topwater bait around schooling fish and has triggered some awesome strikes that we've got on camera for the future tv show.
Thursday, June 11 – 6:15 AM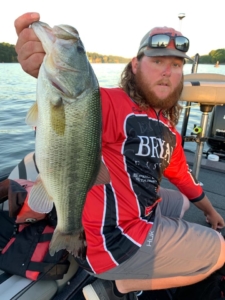 Fain & Kendrick have boated three total keepers thus far off their starting spot.  Two of the bigger fish appear to be in the three to four pound range.  We will share a photo of the bigger fish shortly.
Thursday, June 11 – 5:55 AM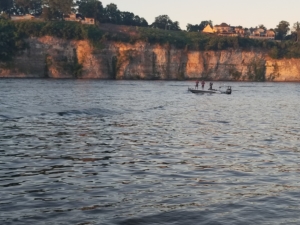 Off in the distance there are the Day 1 leaders from Bryan College.  Fishing close to the launch area on the first day of competition, Bailey Fain & Preston Kendrick boated 19.82 pounds of fish.
Thursday, June 11 – 5:40 AM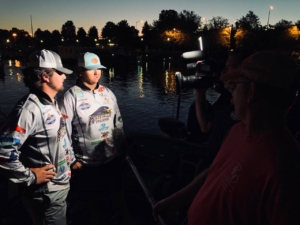 One of the boats we will be following is the 3rd place team from Montevallo, James Willoughby and Chance Schwartz.  They had 18.33 pounds on Day 1.  Montevallo is in 2nd overall in the School of the Year race.
Thursday, June 11 – 5:10 AM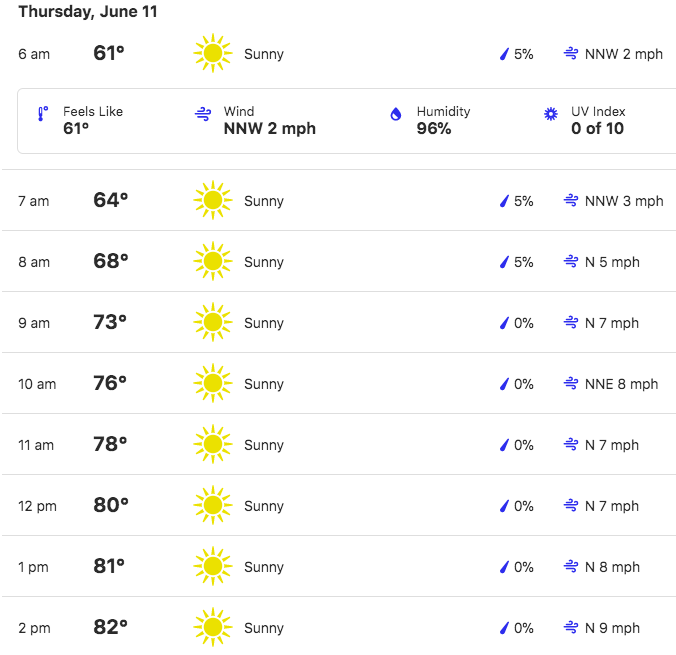 The forecast today looks a little different than it did yesterday morning.  Air temperatures have fallen into the low 60's this morning, the wind has let up significantly, and there is not a cloud in the sky.  One quick glance at those notes and one would think it could have a drastic impact on the fishing.  Time will tell just exactly how it effects the fish, and the tactics this full field of elite college anglers uses to catch some Pickwick Lake keeper bass.
Thursday, June 11 – 4:45 AM
It's time for the final day of the 2020 BoatUS Collegiate Bass Fishing Championship presented by Bass Pro Shops!  At the end of competition today, a team will be crowned National Champion and one deserving university will be named the 2020 Bass Pro Shops School of the Year presented by Abu Garcia.
Pickwick Lake produced a lot of great fish on Day 1 as all but roughly 20 teams managed to bring at least one fish to the scales.  We will soon find out if that strong bite continues on into today.  One would be inclined to think that it should, as the weather conditions are setting up very similar to what they were yesterday.
Our camera crews will begin the morning with the Top 3 teams on the leaderboard.  Stay tuned as the teams begin to take off at 5:30 AM.  We will provide updates as we receive them throughout the day!
https://www.collegiatebasschampionship.com/wp-content/uploads/2020/06/IMG_3375-1030x687-1.jpg
687
1030
Kyle Curry
https://www.collegiatebasschampionship.com/wp-content/uploads/2021/05/2019-BPS_CBFS_logo-300x179.png
Kyle Curry
2020-06-11 04:45:28
2020-06-11 10:47:44
Live Blog: June 11 – Tournament Day 2 Early Coverage