Saturday March 26th, 2017 5:25pm
Here are the final results from Day 1 of the Cabela's Collegiate Bass Fishing Open
https://www.collegiatebasschampionship.com/uploads/CBFC%202017/OPEN/2017_Collegiate%20Open_Day%201.pdf
Saturday March 25th, 2017 3:37pm
Murray State takes over 1st place with  27.19lb
Big Bass Currently is 7.25lbs from Murray State
Saturday March 25th, 2017 2:28pm
The 2017 Cabela's Collegiate Bass Fishing Open weigh-in has started….the wind on Lake Dardanelle has picked up so anglers take it slow and be safe
Early Leaders are Murray State 16.90lbs
Saturday March 25th, 2017 1:54pm
This is what we like to see. Georgetown College with a couple of nice ones.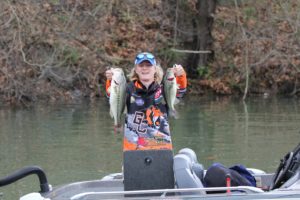 Saturday March 25th, 2017 1:24pm 
Anglers are still hunting for bites in the shallow water. Have heard a few reports of 12-13lb sacks
Arkansas Tech setting the hook on a 2 pounder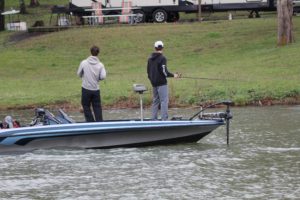 Saturday March 25th, 2017 12:41pm
Iowa Bass Fishing Team has some fans cheering them on today! If you're in the area, come out and see us at Lake Dardanelle State Park! Weigh-in will begin at 3pm. You can also see our Live Stream on our website. All coverage will begin at 3pm.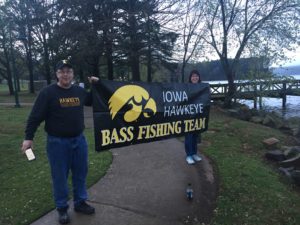 Saturday March 25th, 2017 12:09pm
Clouds are slowly starting to break over Lake Dardanelle. Lots more fish catches are starting to be reported around the lake, with some teams reporting their 6 fish limits.
Saturday March 25th, 2017 10:57am
Just left one of the McKendree University boats that has a limit of 3 fish for 9-10lbs. Clouds have come back in very thick and temps have fallen back to the 50's.
Saturday March 25th, 2017 10:13am
Tough bite for most of the teams we have talked to. Reaction baits still seem to be what most teams are going with. Water temp is 60-64 degrees, air temp is in the 60's with lots of clouds. The one that got away, always a tough pill to swallow.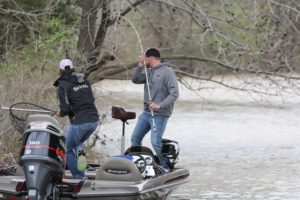 Saturday March 25th, 2017 9:01am
Central Oklahoma University with their first keeper of the day.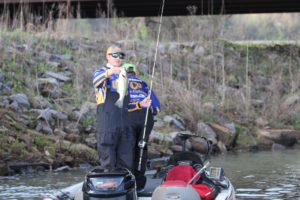 Saturday March 25th, 2017 8:37am
Cabela's School of the Year presented by Abu Garcia leaders Bryan College with a nice one this morning.
Saturday March 25th, 2017 7:42am
Shallow seems to be the popular choice as of right now. A-rigs,  Swim Jigs, Buzzbaits, Frogs and even some teams punching grass to start the day.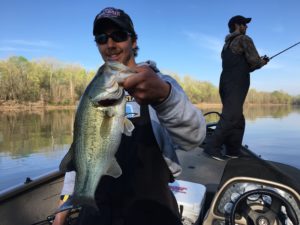 Saturday March 25th, 2017 7:42am
Take off is complete and all the anglers are hunting for those big bites which will be key in this event. Stay tuned for live on the water up dates all day long.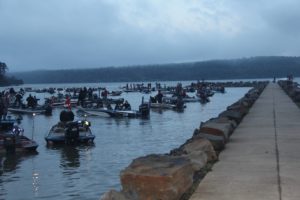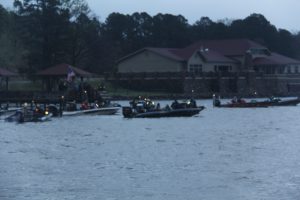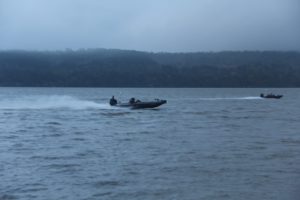 Saturday March 25th, 2017 7:00am
Anglers fueling up before launch!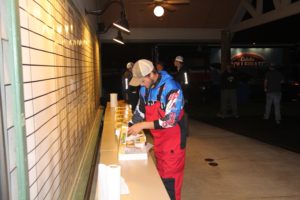 Saturday March 25th, 2017 6:41am
Talking to the anglers this morning before launch and everyone is wondering what the 1.2 inches of rain that fell last nigh will do to the lake. Being on Arkansas River Lake Dardanelle is effected more by rain and rising water than some area lakes. Anglers will have to adjust for rising water and water more stained than they saw in practice.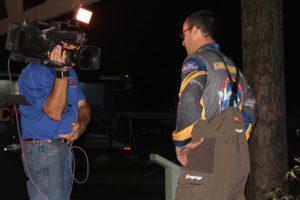 Saturday March 25, 2017 5:27am
As anglers launch this morning onto Lake Dardenelle one thing that's a major topic of conversation this week is that seven of the top ten ranked teams according to Cabela's School of Year rankings are present in this field.
https://www.collegiatebasschampionship.com/uploads/Cabelas%20SOY/2017/2016-2017%20ACA%20SOY%20Standings%2003-14-17.pdf
It will be interesting  to see if the top four teams who are not from this area can hold their positions or if some of the teams from the middle part of the nation can make a move up in the standings.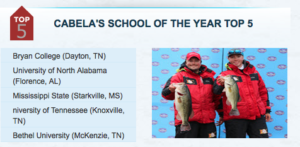 https://www.collegiatebasschampionship.com/wp-content/uploads/2017/05/OPEN_Day-1-1.jpg
600
1000
John Braig
https://www.collegiatebasschampionship.com/wp-content/uploads/2023/03/2022_CBFS_JM-White-300x194.png
John Braig
2017-05-18 16:11:55
2017-05-18 16:12:17
LIVE BLOG: Day 1