Live Blog: April 10 – Day 2

Sunday, April 10 12:40 PM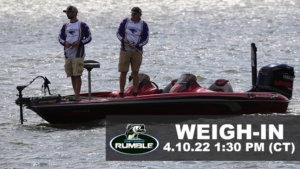 Live weigh-in will start in just over an hour! Download the Outdoor Action TV app and stream complete weigh-in coverage of the Barnett Reservoir Rumble for free!
Download the app: https://linktr.ee/Outdooractiontv
Sunday, April 10 12:25 PM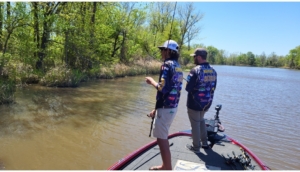 Levi Mullins and Matthew Cummings from Bethel University have just one keeper fish at the moment.  Mullins and Cummings entered today in 1st place after weighing in just over 15 pounds on Day 1.
Sunday, April 10 11:35 AM
The wind is continuing to strengthen here at Madison Landing.  Warm, bright sunshine conditions are also greeting these anglers out on the water.
Yesterday at weigh-in, anglers reported catching fish all throughout the day, so it's hard to say if there is a mid-day bite that will trigger and these anglers can capitalize on.  Anglers that remain persistent and don't get thrown off by the conditions there given will find success as Day 2 draws to a close.
Sunday, April 10 11:05 AM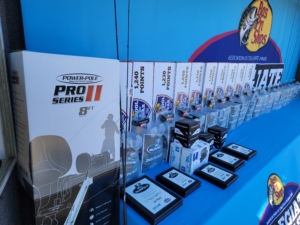 Following the completion of competition today, the ACA will pay out over $20,000 in prizes and contingencies to this field of elite anglers.  The Top 20 teams, plus overall big bass, will receive a prize payout!
Sunday, April 10 10:15 AM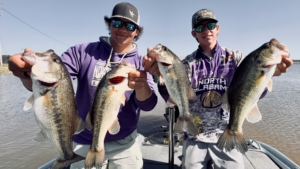 Lane and Tyler from the University of North Alabama have had a good morning so far!  The duo entered today in 44th.
Sunday, April 10 9:40 AM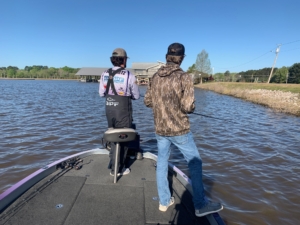 The only team in the Top 3 this morning to land a keeper fish to this point is the Montevallo duo of Chance & Merritt.  They have two keepers for seven pounds.
Sunday, April 10 8:20 AM
The Top 3 teams from tournament competition on Day 1 are off to a relatively slow start this morning.  After talking to most of the field yesterday, many of them were getting bites all throughout at the day at different times.
Forecast projections are calling for fairly strong winds this afternoon.  Will that help anglers in certain areas or will it make the fishing more difficult for some?  We will find out as tournament action continues.
Sunday, April 10 7:40 AM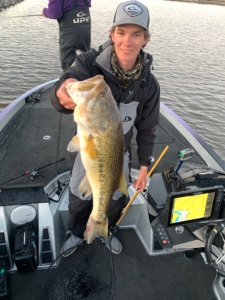 Merritt and Chance from number one Montevallo enter today in 2nd place.  They boated this four plus pound fish to start the day!
Sunday, April 10 6:50 AM
Day 2 of tournament competition is underway!  Stay tuned for updates as they start to come in off the water.
https://www.collegiatebasschampionship.com/wp-content/uploads/2022/04/SUNDAY_BLOG-FEATURE-IMAGE.jpg
1000
1000
zelia zaldivar
https://www.collegiatebasschampionship.com/wp-content/uploads/2023/03/2022_CBFS_JM-White-300x194.png
zelia zaldivar
2022-04-10 05:00:51
2022-04-10 13:36:53
Live Blog: April 10 – Day 2