Itawamba Community College Hooks Kentucky Lake Giant for 2016 Cabela's Collegiate Big Bass Bash Presented by Berkley
By Cody Levy
The start of Day 2 of the 2016 Cabela's Collegiate Big Bass Bash Presented by Berkley once again yielded slightly less than desirable fishing conditions. Rain greeted the anglers as they picked up their breakfast on the way to the launch ramp at Paris Landing State Park, but many anglers were in high hopes, believing that today's bite would be better than Day 1. After looking at the results, it is clear that the anglers were indeed correct.
Itawamba Community College freshman, Ty Cox took Day 2 of the event as an opportunity to start clean and try something different. His Day 1 pattern yielded very few bites up on the north part of the lake where he had spent most of his practice time and caught decent fish.
"The first day we ran fifteen miles north, but it just wasn't working out for us," said Cox. "We're used to fishing Pickwick Lake so late last night I told my partner that we were just going to head way south to New Johnsonville because we know that it just feels more like Pickwick and what we're used to down there."
Cox's decision to run south was also decided by the rain, forecasted for most of the late morning and early afternoon.
"The start of the day was pretty tough due to the weather and we really didn't expect it to be. We caught very few fish throughout the day and over the whole weekend. It would've been a better bite had the sun been shining, but we ended up catching the right fish anyways," said Cox.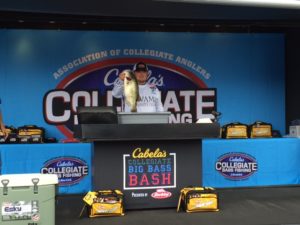 The Mississippi native was able to boat an 8.35lb bass within the first hour of Day 2 and won the Session 3 Presented by Cabela's and overall Big Bass. Cox stated that his main pattern consisted of throwing a red rattle trap along rocky banks and his decision to move south was the right one.
"We really wanted to move because it's what we were comfortable with. This was the first time I was on the lake and the south end is by far my favorite part because it's where I feel at home on the water.
Only in their first year of existence, the Itawamba Community College is new to the Cabela's School of the Year program, but they are no stranger to the top of the leaderboard. Previously in the year, Itawamba Community College also won a B.A.S.S. Regional earning Cabela's School of the Year points.
"It's awesome to be up in the School of the Year rankings with schools like UNA and Mississippi State. I have close friends at some of the big schools in the rankings and it's also something we wanted from the beginning, but we thought it would take a year or two for us to start pushing towards the School of the Year. After the two wins so far this year, it's no doubt that we're going to try our best to make it to the top," said Cox.
Along with the prized Cabela's School of the Year Points, Cox won a total of $2,000 in Cabela's Gift Cards, a GiLL IN12 Rainsuit Jacket, a Mustang PFD, a HydroWave H2, a Pair of Costa Sunglasses, and $100.00 worth of Ranger Wear. Due to Cox's additional jersey registration contingencies, he was also able to pick up an additional $500 for the Ranger Cup contingency, $250 for the Association of Collegiate Anglers contingency, and $1000 from the Yamaha contingency.
Queen Finishes in Second
Throughout a majority of Day 2, KJ Queen's 7.52 largemouth bass held up as the leading overall Big Bass for the event. Though topped by Cox's near eight and a half pound bass, Queen was still able to collect valuable Cabela's School of the Year points, a $1000 Cabela's Gift Card for his Day 1 Session 3 win, and an additional $1,000 in Costa Contingency money.
Queen was thrilled with his overall finish as he knows what it takes to be a strong competitor on this lake in particular.
"We fish this lake pretty often and whenever you have any type of event here, it's going to be a tough one to win, but when you add in all of the best college anglers around, it makes it that much harder, so I'm really happy with how it all turned out and glad my fish stood up against all the other fish brought in," said Queen.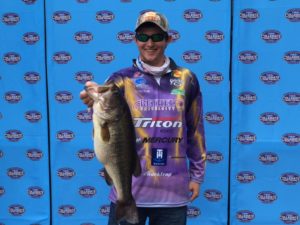 As many anglers found success on shallow, rocky banks throwing something moving like a crankbait or a rattle trap, Queen found his best success dragging a three quarter ounce jig in green pumpkin on the steep main creek banks which yielded not only a win on Day 1 Session 3 Presented by , but also Day 1 Session 2 success.
Queen pocketed a $1000 Cabela's Gift Card for the 7.52lb Kentucky Lake largemouth along with a $25 Cabela's Gift Card and a Berkley Tackle Bag for a 5.27lb bass that he weighed in on Day 1 Session 2 Presented by Power Pole.
More to follow on the top five anglers of the 2016 Cabela's Collegiate Big Bass Bash Presented by Berkley.
The remaining top ten are listed below.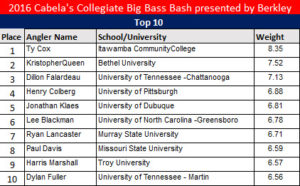 Be sure to check out the From the Water Live Blog for the complete Session Results and event highlights!
Also, follow us on Facebook throughout the day for coverage and pictures from the water!
https://www.collegiatebasschampionship.com/wp-content/uploads/2016/06/CBFC_Button-e1480444540195.png
300
300
Shelley
https://www.collegiatebasschampionship.com/wp-content/uploads/2023/03/2022_CBFS_JM-White-300x194.png
Shelley
2016-03-14 13:21:27
2016-11-22 13:34:13
Itawamba Community College Hooks Kentucky Lake Giant for 2016 Cabela's Collegiate Big Bass Bash Presented by Berkley