Itawamba Community College Finishing a Successful First Year of Collegiate Bass Fishing
By Cody Levy
Collegiate bass teams across the nation strive to be successful every year in different tournament circuits, club fundraising, and growing in members over many years of club existence. For Itawamba Community College, located in Fulton, Mississippi, success in these areas has been very apparent in just their first year as a recognized bass club. Now going into their first BoatUS Collegiate Bass Fishing Championship Presented by Cabela's, and their first ever championship event as a club, the excitement is building as the team is recognizes their ability to win is just as real as with any other long standing bass club.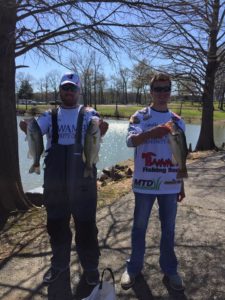 Ty Cox, Itawamba Community College freshman and Bass Team President, is no stranger to catching big bass and winning tournaments as he is the reigning 2016 Cabela's Collegiate Big Bass Bash Presented by Berkley Champion. Now he prepares to compete on one of the biggest stages in college fishing history on his home lake.
"We hope to do well, being our first year as a club, but really, I guess the most pressure would be that this is our home lake and the summertime is our favorite time to fish it," said Cox. "To be honest it's the one I'm most worried about because I've always felt like I've gotten the home lake curse on big tournaments on this lake, but I am feeling real good about this one. The fish are starting to move out there and usually the first ones that move out to the ledges are the ones that bite just about anything you throw."
Cox added that as the first year of the club's existence, fishing a championship event is something that can make or break your team, however, Cox wants to keep the team's momentum going from a very successful season, regardless of a first year club or tenth year club.
"The Championship really means a lot to our club, especially being the first championship tournament our club has competed in. When I won the Big Bass Bash, that meant the world to our club, winning one of the biggest college tournaments in the sport and gaining a lot of publicity and momentum for the club," said Cox.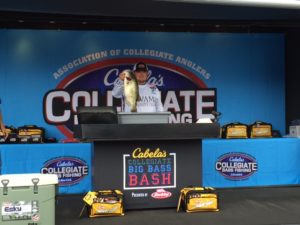 While some teams struggle to get a single tournament victory under their belt, Itawamba Community College has won two large scale collegiate fishing events, which has given the team a great deal of reverence and recognition on and off the water.
"Our first year as a club has been great. We won the first tournament we ever fished as a club and then the second tournament we competed in was the Big Bass Bash and we won it too which really put the icing on the cake. The club gained a lot of notoriety, not only with the school, but with a lot of local high school kids who have seen our success on social media and now have said that they want to fish for ICC, which is great for our club," said Cox.
Currently sitting in 20th out of over 350 schools in the Cabela's School of the Year rankings, Itawamba Community College has clearly distinguished themselves as a strong competitor, but they are not done just yet. The 2016 BoatUS Collegiate Bass Fishing Championship Presented by Cabela's is less than three weeks away and is the last double points event of the season. Ty Cox and the rest of the ICC Bass Team look to take full advantage of  the double points event and make their way closer to the top of the Cabela's School of the Year rankings.
"To be honest we didn't think we would be doing this well in our first year," Cox said. "When we had our first meeting back at the beginning of the school year, the Cabela's School of the Year race came up and we talked about not really trying to win, even though we wanted to win it; we'd understand as our first year that it would take a lot to win. Now that we are doing well, I think it really surprised a lot of boys on the team and we really want to make a push to win it."
Don't miss out on your opportunity to compete in the longest running collegiate fishing tournament series championship ever! Sign up today and we'll see you at the 2016 BoatUS Collegiate Bass Fishing Championship Presented by Cabela's in Florence, Alabama!
To see additional coverage on our Facebook, click here: https://www.facebook.com/CollegiateBassChampionship
Also, follow us on Instagram and Twitter at @CollegiateBass
About the ACA
The Association of Collegiate Anglers, a division of Careco TV, is a sanctioning body developed to facilitate growth, development, and structure within competitive collegiate bass fishing.  The ACA provides support to dozens of school operated regional events nationwide and owns the Cabela's Collegiate Bass Fishing Series, the largest participatory collegiate tournament circuit in the country. With dedicated collegiate fishing programming on several television networks, three nationally televised collegiate bass fishing events, and thousands of members, the ACA is the leader in competitive collegiate bass fishing.  For more information on the ACA, or the Cabela's Collegiate Bass Fishing Series, visit www.CollegiateBassChampionship.com. For more information on Cabela's visit Cabelas.com, for more information on CarecoTV, visitwww.carecotv.com.
https://www.collegiatebasschampionship.com/wp-content/uploads/2016/06/CBFC_Button-e1480444540195.png
300
300
Shelley
https://www.collegiatebasschampionship.com/wp-content/uploads/2023/03/2022_CBFS_JM-White-300x194.png
Shelley
2016-05-12 15:30:50
2016-11-18 13:12:39
Itawamba Community College Finishing a Successful First Year of Collegiate Bass Fishing