Going In-Depth on Breeden & Smith's Victory at the AFTCO Collegiate Bass Open
SAN ANTONIO, TX (October 14, 2020) – Over the weekend, Cole Breeden & Cameron Smith from 15th ranked Drury University won the 2020 AFTCO Collegiate Bass Open on Lake Dardanelle in Russellville, AR with a two-day total of 26.52 pounds.  The duo from Drury earned upwards of $5,000 in prizes & contingencies, as well as 1,000 points towards the Bass Pro Shops School of the Year presented by Abu Garcia.  In this write-up, we will take a closer look into Breeden & Smith's victory at the second major event of the season for the Bass Pro Shops Collegiate Bass Fishing Series.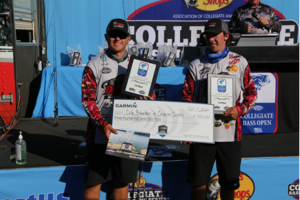 "I was thrilled to say the least. Winning a major tournament like that is an experience that doesn't come around very often," noted Smith.  "Winning a tournament of that size is a great reward for all the hard work that goes into it."
Winning a major collegiate tournament of this magnitude is a huge accomplishment for anglers competing at this level.  It takes a great deal of skill and composure to go compete on the best fisheries in the nation for multiple days and top an elite field of 150 boats to secure your first major college win.  These are the exact characteristics that Breeden & Smith displayed at Lake Dardanelle over the weekend.
"This level of a tournament win is one that Cameron and I have wanted real bad," explained Breeden.  "It's a great feeling after putting in so much time and effort into the sport, and it's awesome to be able to share the experience with others that have put in a lot of effort to support us, such as our parents and coach.  We are extremely grateful for all of their efforts.  It was a major relief to win after a day two full of nerves.  It's a one of a kind experience that is awesome, and makes us hungry for more."
To say that the final day of the AFTCO Collegiate Bass Open was "a day two full of nerves" is likely a huge understatement.  Cole Breeden & Cameron Smith from Drury University weighed in five bass for 19.90 pounds on day one to take a five-pound lead over second place.  The Missouri anglers executed their game plan flawlessly on the first day of competition, giving them a sizable cushion entering the final day.
However, as events began to unfold on day two, doubt began to creep in as the big bites disappeared and the rest of the field began to inch within reach of that top spot.  "Early on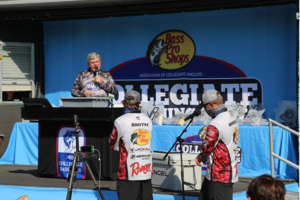 throughout the day, we were pretty relaxed knowing that we only needed a few bites to make it happen.  Later on, probably starting around 1:00 PM when we had three small keepers in the boat for about 5 pounds, is when we started to get a little nervous," added Breeden.  "Still, we knew that we were probably only one bite away from sealing the deal.  When we came in to weigh in and heard that the current leaders had almost 25 pounds, that's when the nerves really kicked in, because we knew it was going to be very close."
On day two, Breeden & Smith weighed in three fish for 6.62 pounds.  That final day weight bumped their two day total to 26.52 pounds.  This put them approximately two pounds clear of second place with roughly half of the field left to weigh-in.  "The nerves never went away though.  As we were waiting for the rest of the weigh-in to finish, I tried to eat a sandwich but it just made me feel sick," said Breeden.  "I wasn't relieved until they called our names to announce first place.  This is our first multi-day event that we've won, and we wanted it really bad."
The winning pattern for the event was fairly textbook for the Arkansas River and Lake Dardanelle during this time of the year.  "All of the fish we caught were in less than 5 feet of water relating to cover on or near the bank. The water in the area we focused on had 1-2 feet of visibility," described Smith.  Breeden & Smith were working shallow, mud banks while targeting pockets of shade to get their bites.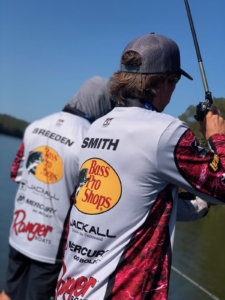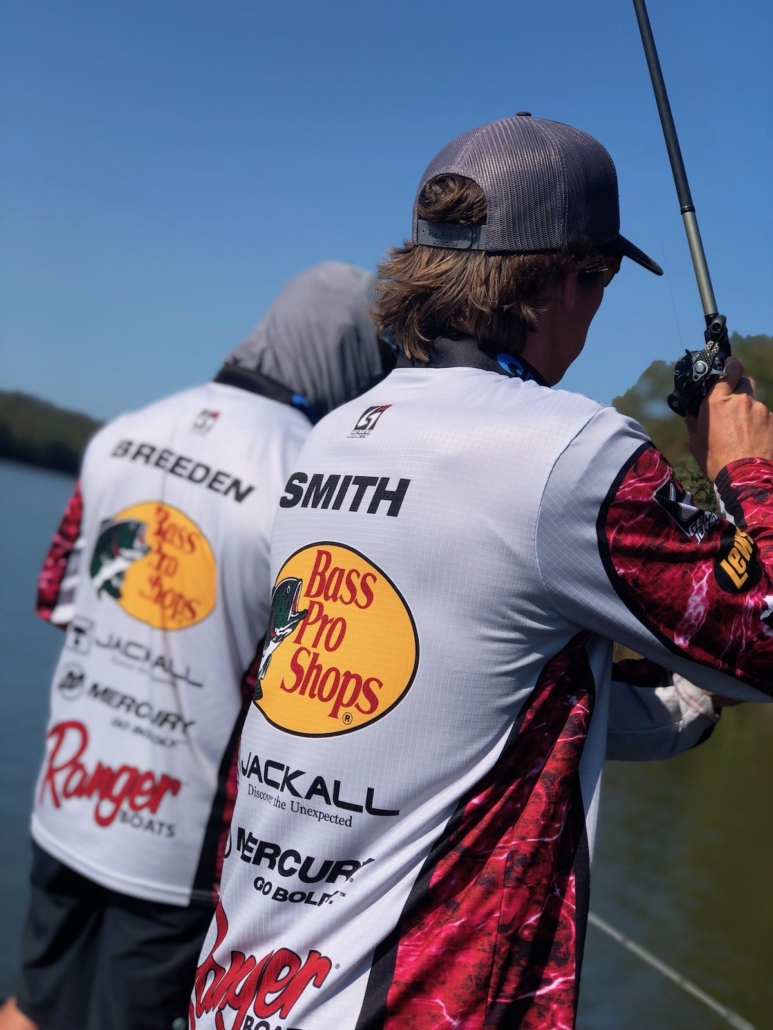 "All of our fish came out of one area that was away from the main river," said Breeden.  "We caught fish from several types of cover, such as grass, lay-downs, and brush piles.  Pretty much all of our fish came from shallow cover, any where from a foot out to about five feet.  A key to getting some of the bigger fish to bite the first day was to make multiple flips into the same spot."
A jig proved to be the key bait to landing the winning fish.  The pair flipped a green pumpkin or brown jig  on 20-pound line for the entirety of the tournament.  "All of the rod/reel setups I used were a combination of Denali Kovert rods and Lews reels spooled with 20lb Berkley Trilene. The exceptional sensitivity of the Denali Kovert really helps to detect the bite when the bait is deep in cover," added Smith.
Cole Breeden & Cameron Smith's victory at the AFTCO Collegiate Bass Open earned Drury University 1,000 points towards the Bass Pro Shops School of the Year presented by Abu Garcia.  "Earning 1,000 points for the win this week was very important," noted Breeden.  "It's going to allow us to get back into the school of the year race, and gain a couple spots back that we've lost." 
Being that this was an ACA ran event, schools were eligible to earn points for their highest two finishing teams inside of the Top 100.  Drury anglers Beau Browning & Brock Bila weighed in a two-day total of 21.73 pounds to claim fifth place at the AFTCO Collegiate Bass Open.  With two teams finishing in the Top 5 at Lake Dardanelle, Drury University earns more than 1,900 points to count towards its season total.
"With our teammates Beau Browning and Brock Bila getting 5th place, it definitely gives a great leap in points. This also brings needed momentum to the team for the rest of the season, I think it will definitely help us increase our SOY standing in the coming tournaments," added Smith.  "Before the Open on Lake Dardanelle we were in 15th, we're really hoping that with the increase in points we'll be in the Top 10."
An update to the standings for the Bass Pro Shops School of the Year presented by Abu Garcia will be provided in the next few days.
https://www.collegiatebasschampionship.com/wp-content/uploads/2020/10/DRURY-RECAP.png
1000
1000
Kyle Curry
https://www.collegiatebasschampionship.com/wp-content/uploads/2023/03/2022_CBFS_JM-White-300x194.png
Kyle Curry
2020-10-14 17:18:28
2020-10-14 17:18:28
Going In-Depth on Breeden & Smith's Victory at the AFTCO Collegiate Bass Open