Garmin Brings Back the Garmin College Team for the 2017-2018 Season
Now Accepting Applications
Garmin, in partnership with the ACA, is seeking five (5) active collegiate anglers/teams to fill the Garmin College Team for the 2017-2018 tournament season. Garmin created this sponsorship opportunity for 10 collegiate anglers/teams, last Spring, as they showcase their electronics and give collegiate anglers the chance to be a part of a sponsored team. Garmin is continuing to dive deeper into the college side of freshwater fishing!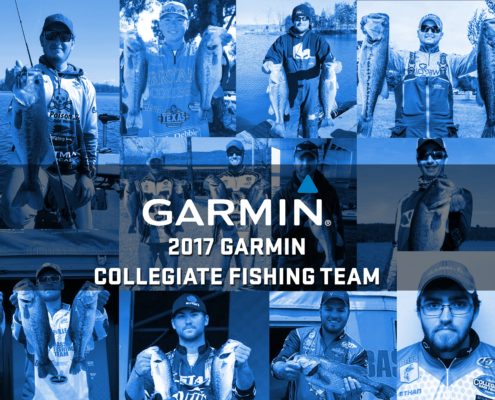 Garmin will offer new anglers/teams $1,000 in product and a 45% discount on one order of Garmin Marine electronics. Returning anglers/teams will receive $500 in product and a 45% discount on one order of Garmin Marine electronics. In addition, each collegiate angler/team will receive Garmin swag (hats, shirts, decals) for the season.
The opportunity to apply for one of the 5 available positions will be October 4th through October 18th. The 5 anglers/teams will be chosen October 20th following the deadline.
2018 Requirements:
College angler must have a boat
Post twice a month on social media platforms promoting Garmin electronics
Display Garmin decals on boats and vehicles that will be going to tournaments
Garmin logo must be visible on college jersey
Each team must fish a total of three college fishing events during 2018 to include a minimum of one Cabela's Collegiate Bass Fishing Series events during 2018.
At the end of the 2018 season, Garmin and Wade Middleton will evaluate anglers/teams on performance and execution of requirements. If signed for the following year, the team will receive $500 in product and another order for 45% off.
Garmin Grand Giveaway is still an opportunity with being a part of the Garmin team. If a team wins an event with the contingency of the Garmin Grand, they will receive the $1,000 payout.
https://www.collegiatebasschampionship.com/wp-content/uploads/2017/10/Garmin_Team_Sponsorship.jpg
320
480
Amanda
https://www.collegiatebasschampionship.com/wp-content/uploads/2021/05/2019-BPS_CBFS_logo-300x179.png
Amanda
2017-10-04 13:54:34
2018-03-05 13:48:53
Garmin Brings Back the Garmin College Team for the 2017-2018 Season