San Antonio, TX (January 20, 2020) – The Ranger Cup University Challenge is one of the most prestigious contingency programs in college fishing.  All year long, Ranger Cup University anglers compete on the college circuit for the chance to earn an opportunity to participate in the all-expense-paid, made for tv event.  The 2019 qualifiers were Adam Puckett & Blake Albertson from Murray State University and Cole Floyd & Carter McNeil from Bethel University.  Edging out the team from Murray State by just over nine pounds, Floyd & McNeil claimed the winning prize of $2,000.
"We had a good time down here last year…and came up a little short.  So, we came down here with a little fire under our rear end this year, and we were blessed to get it done today," said Carter McNeil, Bethel University angler.  Just last year, Floyd & McNeil qualified for this same event and competed against two anglers representing Adrian College.  Adrian jumped out to an early lead and never looked back, as they bested Bethel by a double-digit margin.  This year, however, the lake set up drastically different and provided a new set of circumstances for the anglers to break down.
Through the first two updates of the morning, Murray State held an approximately seven-pound lead over the 2019 ACA Championship winners.  After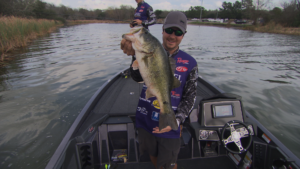 receiving that second update, Floyd & McNeil decided to change up their gameplan.  "Later on in the day, we ended up making an adjustment.  We went and did what we like to do…that's flipping," explained Floyd.  For the next three hours, the Bethel anglers kept the big flipping stick in their hands and went to work on the Fayette County Reservoir bass.  "We went down one stretch and we caught seven nice keepers.  There later in the day, we caught one close to five," added Floyd.  Once it was all said and done, the two sacked up a total of 40 pounds of bass to edge out their opponent by more than nine pounds to take the title.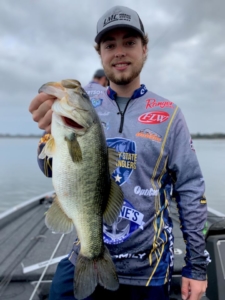 Finishing the event as runner-up were Adam Puckett & Blake Alberston from Murray State University.  Though this one-day challenge did not end exactly the way they had hoped, they started the day with a giant splash early on.  Adam Puckett, a junior at Murray State University, boated two fish near the five-pound mark right off the bat.  "You couldn't have asked for any better of a start.  Catching those two fish there that were almost back-to-back casts in the first 10 minutes.  That was definitely exciting and got us going for sure," said Puckett.  Those two fish, combined with the others they managed to catch early on, allowed the Indiana natives to latch onto an early lead and advantage.
One of the unique elements regarding this event is the format.  All fish caught over the 14-inch length limit counted towards a team's total, and every few hours the teams would receive a score update reflecting how the two teams were doing.  This added twist can greatly impact a team's mental psyche, as well as affect the decisions they make on the water.  "The format definitely changes the way you fish.  You can't really sit in one spot for very long.  We just tried to fish new water," added Albertson.  The anglers from Murray State covered a lot of water later in the day as they worked to keep pace with the team from Bethel.  Puckett & Albertson struggled to find key bites later in the day and failed to surpass Floyd & McNeil.
The Ranger Cup University Challenge is the year-end prize of the Ranger Cup University program.  These teams received an all-expense-paid trip to compete for a grand prize of $2,000 all while fishing out of fully rigged Ranger boats.  "The contingency is an awesome program, especially for college kids.  If you aren't signed up, you need to start doing it because it is an awesome program…and it really helps us college kids out," said Floyd.  To find out more details about the program, visit the Ranger Cup University website.  Program details have been updated for 2020, so be sure to visit the site to read up on rules, regulations, and qualification criteria so you too can compete in this great made for tv event!
https://www.collegiatebasschampionship.com/wp-content/uploads/2020/01/C0034_15374819.png
1080
1920
Kyle Curry
https://www.collegiatebasschampionship.com/wp-content/uploads/2021/05/2019-BPS_CBFS_logo-300x179.png
Kyle Curry
2020-01-20 15:49:32
2020-01-20 15:49:32
Floyd & McNeil Win Ranger Cup University Challenge