Floyd & McNeil Set Sights on Repeat
FLORENCE, AL (5/23/19) – Day one of the BoatUS Collegiate Bass Fishing Championship presented by Bass Pro Shops is in the books.  A full field of college fishing's finest anglers took out onto Pickwick Lake in hopes of catching the heaviest five fish limit they could wrangle up.  Though the weather was warm, conditions were stable and anglers managed to catch a lot of quality bass.  Four teams weighed in limits over the 20 pound mark.  Weighing in the heaviest bag and claiming the day one lead are Cole Floyd and Carter McNeil of Bethel University.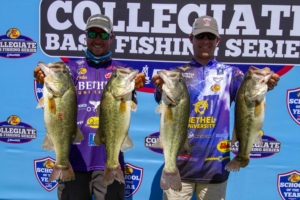 Floyd and McNeil weighed in 22.85 pounds to take less than a half pound lead over second place.  Although they had a difficult practice, the two anglers representing the defending School of the Year champions are pleased with their results.  "It feels pretty good.  You know, after our practice we didn't think we had the fish we had today.  But it all worked out good for us," said Carter McNeil.
The two anglers won this exact event just one year ago.  During the event in 2018, Floyd and McNeil rotated amongst several different schools of bass to rack up more than 40 pounds of bass.  The question on everyone's mind this year now is, 'Are they running the same spots that won them the title last season?'  "We've had to completely switch it up.  It's hard to catch them on the same places year after year," noted Cole Floyd.  That answers that question.  The reigning champs are mixing up their pattern.  Entering the final day of competition tomorrow, they are a little unsure as to whether or not it will hold up.  "Today, there's a lot of places that they weren't there at all.  We had to work for them, and it's not going to be easy to catch them tomorrow," added Floyd.
The team trailing close behind them in second is the Kansas State University pairing of Gaige Blanton and Will Andrie.  They amassed a five fish total of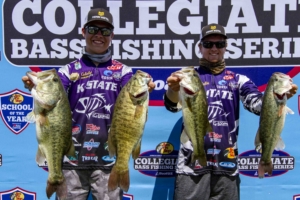 22.42 pounds.  Within a few hours this morning, they began loading the boat with bass.  "Within two hours we finally started getting bit.  Our biggest fish was like six pounds.  We caught that right off of the bat, first fish," said Will Andrie.
From talking with the anglers following weigh-in, it sounds like they had a difficult practice.  However once the tournament began today, everything fell into place.  "It turned out to be what we wanted it to be.  We're just going to go out there and see if we can make it happen again," stated Gaige Blanton.  Members of our crew will be covering these anglers tomorrow to see if they can duplicate their day one performance on Championship day.
Completing the top three are Heath Pinell and Taylor Cranford competing for Louisiana State University.  Coming from an area known for producing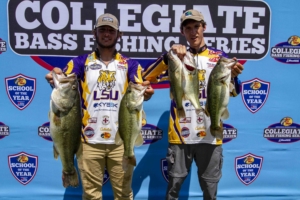 anglers with shallow water prowess, they sacked up 21.57 pounds of fish.  On a lake that is considered among the best deep water fisheries in the world, Pinell and Cranford switched things up and went shallow.  On stage at weigh-in they said that their 8.90 pound day one big bass was caught on a spinnerbait.  It will be interesting to see if this shallow water pattern holds up for one more day.
Along with overall tournament champion, one other title is on the line tomorrow.  That would be the Bass Pro Shops School of the Year presented by Abu Garcia.  McKendree University currently holds just a little more than 600 point lead over second.  At the conclusion of day one, their highest two teams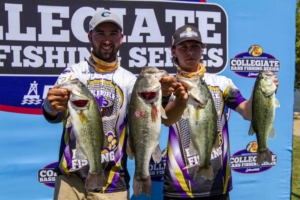 sit in 21st and 22nd overall with not quite 15.50 pounds.  Duplicating those two performances on the final day could put them in really good shape to have a chance at winning the School of the Year title.  Team member Trevor McKinney likes his chances at having a solid day two.  "It seems like every year I've caught a decent bag the second day.  Usually, if you catch what you had the first day, the second day…you'll be right up there," said McKinney.
Championship Day of the 2019 BoatUS Collegiate Bass Fishing Championship presented by Bass Pro Shops will be full of suspense.  Coverage on the live blog will begin around 5:00 AM in the morning, with live streaming of the weigh-in starting at 2:00 PM.  Also keep up to date on the latest tournament news through our social media platforms.
Top 10 Standings – 
1.Carter McNeil & Cole Floyd – Bethel University
2.Gaige Blanton & Will Andrie – Kansas State University
3.Heath Pinell & Taylor Cranford – Louisiana State University
4.Jacob Moore & Gilliam Tharpe – North Carolina State University
5.Spencer Lambert & Ben Watson – University of Louisiana-Monroe
6.Ty Cox & Chandler Boman – Blue Mountain College
7.Jordan Thompson & Landon Smith – Calhoun Community College
8.Braden Perry & Aidan England – Carson-Newman University
-Chase Dawson & Grayson Perkins – University of Tennessee
10.Logan Parks & Lucas Lindsey – Auburn University
https://www.collegiatebasschampionship.com/wp-content/uploads/2019/05/IMG_4507.jpg
3456
5184
Kyle Curry
https://www.collegiatebasschampionship.com/wp-content/uploads/2023/03/2022_CBFS_JM-White-300x194.png
Kyle Curry
2019-05-23 19:26:06
2019-05-23 19:48:32
Floyd & McNeil Set Sights on Repeat