Fain & Kendrick From Bryan College Win 2020 BoatUS Collegiate Bass Fishing Championship presented by Bass Pro Shops
FLORENCE, AL (6/11/2020) – The final day of the 2020 BoatUS Collegiate Bass Fishing Championship presented by Bass Pro Shops provided tons of suspense for the collegiate bass fishing community.  A tight leaderboard left an open door for plenty of teams to jump up from back in the pack and take a swipe at the lead.  Though several teams tried, no-one could overtake the Day 1 leaders.  Bailey Fain and Preston Kendrick weighed in over 16 pounds of bass on the last day of competition to edge out second place by more than a pound and claim the title of National Champions.
"I just got to thank the good Lord.  If it wasn't for him, we wouldn't have done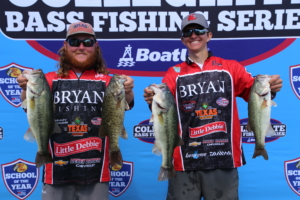 nothing," said Fain.  "Practice was terrible, and I don't know what to say."  Bryan College angler Bailey Fain stood at the mic on the weigh-in stage seemingly speechless after being crowned a National Champion.  This title is something that these anglers work all their life for, and to win on a grand stage is quite the accomplishment to be proud of.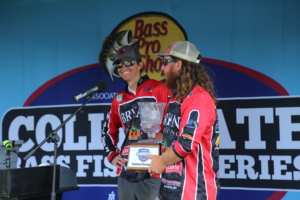 The team's journey to a National Championship began with an inauspicious start.  Following a poor practice, their goal was just to cut a check.  But on Day 1 their fate changed in a flash.  "The first day, we started off and we found one or two chasing on a spot," added Fain.  Fishing right near take off, they noticed fish chasing shad and quickly loaded the boat with 19 pounds of bass on Day 1.  Today, they started on that same spot, and sealed the victory in the first hour of competition.  "Today we went there, and in probably 30 minutes we had a majority of our weight," Fain concluded.
Working swimbaits and topwaters to schooling fish, our camera crews caught all of the action as Fain & Kendrick seized every opportunity that was presented to them in a hurry.  "Both days we caught all of our weight first thing in the morning. It happened so fast, we didn't know what to think," noted Kendrick.  "We didn't know we had as much as we had either day."  Come to find out, they had the winning weight.  To the tune of 35.99 pounds, Bailey Fain & Preston Kendrick are bringing home a national title at the BoatUS Collegiate Bass Fishing Championship presented by Bass Pro Shops to Bryan College.
One team that jumped up from back in the pack to challenge the Day 1 leaders was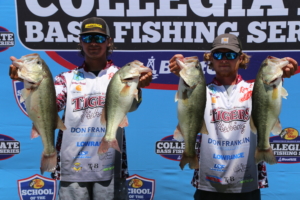 the Campbellsville University duo of Dalton Smith and Bradley Dunagan.  They were in 26th place after the first day of competition with 14.42 pounds.  The team from Kentucky managed to trigger one of those notorious schools of Pickwick Lake bass and weigh in over 20 pounds to slide up into second place overall.  "It's the first of June on Pickwick, we knew how it was going to be won," said Smith.  They knew it was going to be won deep.  Dunagan and Smith located some key 'secret spots' out deep and had confidence in their pattern.  So much confidence that they wanted to abandon their mid-morning spot, and run to one of the fresh schools of fish they had found during practice. "At 11 o'clock today I almost put the trolling motor up and took off…. We caught all these fish at 12 o'clock," explained Dunagan.  The decision to stay paid off to the tune of a couple thousand dollars and a second place finish in the biggest event in collegiate bass fishing.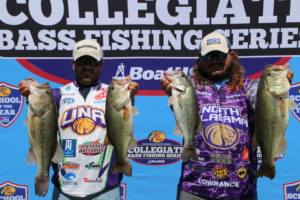 Rounding out the Top 3 are Martin McCravy and Triston Crowder from the University of North Alabama.  The hometown team jumped all the way up from 50th place to third by weighing in 21.03 pounds of bass on Day 2.  Early on today, we projected that a scenario like this could potentially play out.  A change in weather conditions and a jam packed leaderboard lended itself to a huge potential shakeup.  McCravy and Crowder used their local knowledge of Pickwick Lake to make that leap into the Top 3 on the final day.
Click here to view the final results.
Next week, we will do a feature on each team in the Top 5 of the standings for the 2020 BoatUS Collegiate Bass Fishing Championship presented by Bass Pro Shops.  Stay tuned for that beginning on Monday.
https://www.collegiatebasschampionship.com/wp-content/uploads/2020/06/IMG_9852-scaled.jpg
1707
2560
Kyle Curry
https://www.collegiatebasschampionship.com/wp-content/uploads/2021/05/2019-BPS_CBFS_logo-300x179.png
Kyle Curry
2020-06-11 20:06:04
2020-06-11 20:31:06
Fain & Kendrick From Bryan College Win 2020 BoatUS Collegiate Bass Fishing Championship presented by Bass Pro Shops