Engel Coolers Continues Partnership with the ACA and Cabela's Collegiate Bass Fishing Series in 2018
Engel Coolers Continues Partnership with the ACA
The Association of Collegiate Anglers and Engel Coolers have announced their renewed partnership with the Cabela's Collegiate Bass Fishing Series. As a sponsor of the Series, Engel Coolers will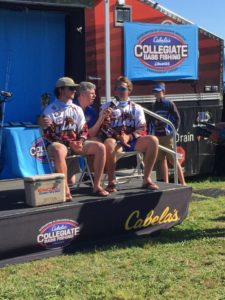 support collegiate anglers nationally at each of the Cabela's Collegiate Bass Fishing Series events along with a new discount program.
"We're tremendously excited to be a part of the collegiate bass series for 2018.  This incredible group of anglers represents the next generation of competitive fishing, for sure…and the future looks  bright," said Mike Dixon, Vice President of Engel Coolers.
"But more importantly, they are developing into fantastic ambassadors for fishing/outdoor recreation, safe boating, and pro-active environmental stewardship. Engel is focused on engaging with these anglers to ensure we develop and provide products that meet their needs. We want to keep them focused on their incredible day ahead, and not on whether they've got enough ice to make it through.  Best of luck to everyone competing – we'll see you on the water!"
Engel Coolers has designed a line of heavy duty coolers that are built for more than just keeping things cold. Rugged, Durable, High Performance Marine Coolers; insulated, spill-proof drinkware; lightweight cooler/dry boxes; soft-side coolers; and AC/DC Fridge Freezers are just some of the products that we have become known for. If your outdoor adventure or recreation require a heavy duty cooler solution, look no further. When the heat cranks up, Engel is here to cool things down. Adventurers, fisherman, hunters, and campers the world over rely on Engel high performance, heavy duty coolers.
According to Wade Middleton, Director for the Association of Collegiate Anglers and President of CarecoTV, "I've used Engel Coolers in the field and on the water, as well as anywhere I need a cooler to keep things cool – it's never failed me.  It's exciting to add the lineup of Engel Cooler products to our collegiate team while featuring them on site and in all media assets associated with the Cabela's Collegiate Bass Fishing Series."
In addition, Engel Coolers is rolling out a new discount program for the 2018 season. Engel Coolers will be offering collegiate anglers a 30% discount on their purchase of Engel Coolers products. Anglers are encouraged to take advantage of the many sponsor and incentive programs from a wide range of distinguished Cabela's Collegiate Bass Fishing Series sponsors, and the ACA. To receive your discount, please send an email request from your school email to college@carecotv.com.
For more information about the Cabela's Collegiate Bass Fishing Series, please visit www.CollegiateBassChampionship.com.
Stay up to date and Follow Us!
Facebook –  https://www.facebook.com/CollegiateBassChampionship
Instagram – https://www.instagram.com/collegiatebass/
Twitter – https://twitter.com/collegiatebass
Subscribe to our videos!
YouTube –  https://www.youtube.com/user/CollegeBassFishing
About the Association of College Anglers
The Association of Collegiate Anglers, a division of Careco TV, is a sanctioning body for college fishing to help facilitate growth, development, and structure within competitive collegiate bass fishing.  The ACA provides support to dozens of school operated regional events nationwide and owns and operates the Cabela's Collegiate Bass Fishing Series, the largest participatory collegiate tournament circuit in the country.  With dedicated collegiate fishing programming on several television networks, four nationally televised collegiate bass fishing events, and thousands of members, the ACA is the leader in competitive collegiate bass fishing.  For more information on the ACA, or the Cabela's Collegiate Bass Fishing Series, visit www.CollegiateBassChampionship.com. For more information on CarecoTV, visit www.carecotv.com. 
https://www.collegiatebasschampionship.com/wp-content/uploads/2017/12/2015-Champ_ULM.jpg
960
720
Amanda
https://www.collegiatebasschampionship.com/wp-content/uploads/2023/03/2022_CBFS_JM-White-300x194.png
Amanda
2017-12-15 14:31:17
2018-01-17 10:26:48
Engel Coolers Continues Partnership with the ACA and Cabela's Collegiate Bass Fishing Series in 2018