Costa Sunglasses Named to Top Brands List
Daytona Beach, Fla. – – Costa, one of the fastest growing sunglasses companies, received recognition as one of the top cult-like brands in the world at The Gathering, an annual summit and awards gala set in Banff, AB in Canada Feb. 3 – 4.
In what is quickly becoming known as the pinnacle North American event of its kind, The Gathering recognizes spectacular brand, marketing and consumer loyalty achievements. The exclusive two-day event pays homage to the courageousness of a highly select group of brands, the globally relevant status they've established, and their willingness to spill their secrets to more than 700 curious marketing contemporaries hoping to cement their own brand success.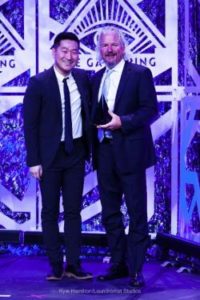 In addition to Costa, other confirmed cult-like brand honorees at the 2016 event included lululemon, VICE Media, Converse, AirBnB, The Movember Foundation, Carhartt, The Chive, Molson Canadian, Maple Leafs Sports & Entertainment and Car2Go.
"After surveying more than 36,000 North American households to quantitatively analyze customer engagement, over 1,000 brand candidates from across the globe have been carefully evaluated against 18 criteria by our member organizations," said Sheldon Lachambre, managing director of The Gathering.
Past brand honorees have included The Ultimate Fighting Championship, Tim Horton's, Disney Channels, Dallas Cowboys, Nintendo, Patrón Tequila, Cirque du Soleil, GoodLife Fitness, Sport Chek, Harley-Davidson, The National Hockey League, Madden (EA Sports), Saskatchewan Roughriders, Red Bull, GoPro, Las Vegas Convention & Visitors Authority and Urban Outfitters.
"As evidenced by significant endeavors, such as Kick Plastic, GEOBASS, Bluefin on the Line, its OCEARCH partnership, Watery Rave, and Project Guyana, we felt Costa is a poster child for achieving cult status through a strong corporate ethos and remarkably pervasive brand touch points, such as a producing a Sundance Film Festival award winning movie, its partnership with Kenny Chesney, and relationships with numerous conservation groups," said Lachambre.
"It's certainly an honor to be recognized as one of the top cult brands in the world," said Al Perkinson, vice president of marketing for Costa. "We'd like to include thanks to our loyal fan base as part of this achievement – they're the ones who've helped to shape our story and shared our conservation message around the world. We look forward to sharing our success with them in the years to come."
For more information about The Gathering, see complete event details at www.cultgathering.com.
About Costa™
As the leading manufacturer of the world's clearest polarized performance sunglasses, Costa offers superior lens technology and unparalleled fit and durability. Still handcrafted today in Florida, Costa has created the highest quality, best performing sunglasses and prescription sunglasses (Rx) for outdoor enthusiasts since 1983.
For Costa, conservation is all about sustainable fishing. Many fisheries that should be vibrant and healthy are all but devoid of native fish because they have fallen victim to poor fishing practices, unregulated development, lack of watershed protection or all of the above. Costa works with partners around the world to help increase awareness and influence policy so that both the fish and fishermen of tomorrow will have healthy waters to enjoy. Costa encourages others to help in any way they can.
For more information, contact 1-800-447-3700 or visit the company's web site at www.costadelmar.com. Join the conversation on Facebook at www.facebook.com/costasunglasses, on Instagram @CostaSunglasses, or on Twitter @CostaSunglasses.
https://www.collegiatebasschampionship.com/wp-content/uploads/2016/05/Costa-squarelogo.png
200
200
Shelley
https://www.collegiatebasschampionship.com/wp-content/uploads/2021/05/2019-BPS_CBFS_logo-300x179.png
Shelley
2016-02-08 20:19:54
2016-12-02 20:32:20
Costa Sunglasses Named to Top Brands List