Costa Sunglasses Continues Support of the ACA and Cabela's Collegiate Bass Fishing Series
SAN ANTONIO, Texas (January 31, 2017) — Costa Sunglasses and the Association of Collegiate Anglers (ACA) have renewed their partnership for the 2017 Cabela's Collegiate Bass Fishing Series. Through their continued partnership, Costa Sunglasses will enjoy national exposure among collegiate anglers throughout the televised Cabela's Collegiate Bass Fishing Series.

Costa Sunglasses has been dedicated to protecting the competitive angler's vision on the water since 1983. Built by hand in Daytona Beach, All Costa sunglasses are 100-percent polarized, and protect against harmful UVA and UVB rays. Their patented 580 lens technology offers unparalleled polarization and razor-sharp clarity by selectively filtering out harsh yellow and harmful high-energy ultraviolet blue light.
Costa's 580 lenses are available in optically ground glass (580G) or super lightweight, impact-resistant polycarbonate (580P). Lens colors include gray, copper, and sunrise with optional blue, green, and silver mirror finishes, giving the angler the perfect color choice for varying water and weather conditions. Costa also offers customized Rx sun lenses and recently launched a line of Rx optical frames for indoor use – both available through Costa Optical dealers.
"Youth, and especially collegiate bass fishing, is one of the fastest growing segments within fishing today. We're proud to continue our partnership with the ACA and the Cabela's Collegiate Bass Fishing Series and support the next generation of bass anglers." said Melinda Hays, Bass Community Leader for Costa.Collegiate anglers have come to know Costa through the ACA
Discounts and Incentives Program
, including the Costa bonuses, which will continue throughout the 2017 Cabela's Collegiate Bass Fishing Series.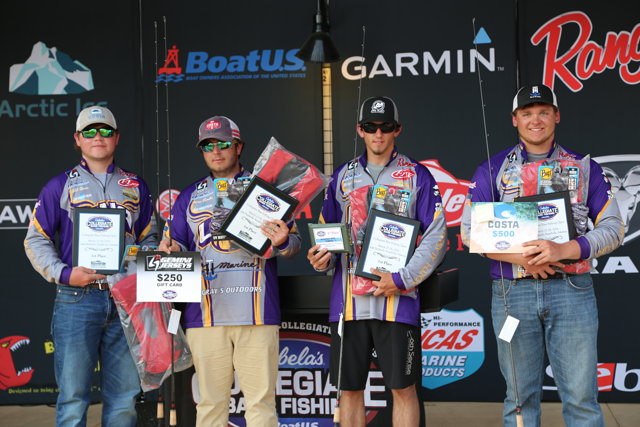 "Costa has long been an anchor in our collegiate program since the very first college event we held on Lake Lewisville. Due to this commitment Costa has developed a loyal following of collegiate anglers nationwide thanks to both a quality product and their generous support directly to college anglers. Their continued support of the Cabela's Collegiate Bass Fishing Series illustrates their commitment to the young men and women who make up the ACA," said Wade Middleton, tournament director of the Cabela's Collegiate Bass Fishing Series and President of CarecoTV.
Anglers wearing Costa sunglasses throughout any of the four Cabela's Collegiate Bass Fishing Series events are eligible for a Costa Bonus of $500, which will be paid out to the highest finishing team that is wearing Costa sunglasses at each event. In addition, if at least one team member also wears a Costa hat or displays a Costa logo on their jersey, they can pick up an additional $500 Costa Big Bass Bonus for winning the Cabela's Collegiate Big Bass Bash or the BoatUS Collegiate Bass Fishing Championship. Complete details can be found in the ACA 
Discounts and Incentives Program
.
About Costa™

As the leading manufacturer of the world's clearest polarized performance sunglasses, Costa offers superior lens technology and unparalleled fit and durability. Still handcrafted today in Florida, Costa has created the highest quality, best performing sunglasses for outdoor enthusiasts since 1983.
For Costa, conservation is all about sustainable fishing. Many fisheries that should be vibrant and healthy are all but devoid of native fish because they have fallen victim to poor fishing practices, unregulated development, lack of watershed protection or all of the above. Costa works with partners around the world to help increase awareness and influence policy so that both the fish and fishermen of tomorrow will have healthy waters to enjoy. Costa encourages others to help in any way they can.
For more information, contact 1-800-447-3700 or visit the company's web site at 
www.costadelmar.com
. Join the conversation on Facebook at
www.facebook.com/costasunglasses
, on Instagram at
www.instagram.com/costabassfishing
, or on Twitter @CostaSunglasses.
About the ACA
The Association of Collegiate Anglers, a division of Careco TV, is a sanctioning body developed to facilitate growth, development, and structure within competitive collegiate bass fishing. The ACA provides support to dozens of school operated regional events nationwide and owns the Cabela's Collegiate Bass Fishing Series, the largest participatory collegiate tournament circuit in the country. With dedicated collegiate fishing programming on several television networks, four nationally televised collegiate bass fishing events, and thousands of members, the ACA is the leader in competitive collegiate bass fishing. For more information on the ACA, or the Cabela's Collegiate Bass Fishing Series, visit
www.CollegiateBassChampionship.com
. For more information on Cabela's visit Cabelas.com, for more information on CarecoTV, visit
www.carecotv.com
https://www.collegiatebasschampionship.com/wp-content/uploads/2016/05/Costa-squarelogo.png
200
200
Shelley
https://www.collegiatebasschampionship.com/wp-content/uploads/2023/03/2022_CBFS_JM-White-300x194.png
Shelley
2017-01-31 13:22:00
2017-05-11 19:46:37
Costa Sunglasses Continues Support of the ACA and Cabela's Collegiate Bass Fishing Series