Costa Introduces New Anaa
Daytona Beach, Fla. – The beautiful, pristine white sand flats of the Anaa Atoll in French Polynesia sound a beckoning call hard for both anglers and bonefish to ignore.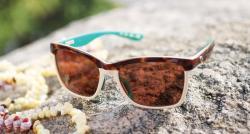 Costa modeled its newest sunglass style, Anaa, on the inspiration found on the Atoll. Clean lines combine with beautiful colors to create an unforgettable look. Anaa's frame color options include matte coconut fade, matte Caribbean fade, shiny black on brown, shiny olive tortoise on black, and Costa's exclusive trifusion molded color technology, shiny black + crystal + light blue, and shiny retro tortoise + cream + mint.
But like the location it's named after, Costa's Anaa goes way beyond aesthetics. The frame is comprised of a nearly-indestructible bio-based resin material sourced from the castor plant, a sustainable, hardy perennial. The bio-based resin produces increased durability, overall sunglasses weight reduction, and the ability for the frame to hold shape from extreme heat to bitter cold temperatures, crucial for anglers out battling the elements.
Incorporating a bio-based resin frame construction reduces Costa's manufacturing process emissions by up to 40 percent, and cuts the company's overall carbon footprint significantly.
In addition to the durable frame construction, Anaa features sturdy integral hinge technology and hypoallergenic rubberized nose pads to keep the sunglasses comfortably in place all day, no matter how harsh the conditions.
Costa's sunglasses can be customized in its full array of patented color enhancing polarized 580™ lenses. Costa's 580 lens technology selectively filters out harsh yellow and harmful high-energy ultraviolet blue light. Filtering yellow light enhances reds, blues and greens, and produces better contrast and definition while reducing glare and eye fatigue. Absorbing high-energy blue light cuts haze, producing greater visual clarity and sharpness.
Costa's 580™ lenses, the clearest lenses on the planet, are available in either glass or impact resistant polycarbonate. Lens color options include: gray, copper, blue mirror, green mirror and silver mirror. Anaa is also available in customized Rx sun lenses.
"When you're fishing on Anaa, you forget the rest of the world exists," said Al Perkinson, vice president of marketing for Costa. "Being there forces you to live in the moment, and you know moving forward, you'll do everything you can to protect it, and other places like it."
Anaa with 580 lens technology starts in retail at $169, and is available at www.costadelmar.com and at authorized Costa retail partners.
About Costa™
As the leading manufacturer of the world's clearest polarized performance sunglasses, Costa offers superior lens technology and unparalleled fit and durability. Still handcrafted today in Florida, Costa has created the highest quality, best performing sunglasses and prescription sunglasses (Rx) for outdoor enthusiasts since 1983.
For Costa, conservation is all about sustainable fishing. Many fisheries that should be vibrant and healthy are all but devoid of native fish because they have fallen victim to poor fishing practices, unregulated development, lack of watershed protection or all of the above. Costa works with partners around the world to help increase awareness and influence policy so that both the fish and fishermen of tomorrow will have healthy waters to enjoy. Costa encourages others to help in any way they can.
For more information, contact 1-800-447-3700 or visit the company's web site at www.costadelmar.com. Join the conversation on Facebook at www.facebook.com/costasunglasses, on Instagram @CostaSunglasses, or on Twitter @CostaSunglasses.
https://www.collegiatebasschampionship.com/wp-content/uploads/2016/05/Costa-squarelogo.png
200
200
Shelley
https://www.collegiatebasschampionship.com/wp-content/uploads/2021/05/2019-BPS_CBFS_logo-300x179.png
Shelley
2016-02-24 16:31:44
2016-11-29 20:38:09
Costa Introduces New Anaa