Cabela's Collegiate Bass Fishing Open Heads to Russellville, Arkansas and Lake Dardanelle!
The second major televised event of the 2017 Cabela's Collegiate Bass Fishing Series is now only five days away. Over 275 anglers from across the nation will converge on Lake Dardanelle in Russellville, Arkansas for the Cabela's Collegiate Bass Fishing Open. Anglers will be competing for a wide variety of prizes and for valuable Cabela's School of the Year presented by Abu Garcia points.
All of the anglers in the event are about to face numerous changing conditions throughout this event. Lake Dardanelle is formed by a dam on the Arkansas River, and being on a river, the lake faces constantly changing water levels. Anglers should be prepared to see the water level rise or fall every day. In the past, the lake has seen over a five-foot level swings in just a matter of 24 hours. With such varying lake levels, muddy water will also play a factor that the anglers must plan for. With the always-changing conditions the lake also has a chance to clear up for anglers if up river does not receive rainfall before the event.
Lake Dardanelle offers over 50 miles and 35,000 acres of fishable water. Anglers will have to determine whether they will fish on the main river channel or head off into one of the many backwaters that are connected to the river. In many tournaments, anglers that have bigger, fiberglass boats sometimes have an advantage due to being faster and handling rough water better, and giving more room to the anglers.  However, this will be one event where the anglers using aluminum boats may have an advantage. To get in many of the backwaters you will need a very shallow draft boat and this is where the aluminum boats will be key. These anglers will have the option to get way back into that skinny water when a big fiberglass boat cannot. Anglers will have a wide variety of cover and structure to fish river ledges, timber, grass and rocks are the main things anglers will target in search of those Lake Dardanelle bass.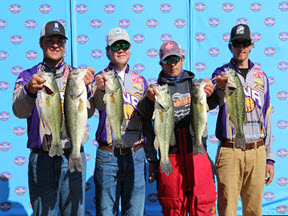 Pictured above: 2016 Cabela's Collegiate Bass Fishing Open Winners,
University of North Alabama
This time of year, it's expected that there will be a lot of fish up shallow. On a clearer body of water, anglers would have the option to sight fish, but Lake Dardanelle may not give the anglers that option except for in a few very small areas. Anglers should be ready to find both pre-spawn bass, as well as bass, up shallow on beds. Early in the year, the anglers will have a lack of grass to fish, but with the abundance of wood, the anglers will have plenty of cover to fish. The pre-spawn bass will be moving from the winter holes and will be located on ledges near the spawning flats. Arkansas Bassmaster Elite Series and Cabela's Pro Mike McClelland had this to say about Lake Dardanelle:
"This time of year the anglers will be able to fish from top to bottom using a variety of baits, like a Big Bite Baits Kriet Tail Lizard, SPRO Fat John and maybe even a top water or frog. There will be a mix of Pre-spawn, Spawning, and Post-spawn fish for the anglers to target.  These anglers need to be very visual for submerged grass, possible shad spawn, a little warmer and clearer water. I would be looking in the creeks off the main river trying to find that warmer water and those bigger females moving up to the spawning flats."
Excitement is building around this event and much better weather is expected this weekend compared to the snow storms that rocked the first ACA event this season, the Cabela's Collegiate Big Bass Bash presented by Berkley. Weigh-ins will take place at Lake Dardanelle State Park and all friends, families, and general spectators are invited to watch the weigh-in and support the anglers and schools.
The continuous support of our partners allows us to host such great collegiate bass fishing tournaments – a huge thank you to:  Cabela's, BoatUS, Ranger Boats, Yamaha Marine, Garmin, Costa, RAM, Berkley, Sebile, Gemini Jerseys, Big Bite Baits, Gill, Power Pole, Buff, SPRO, Arctic Ice, Bobs Machine, Sunline, Pro Rule, Stratos, Abu Garcia, Denali Rods, Abu Garcia, Bubba Blade, Russell Marine Products, TFO, Sawyer, Sure Life, Valley Displays and Russellville Arkansas
For more information on the event click the link below:
Also, follow us on Instagram and Twitter at @CollegiateBass and use #wearecollegiatebass.
https://www.collegiatebasschampionship.com/wp-content/uploads/2016/11/Collegiate_Bass_Fishing_Championship-squarelogo.jpg
200
200
Shelley
https://www.collegiatebasschampionship.com/wp-content/uploads/2021/05/2019-BPS_CBFS_logo-300x179.png
Shelley
2017-03-21 15:36:11
2017-03-29 15:53:23
Cabela's Collegiate Bass Fishing Open Heads to Russellville, Arkansas and Lake Dardanelle!