College Angler Struck by Lightning While Practicing for Upcoming Event
McKendree University angler Trevor McKinney was struck by lightning while practicing for a tournament on Lay Lake in Alabama
SAN ANTONIO, TX (June 22, 2021) – Late Monday afternoon, while practicing for an upcoming collegiate bass fishing event on Lay Lake in Alabama, McKendree University angler Trevor McKinney was struck by lightning out on the water.  McKinney and fellow teammate Blake Jackson were running back to the boat ramp ahead of an incoming storm when their boat was struck by lightning.   The anglers made it back to the ramp safely, and McKinney was fully checked out by EMS and given the all-clear before leaving the lake.
Association of Collegiate Anglers staff had the opportunity to speak with both anglers, as well as McKendree University Head Bass Fishing Coach Jon Rinderer, to get the full details of what occurred.
"It was kind of getting dark, and we kind of wanted to run down a little closer to the boat ramp.  We knew storms were kind of in the area, but not close," noted Blake Jackson, McKendree University angler.  "It starts raining and we start taking off down the lake.  We're running about 55-60(MPH), something like that.  And then it just starts raining, so I duck down in the bottom of the boat and kind of just turn around a little bit so it's not pelting me in the face.  Next thing I know, he's running, and I just see this bolt of lightning right in my face.  It had to either hit Trevor's shoulder, Trevor's seat, maybe the pole in the back of the boat…but it was just right there in your face."
Both Trevor and Coach Rinderer reported that the shock went through McKinney's body and exited via his pant seat and out through the driver's chair in the boat.
"I was just kind of stunned you know.  It was something that you'd never expect just driving down the lake.  Honestly, it felt like somebody shot me with a taser.  My body just kind of froze up.  For an hour afterwards I was just kind of shaking," explained Trevor McKinney, McKendree University angler.
Following several intense moments in the boat as McKinney struggled to come to and recover from the incident, Jackson took control of the boat and safely navigated the pair back to the boat ramp roughly 25 miles away.  Upon arriving back to the boat ramp, EMS and other emergency personnel were waiting on shore to provide any needed medical care.
"Before the boat actually got to the dock, EMS was in the parking lot," added Jon Rinderer, Head Bass Fishing Coach at McKendree University.  "They got Trevor right in the truck, checked his EKG, heart rate, blood pressure."
All of McKinney's vitals came back as normal and he was released there at the boat ramp.  McKinney does not report any further illness or complications at this time.
The week of June 20th-26th marks National Lightning Safety Awareness Week.  National Lightning Safety Awareness week was started in 2001 to call attention to this underrated killer.
According to reports from BoatUS Marine Insurance claim files, the odds of your boat being struck by lightning in any year are about one in 1,000.
McKinney may argue that those odds should be increased ever so slightly.  Monday's incident on Lay Lake in Alabama marks the second life-threatening encounter that he has had with lightning while out on the water fishing.
"I was on Kentucky Lake one day, and the same thing happened.  The dock that we sought shelter in, it probably wasn't smart at the time, was a metal dock," said McKinney.  "I grabbed ahold of it to pull our boat up under it.  Right as I did, lightning struck.  This huge blue light popped the dock, nailed it, and it nailed me."
Lightning is something that should not be taken lightly.  Awareness weeks such as this are put in place for a reason.  People have encountered dangerous situations with lightning, and it is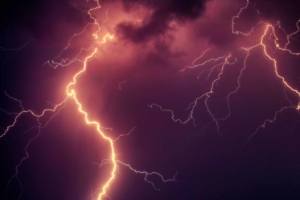 important to bring awareness to this possible threat.
While dark clouds, lightning, and thunder are all warning signs of an imminent storm, you do not have to be in the direct path of the storm to be in danger.   The storm that affected McKinney and Jackson was still roughly 20 miles away at the moment that lightning struck their boat.
"It was the only lightning bolt that we had seen all day.  There weren't any before that, and we didn't see any after.  You know, it never even really stormed where it was at.  Out of nowhere that came down and it was kind of just one of those freak accidents," Jackson added.
"I never would have dreamed that we'd of been running down the river and out of nowhere we get struck by lightning," noted McKinney.  "It is definitely something that you need to take seriously."
Following a harrowing event such as a direct lightning strike, it is important to share the accounts of these events to bring awareness to other anglers.  Situations such as this highlight the sudden dangers that can arise from storms out on the water.
"It's nothing to fool with, and it often strikes much further away than the clouds and the intense part," stressed Rinderer.  "There are a lot of those rogue bolts that come out of nowhere.  Don't underestimate it and get off the water.  Don't wait till the last second, it's not worth your life."
"Lightening is not something to mess with.  No matter what the circumstances are, just get off the water.  Take 30 minutes, let the storm pass.  It's not worth taking a chance at getting struck by lightning," said McKinney.  "We were fortunate in this case, a lot of people aren't as fortunate.  There are people every year you hear about that die getting struck by lightning.  Fishermen probably have the most likeliness of that happening.  We don't think about it every day, but we're out in the outdoors."
Since the introduction of National Lightning Safety Awareness Week, U.S. lightning fatalities have dropped from about 55 per year to less than 30.  This reduction in fatalities is largely due to greater awareness of the lightning danger, and people seeking safety when thunderstorms threaten.
If your boat is struck by lightning, BoatUS offers insightful information for the boat owner to know regarding insurance claims and repairs.  To read that article, click here.
https://www.collegiatebasschampionship.com/wp-content/uploads/2021/06/Lightning-Strike-scaled.jpg
1707
2560
Kyle Curry
https://www.collegiatebasschampionship.com/wp-content/uploads/2023/03/2022_CBFS_JM-White-300x194.png
Kyle Curry
2021-06-22 15:02:34
2021-06-22 15:02:34
College Angler Struck by Lightning While Practicing for Upcoming Event