Bethels Evan Owrey Takes Top Honors at Cabela's Big Bass Bash Presented by Berkley
As the 2017 Cabela's Collegiate Bass Fishing Series kicked off its lineup of four major televised events season on Kentucky Lake this past week, there was only one constant and that was changing conditions.  During the official week of the event collegiate anglers saw everything from violent thunderstorms and bright sunny days with temps in the 60's, to blinding snow and freezing temperatures.
With such a drastic temperature swing and changing weather conditions, many thought the bite was going to get extremely tough and make for a long day on the water.  However, a long day on water turned into a day of catching big Kentucky Lake bass for many of the anglers as the fish started coming to the scales.  It didn't take long for the staff and crowds to know that the collegiate anglers were on the fish this week!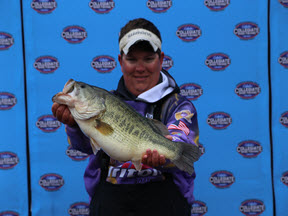 Evan Owrey, from Bethel University, certainly figured the Kentucky Lake bass out better than anyone and didn't let the changing conditions get in his head.  His stellar performance included winning Session 7 presented by Cabela's, placing 8th in Session 2 and 6th in Session 6.    In addition to those top places, his winning fish in Session 7 was the overall big bass of event giving him the coveted title of Power-Pole Big Bass Award.  We caught up with Evan after the event and asked him some questions about the event.
Evan, what was your strategy going into the event?
"Our team's strategy going into the event was to fish staging shallow flats where fish were moving onto. We launched and went to our first spot and started catching fish right away with most being between 3 and 4 pounds.   We then decided that since the weather was worse up near Paris, we would pull out and drive up to weigh some fish in with all three anglers fishing in our boat making a check in the 2nd session.  After the second session, we put in at Danville and ran south hitting two schools that didn't fire and then we pulled up on a spot from practice where I had caught a bunch of 3-5 pounders at. We caught a couple of 3 and 4.5 pounders, then my partner KJ got hung up and Tucker threw out to the left of where KJ got hung and caught a 4 pounder. So, I threw out there and hooked that big one. We then caught several more all in the 4-6-pound range."
What did it feel like to hook that fish?
"My partner KJ had been hung up on the flat and Tucker had just caught a 4lber. I threw right in behind him and hooked into one and at first it didn't move. I then cranked on it a few times and it came shooting at the boat headed for deeper water. It came up right below the surface about 20 yards out and KJ said it was a big one. So KJ handed his rod to Tucker to grab the net. Tucker had his 4lber flopping on the back deck with a foot on it holding onto KJ's hung up rod and also his rod which had his fish on it."
Tell us about the rod, reel, line and bait used as well as what you keyed in on to catch that fish.
"I caught it on a Shimano Curado paired with a G-Loomis IMX. I was throwing a Queen Tackle swing head with a Gene Larew Biffle Bug."
What's ahead the rest of this fishing season?
"The rest of the season we have the FLW Open on Kentucky Lake and since we qualified at Guntersville we are going to be trying to win this event. Then in May we have the BASS Eastern Regional on Cherokee Lake. We then have the BoatUS National Championship on Pickwick and then the FLW National Championship on Wheeler Lake."
What was your overall impression of your experience at the event?
"It was a great event! I love the tournaments that ACA puts on it is always a great event. I think they made the right call making it a one-day even though the weather came in a little earlier than we had planned. The roads might have refroze over night and the ramps would have been very bad to get in and out of. The people of ACA really treated us right with the meeting and the food provided. It was awesome to have all the prizes given out."

Anyone you want to thank?
"I would first off like to thank God for blessing me with the opportunity to be able to fish these tournaments and blessing me with that big fish. Without him nothing I have done would be possible. I would also like to thank my parents for supporting me and my fishing adventures and especially my dad for taking me so much when I was a kid and getting me addicted to fishing. I would also love to give a huge thanks to Garry Mason and Kenny Louden, they are the team coaches and without them I wouldn't be at Bethel and wouldn't have this opportunity to fish for a scholarship. Garry Mason recently had a heart attack and wasn't supposed to come to the tournament but they couldn't keep him from coming. I was shocked to see him there but was so glad that he came."
Evan was able to take home a full boatload of awesome prizes with his three fish he brought to the scales. The prizes he won included:
$2,000 Power-Pole Gift Certificate
$2,050 in Cabela's Gift Cards
GiLL IN6 Jacket & Bibs (Est Value $379)
Mustang PFD
1 Pair of Costa Sunglasses
$100 Ranger Wear Gift Card
1 Engel Cooler
Berkley baits
Berkley Tackle bag w/ baits & line (Est Value $75)
Congrats to Evan and all the anglers who took home prizes at the Cabela's Collegiate Big Bass Bash presented by Berkley.  We would like to thank all of our great partners that help us make this event possible. We are off to the next ACA event on Lake Dardanelle in Arkansas for the Cabela's Collegiate Bass Fishing Open on March 24-26, 2017.
https://www.collegiatebasschampionship.com/wp-content/uploads/2016/11/CabelasCollegiateBigBassBash_Logo.png
402
559
Shelley
https://www.collegiatebasschampionship.com/wp-content/uploads/2023/03/2022_CBFS_JM-White-300x194.png
Shelley
2017-03-14 15:18:20
2017-03-30 15:35:00
Bethels Evan Owrey Takes Top Honors at Cabela's Big Bass Bash Presented by Berkley