Bryan College Duo of Fain & Kendrick Take Day 1 Lead at BoatUS Collegiate Bass Fishing Championship presented by Bass Pro Shops
FLORENCE, AL (6/10/2020) – Day 1 is in the books for the 2020 BoatUS Collegiate Bass Fishing Championship presented by Bass Pro Shops on Pickwick Lake.  The action began bright and early this morning at 5:30 AM and the anglers went right to work on catching keeper size fish.  Conditions proved conducive to catching bass as we saw a great deal of fish cross the stage at McFarland Park in Florence, AL.  Bailey Fain and Preston Kendrick from Bryan College brought in the biggest limit of bass today to stake claim to first place with 19.82 pounds.
"Coming out of practice, we had no idea what to expect," said Fain.  "We didn't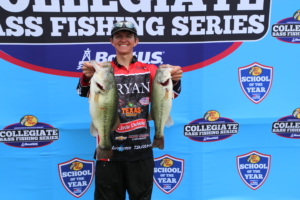 really have much confidence in anything.  We're grateful to have gone out and caught what we did."  Having one day of competition still to go, anglers were fairly tight-lipped when it came to divulging information about how they caught their fish.  From the sound of it, they were able to capitalize on a school of feeding fish early this morning.  That brief window of time was good enough to place these Bryan College anglers at the front of the pack entering Day 2.  "We're very grateful to be in the position we are in," said Kendrick.  "These are some of the best anglers out there, and we're just glad to be where we are at."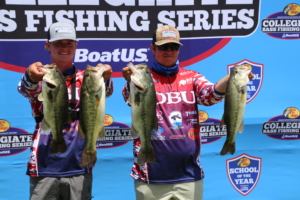 Sitting in second place are Mark Harris and Cameron Rhodes from Dallas Baptist University.  This team from the great state of Texas weighed in 19.08 pounds and trails first place by just less than a pound.  "We expected to have a decent bag today, didn't expect almost 20 pounds considering we didn't catch one over three and a half in practice," said Harris.  Working Texas rigged soft plastics around patches of hydrilla just off of the main river channel, the DBU anglers caught quality fish throughout the day.  Beginning about 8:30 AM this morning, we started receiving updates from them out on the water.  The fish catching continued most of the day, and one of our camera crews caught up with them later in the afternoon and watched them boat one small fish.  They are optimistic about the prospects of their pattern entering Day 2.  "We hope that our spot refills so we can do it again tomorrow," Rhodes added.
The next five teams in the standings are all ranked in the Top 5 for the Bass Pro Shops School of the Year presented by Abu Garcia:
3. James Willoughby & Chance Schwartz, University of Montevallo – 18.33 lbs
4. Tyler VanBradt & Jarrod Layton, Adrian College – 17.98 lbs
5. Blake Jackson & Trevor McKinney, McKendree University – 16.84 lbs
6. Jacob Autry & Ryan Park, Murray State University – 16.66 lbs
7. Lucas Lindsay & Logan Parks, Auburn University – 16.54 lbs
Click here for complete standings.
One item that will jump out at you from taking a look at the standings is how close the weights are all stacked together.  Roughly four pounds separates fifth place from 60th overall.  There were plenty of quality bags in that 12-14 pound range.  That will definitely make things very interesting tomorrow.  Any team with approximately 14 pounds or above is capable of catching a good bag and overtaking the lead on Day 2.  This is Pickwick Lake, and the big fish live here.  One Tennessee River giant paired up with some quality keepers could push a team over that 20 pound mark and lead them straight to victory.
The race for Bass Pro Shops School of the Year presented by Abu Garcia is cranking the pressure up on the top teams as we sit here on the eve of the final day of the season.  Both Murray State and Montevallo have two teams inside of the Top 13 following Day 1.  That puts them directly in the rear view of McKendree University who will definitely be fighting the urge to peak over their shoulder and see who lingers close behind.  McKendree's highest two teams currently sit in fifth and 20th overall.  If they are able to maintain, or increase, those positions on the leaderboard following Day 2, the title will be all their's.
Tune in tomorrow beginning bright and early to follow along with the Live Blog and see how the tournament unfolds on the final day of the 2020 BoatUS Collegiate Bass Fishing Championship presented by Bass Pro Shops on Pickwick Lake.
https://www.collegiatebasschampionship.com/wp-content/uploads/2020/06/IMG_9413-scaled.jpg
1707
2560
Kyle Curry
https://www.collegiatebasschampionship.com/wp-content/uploads/2021/05/2019-BPS_CBFS_logo-300x179.png
Kyle Curry
2020-06-10 18:00:50
2020-06-10 18:02:23
Bryan College Duo of Fain & Kendrick Take Day 1 Lead at BoatUS Collegiate Bass Fishing Championship presented by Bass Pro Shops