BoatUS Foundation Asks Boaters to Support Safety, Clean Water on Giving Tuesday Nov. 28
BoatUS Foundation asks boaters to support boating safety, clean water programs
ANNAPOLIS, Md.– Giving Tuesday, November 28, kick-starts the season of charitable giving. Always celebrated on the Tuesday following Thanksgiving, Black Friday, and Cyber Monday, this national day of donating also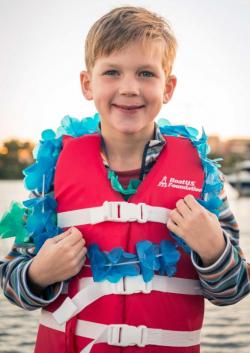 offers boaters ways to give back to boating. The BoatUS Foundation for Boating Safety and Clean Water asks boaters, sailors and anglers to consider a donation to the boating nonprofit to help support its efforts to reduce boating accidents and increase stewardship of our waterways. Tax-deductible donations can be made at www.BoatUS.org/givingtuesday.
"'Give Way' to Giving Tuesday helps recreational boaters understand this is the time of year to give priority to the things we cherish: safe outings on clean waters," said BoatUS Foundation Assistant Director of Boating Safety Ted Sensenbrenner.
Since 1981, the 501(c)(3) Foundation has offered the largest national life jacket loaner program for kids at more than 575 locations across the United States, the only free online boating-safety course that's taken by more than 100,000 boaters each year and officially recognized by 36 states, and has funded more than $1.3 million in local boating-safety and clean-water grants allowing local communities to have a positive impact on their own waters.
Headquartered in Annapolis, Maryland, most of the Foundation's funding comes directly from boaters and waterway users. To make a donation this charitable season or learn more, go to BoatUS.org/givingtuesday.
###
About the BoatUS Foundation for Boating Safety and Clean Water:
The BoatUS Foundation for Boating Safety and Clean Water is a national leader promoting safe, clean and responsible boating. Funded primarily by donations from the more than half-million members of Boat Owners Association of The United States (BoatUS), the nonprofit provides innovative educational outreach directly to boaters and anglers with the aim of reducing accidents and fatalities, increasing stewardship of America's waterways and keeping boating safe for all. A range of boating safety courses – including 36 free state courses – can be found at BoatUS.org/courses.
https://www.collegiatebasschampionship.com/wp-content/uploads/2017/07/BoatUS_BoatRamp.png
246
427
Amanda
https://www.collegiatebasschampionship.com/wp-content/uploads/2023/03/2022_CBFS_JM-White-300x194.png
Amanda
2017-11-15 12:01:41
2018-03-05 13:26:43
BoatUS Foundation Asks Boaters to Support Safety, Clean Water on Giving Tuesday Nov. 28