Cabela's Collegiate Big Bass Bash presented by Berkley Wraps Up on Kentucky Lake
Brrrrrrrrrr!! That was the feeling for the first 2017 event of the Cabela's Collegiate Bass Fishing Series.  With a chance of snow showers expected late in the day, and seven to ten mile an hour winds forecasted, no one figured that by 7:00am there would be a solid covering of snow plus  strong winds out of the north. The format of the 2017 Cabela's Collegiate Big Bass Bash presented by Berkley had already been changed from a two-days event to a one-day event due to the chance of inclement weather on Sunday.
"The first thing that comes to my mind with these events is the safety of the anglers. With the chance of inclement weather moving in late Saturday I felt moving this to a single day event was best. There is nothing we do that is worth putting these young men and women in a dangerous situation," said Wade Middleton, Director of the ACA and President of CarecoTV.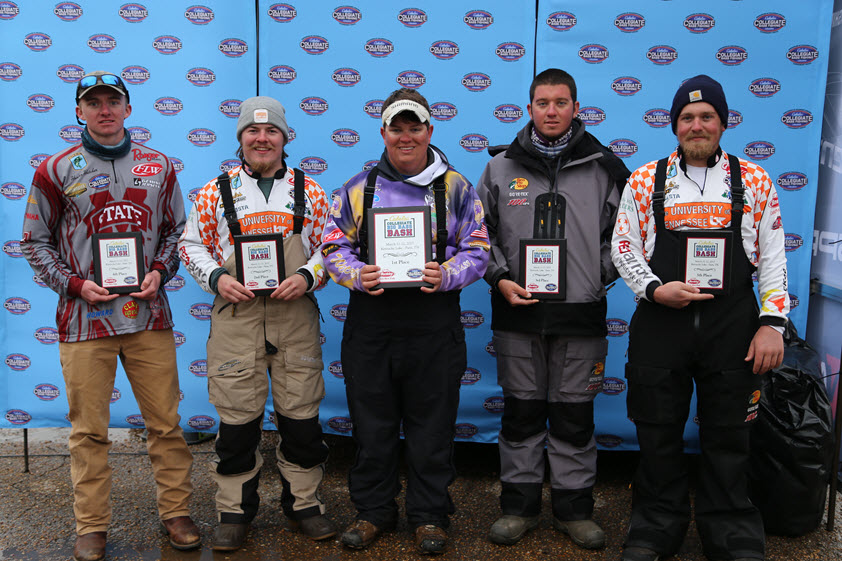 With 519 anglers competing from 84 schools across the nation, Cabela's Collegiate Big Bass Bash presented by Berkley was the largest collegiate bass fishing tournament to date! And these 519 anglers really showed a ton of maturity with how well they handled the weather this morning.  Once the snow let up around 9:30am, the fish became more and more active throughout the day.  Most of the reports from the early weigh-in sessions were that the anglers were still concentrating on the same areas they had pre-fished and fishing different reaction baits to get those early bites. Rattletraps were by far the key bait early, but the old springtime staple of the red trap seemed to be tied on in every boat.
As the snow left the area the wind also subsided, giving the teams the opportunity to crank up the big motors and make runs to other areas they wanted to go to look for that big bite.  Being a big bass event, it takes a different mindset as all it takes to win is that one big bite.  As the day progressed, anglers started to use a variety of baits such as Alabama rigs, jerkbaits, shaky heads and big swimbaits.
In each of the 8 sessions it took at least a 5lb plus bass for first place.  We saw the quality and quantity of the fish increase.  It was really special to see that the anglers stuck out the bad weather and continued to fish throughout he day bringing in fish after fish.
Here are the first place finishers for each session – over $30,000 in prizes were awarded:
Session One: Gavyn Bridges, University of Tennesssee Chattanooga – 5.27lbs
Session Two: Spencer Guthrie, Kennesaw State University – 5.74lbs
Session Three: Corey Neece, Tusculum College – 7.57lbs
Session Four: Vika Zaderej, Southern Illinois Unversity – 6.56lbs
Session Five: Scott Ellis, University of Tennessee-Knoxville 7.59lbs
Session Six: Cody Huff, Bethel University – 6.85lbs
Session Seven: Evan Owrey, Bethel University – 8.49lbs
Session Eight: Nathan Bell, Bryan College – 6.81lbs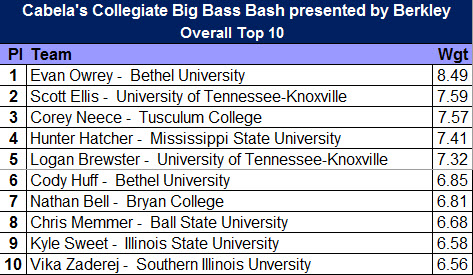 To see the complete results from the 2017 Cabela's Collegiate Big Bass Bash Presented by Berkley, click here:  
Complete Session Results
We would like to give all of our partners a big thank you for all the support for this event – without this support, we wouldn't be able to put on such a great event.
To see additional coverage on our Facebook, click here: https://www.facebook.com/CollegiateBassChampionship
Also, follow us on Instagram and Twitter at @CollegiateBass
About the ACA
The Association of Collegiate Anglers, a division of Careco TV, is a sanctioning body developed to facilitate growth, development, and structure within competitive collegiate bass fishing.  The ACA provides support to dozens of school operated regional events nationwide and owns the Cabela's Collegiate Bass Fishing Series, the largest participatory collegiate tournament circuit in the country. With dedicated collegiate fishing programming on several television networks, three nationally televised collegiate bass fishing events, and thousands of members, the ACA is the leader in competitive collegiate bass fishing.  For more information on the ACA, or the Cabela's Collegiate Bass Fishing Series, visit www.CollegiateBassChampionship.com. For more information on Cabela's visit Cabelas.com, for more information on CarecoTV, visit www.carecotv.com.
https://www.collegiatebasschampionship.com/wp-content/uploads/2016/11/CabelasCollegiateBigBassBash_Logo.png
402
559
Shelley
https://www.collegiatebasschampionship.com/wp-content/uploads/2023/03/2022_CBFS_JM-White-300x194.png
Shelley
2017-03-11 15:08:10
2017-03-28 15:18:03
Cabela's Collegiate Big Bass Bash presented by Berkley Wraps Up on Kentucky Lake