Bethel Anglers Claim Championship Title
FLORENCE, AL. (May 25, 2018) – Today 330 of college fishing's best anglers took to Pickwick Lake with hopes of taking home the title, and tonight only two competitors leave with the championship trophy.  Carter McNeil and Cole Floyd of Bethel University are the winners of the 2018 BoatUS Collegiate Bass Fishing Championship.  Bringing 25.12 pounds to the scales on Day 2, Mcneil and Floyd best the field by more than six pounds with a two day total of 47.75 pounds.
The Day 1 leaders entered the final day of tournament competition with a slim lead over second place.  Leading by 0.03 pounds, their margin of error was small. "We knew we had to bust them. We knew we had some guys on our tail," says Floyd.  By 7:45 am their nerves began to settle.  McNeil and Floyd had a limit weighing 11 pounds in the box within the first hour and a half of tournament competition.
From there on out, the pair went to work upgrading their limit.  Fishing multiple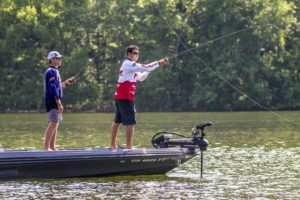 offshore spots, the Bethel anglers knew it was paramount to manage their fish, "We had several different schools of fish, and we went in with a gameplan.  We're going to take our best so many and we're going to rotate them," recounts McNeil.  Working a variety of baits including crankbaits, soft plastics, and a jigging spoon, at around 8:15 am they culled up significantly.  The team landed one fish weighing four and a half pounds, and another weighing six pounds.  Those two fish catches boosted their bag well up over 19 pounds at the time.  "I think we managed our time right on it, and hit it at the necessary times.  Just rotating them schools and jumping back and forth really paid off for us today," said McNeil.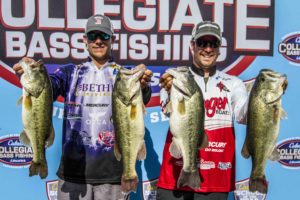 Good decision making paid off to the tune of 25.12 pounds and a championship title for Carter McNeil and Cole Floyd.  With little to no experience on Pickwick Lake entering the event, Floyd is overjoyed with today's result, "Just going out there and catching the winning bag on the place, it made it really special."  His fishing partner Carter McNeil is also overcome by their achievement, "It feels awesome, this is what every college kid dreams of.  We really focused, and grinded through practice and the tournament.  We are fortunate and blessed to come up with some fish that got us this championship."
Finishing in second place when the scales closed was the Bryan College team of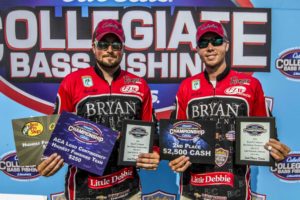 Nathan Bell and Cole Sands.  Having fished this event before, Bell is pleased with how his boat finished, "I think my highest finish in this tournament has been a 94th.  It's kind of been my jinx in my college fishing career.  We're super thankful to come in second.  It's a big deal."  Entering today outside of the top five, sitting in seventh place, they were nearly four pounds out of first place.
Our crew caught up with them mid-morning and the Bryan College pairing was working on a good bag.  An early afternoon cull had Nathan thinking they might have a shot at the title, "We got a big bite right there at the end that was able to cull us up about three and a half pounds.  We were thinking, man we might have a shot but we didn't know those guys were going to blast them."  At the end of the day, finishing second overall in a field made up of the nation's best is still a major accomplishment.  The second member of the tandem, Cole Sands , understands the magnitude of this moment for his team, " We're ecstatic and extremely blessed to have this finish."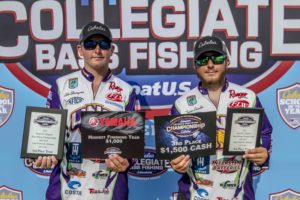 Rounding out the top three for the BoatUS Collegiate Bass Fishing Championship presented by Cabela's is a pair of anglers from the University of North Alabama.  Triston Crowder and Lake Blasingame weighed in 18.10 pounds to finish with a two day total of 40.70 pounds.  The pair of local anglers entered today just 0.03 pounds outside of first place.  Of the field entering today, they had the smallest margin to make up in order to claim first place.  Although they would have liked to win, Crowder has no complaints about finishing in third, "I'll lose to Nathan and Cole from Bryan, and I'll lose to Cole and Carter from Bethel.  They're really good fishermen.  It just don't bother me that they beat me."
Last year, the UNA team of Sloan Pennington and Hunter McCarty won this very tournament.  There has never been a school repeat back to back as champion in this event, and these two entered today looking to capitalize on the opportunity. "We definitely wanted to win.  Not only to keep the trophy here in Florence, but just because it's been a dream of both of ours for a long time," said Blasingame.  Once the weights were finalized, Crowder and Blasingame fell shy of accomplishing their dream and making history, but they are pleased with their third place showing.
To view the complete standings, click here.
Following the conclusion of the final weigh-in, a champion was named in the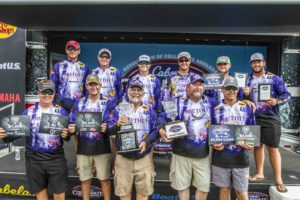 Cabela's School of the Year presented by Abu Garcia.  Bethel University entered this event with over a 600 point lead, and they are leaving Florence as the best school in the nation.  The University of North Alabama, and Murray State University rounded out the top three in that order.  In the coming days we will post the results and a complete recap for the 2018 Cabela's School of the Year presented by Abu Garcia.
We would like to send a special thanks to the City of Florence for being such a cordial host this week, welcoming everyone into their town.  As well as acknowledge BoatUS and Cabela's for being presenting sponsors of this championship.
https://www.collegiatebasschampionship.com/wp-content/uploads/2018/05/bethel-feature-image-1.jpg
600
1000
Shelley
https://www.collegiatebasschampionship.com/wp-content/uploads/2021/05/2019-BPS_CBFS_logo-300x179.png
Shelley
2018-05-25 22:30:07
2018-06-06 12:57:05
Bethel Anglers Claim Championship Title