Bass Pro Shops Big Bass Bash presented by Berkley Rule Twist
During day two of the Big Bass Bash only artificial Berkley baits will be allowed
We are just 2 weeks away from lines in for collegiate anglers competing in the 2019 Bass Pro Shops Big Bass Bash presented by Berkley.  Starting March 9th, hundreds of the best college anglers from across the nation will be exploring the waters of Kentucky Lake in search of the biggest bass they can catch.  This two-day event has a long standing tradition of being one of the most well attended, and competitive events in college fishing.  2019 promises the same prospects, along with a little bit of a twist.
The first of those twists is in regards to point total allotments towards the Bass Pro Shops School of the Year presented by Abu Garcia. Due to the first ACA event of the year being cancelled due to flooding, there will be opportunities to earn bonus points at the Big Bass Bash to make up for this missed event. Points will be awarded based upon: Day 1 Sessions – winners of each session will receive 50 bonus points; Day 2 Sessions – winners of each session will receive 100 point bonus points.
Next, the second twist will occur on the final day of competition (Sunday, March 10th).  All contestants must use Berkley baits exclusively.  Reference the official rules for further clarification on this subject.  Berkley, the presenting sponsor of this event, boasts a wide-ranging list of quality baits and lures designed for the hard core tournament angler.  From terminal tackle, to soft plastics, as well as hard baits, competitors will have many products to choose from to fill their tackle box for day 2 of competition to allow them to win prizes as well as earn points towards the School of the Year title.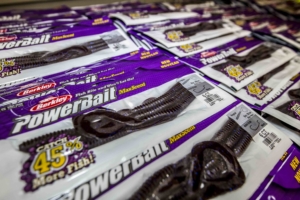 In a recent interview with Abu Garcia and Berkley Pro Staff member Jordan Lee, we had an opportunity to ask the Major League Fishing pro, and two-time defending Bassmaster Classic Champion, about a three step approach to Kentucky Lake.  Below are comments and insight he had to offer when choosing the right Berkley product to catch these Tennessee River bass.
"I feel like that time of year on Kentucky Lake, there's no doubt an Alabama Rig is going to be a bait that I'm going to have on the deck of my boat," said Lee.  The first bait he offers up as a viable option is the Alabama Rig.  On this type of setup Lee says he likes to use either the PowerBait Power Swimmer in the 3.8 in. model, or a PowerBait Hollow Belly.  Working this rig along points leading into spawning areas can be very effective.  Lee believes that in an event of this format, the Alabama Rig could be the deal, "That's definitely going to be a key bait to catch those bigger fish."
Next in Lee's three-pronged approach to catch Kentucky Lake bass in early March is the shaky head.  This time of year, cold fronts and difficult conditions tend to rear their ugly heads.  In such instances, anglers are left dealing with a tough bite out on the water.  Downsizing and attacking the fish with a finesse presentation such as a shaky head may be the best bet.  "I like the Berkley General for that.  That's a really good bait if the conditions slick off and it's a little bit tougher," added Lee.  To view the full lineup of Berkley soft plastics, click here.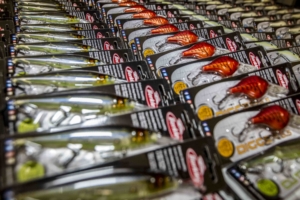 Last, the seasoned pro says he would tie on a crankbait.  "If the water is muddy, I feel like a crankbait is going to be a player," said Lee.  His crankbait of choice in this scenario would be the Berkley Digger.  This top of the line crankbait is available in a wide range of sizes and color patterns.  Working this bait around shallow, possibly flooded, cover can trigger a reaction bite from the pre-spawn bass of Kentucky Lake.  Follow this link to view the Berkley Digger crankbait.
Last year's event saw extraordinary numbers of large fish cross the scales.  Big bass was nearly 10 pounds, and it took at least a five pounder to place in the top 10 of most every session.  Be sure to stock up on Berkley baits as we get closer to the start of the 2019 Bass Pro Shops Big Bass Bash presented by Berkley.  As the event nears, we will continue to provide more information about this big bass format tournament.
For more information about the Bass Pro Shops Collegiate Bass Fishing Series, please visit www.CollegiateBassChampionship.com.
Stay up to date and Follow Us!
Facebook –  https://www.facebook.com/CollegiateBassChampionship
Instagram – https://www.instagram.com/collegiatebass/
Twitter – https://twitter.com/collegiatebass
Subscribe to our videos!
YouTube –  https://www.youtube.com/user/CollegeBassFishing
Listen to our #WeAreCollegiateBass Podcast!
About the Association of Collegiate Anglers
The Association of Collegiate Anglers (ACA), a division of CarecoTV, is a tournament organization created to facilitate growth, development, and structure within competitive collegiate bass fishing.  The ACA created the original BoatUS Collegiate Bass Fishing Series,14 seasons ago, which is now the Bass Pro Shops Collegiate Bass Fishing Series, and the longest running collegiate bass fishing series in existence.  The ACA provides support to dozens of school operating regional events nationwide, and owns the Bass Pro Shops Collegiate Bass Fishing Series, Bass Pro Shops School of Year Program, and associated assets.   The ACA also provides the largest amount of televised coverage of any collegiate fishing series with dedicated programming on several television networks ranging from Discovery Channel, CBS Sports, NBC Sports, Pursuit Channel, World Fishing Network, as well as other regional and national networks.  For more information on the ACA or the Bass Pro Shops Collegiate Bass Fishing Series, visit www.CollegiateBassChampionship.com. For more information on Bass Pro Shops, visit www.BassProShops.com.  For more information on CarecoTV, visit www.CarecoTV.com.
https://www.collegiatebasschampionship.com/wp-content/uploads/2018/06/BIG-BASS-BASH-EVENT-GRAPHIC.jpg
600
600
Shelley
https://www.collegiatebasschampionship.com/wp-content/uploads/2023/03/2022_CBFS_JM-White-300x194.png
Shelley
2019-02-21 11:00:22
2019-02-21 13:56:35
Bass Pro Shops Big Bass Bash presented by Berkley Rule Twist