2018 AFTCO Collegiate Bass Open on Lake Dardanelle Recap from Tristen Turley
Written by: Trisen Turley, Oklahoma State University
Garrett Brown and Tristen Turley of Oklahoma State University recently fished in the AFTCO Collegiate Bass Open on Lake Dardanelle. Turley shares his experience with bass fishing the tournament and what he learned in a brand new setting. Though his team didn't win, it was an educational experience that gave the team confidence.
Going into the AFTCO Collegiate Bass Open on Lake Dardanelle, I had no idea what to expect. I had never fished a river system, and my teammate Garrett Brown and I only had the day before the tournament to practice. We fished the whole first day and ran around the lake with only one fish to show for when we loaded the boat up at the end of the day. It was discouraging not having a pattern to follow, or spots that we knew held fish. So, we planned to go into day one of the tournament with an open mind and hopes of building a pattern as the day went on.
After the national anthem, a short prayer and live-well checks, we raced out as boat 77 out of 215. We stopped at any place along the lake that seemed like it would hold fish: current breaks, lay-downs, docks, rip-rap. We figured out that the fish were holding on a stretch of rip-rap right off the main lake, so we used square bills and Rat-L-Traps to crank along the rocks. Then, later that day, we found a series of docks not too far from the takeoff that were holding fish. Here we used a mixture of squarebills, spinnerbaits, creature baits, and swing-head jigs to catch our fish and before we knew it, we had five fish in the boat for about 11 pounds.
Some of my bigger bites came from casting a swing-head jig on ledges and flipping a creature bait to docks. I like to throw a ½ oz. Strike King jointed structure-head paired with a green pumpkin Strike King rage bug. I throw this bait in deeper water, on the ledges that lead up to docks, grass mats, etc. Anyplace where fish will hang-up off shore in deeper water. Also, I flipped docks with a Texas-rigged structure bug, with a 3/8 oz. Woo! Tungsten weight. Many of the fish I caught were sitting in places you couldn't get any other bait, so flipping was crucial. I threw both baits on a 7'2" Lew's TP1 Black rod with a Lew's 8.0:1 Super Duty reel. I was using Kast King 30 lb. KastPro braid to ensure that I never broke off any fish.
The second day of the tournament, we ran back and forth between the two spots we had discovered the previous day. The forecast called for pouring rain all day and sure enough, they were right.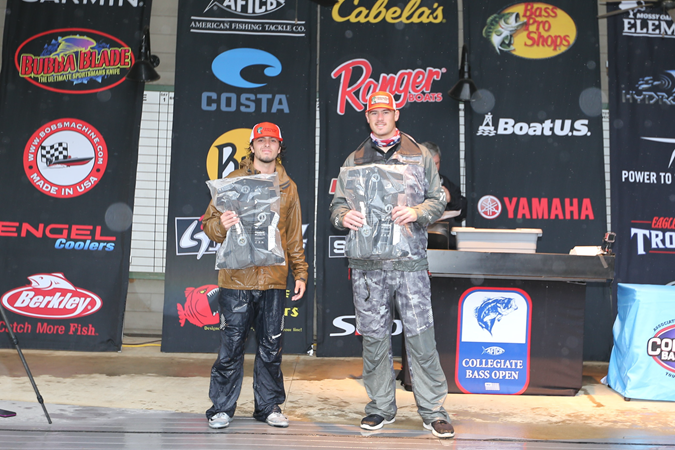 As it poured, we knew that fish would start to cling to cover. So, the key for getting our bites on day 2 was dragging our baits as close to the cover as possible. Day 2 treated us a little better, with a 5-fish limit that went nearly 12 pounds. However, I lost a fish that cost us the first place finish on one of my last casts.
The second day, it seemed as though my cranking rod never left my hand. I used a 7' medium heavy Phantom made by Favorite rods, paired with a 7.0:1 Quantum Icon reel. I cranked either a Bill Lewis Rat-L-Trap, or a Bill Lewis Echo 1.75. Both baits were responsible for helping us maintain a successful day on Dardanelle.
It's frustrating knowing that I lost the fish that could've won the whole tournament, but it felt awesome knowing that my partner and I came to a lake with little to no experience and put a plan together that landed us a 14th place finish out of 215 of the best collegiate anglers in the nation. It was truly a blessing to fish and learn alongside the other college teams competing, and I want to thank Cabela's and all the other sponsors for hosting such a great event.
https://www.collegiatebasschampionship.com/wp-content/uploads/2018/10/IMG_7558-Lo.png
450
675
Shelley
https://www.collegiatebasschampionship.com/wp-content/uploads/2023/03/2022_CBFS_JM-White-300x194.png
Shelley
2018-10-29 15:31:30
2018-10-29 15:44:48
2018 AFTCO Collegiate Bass Open on Lake Dardanelle Recap from Tristen Turley