September to Remember Event Offers Great Deal on Tactacam Fish-i Camera
SAN ANTONIO, TX (September 22, 2020) – The month of September is an exciting time of the year.  Leaves are changing colors, cooler temperatures are sweeping across the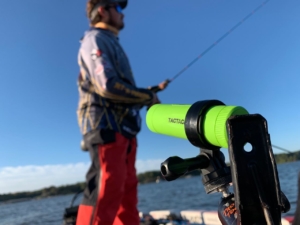 country, and people are spending more time in the woods and on the water.  Tactacam Fish-i is adding to the fall time excitement with its September to Remember event.  Tactacam Fish-i is currently running a special offer through the end of the month.  Shoppers can purchase a Fish-i camera, receive free shipping, and get a free SD Card for $199.
An affordable, perfect option for the Collegiate angler, Tactacam Fish-i offers students the perfect compact camera package to film their experience.
Waterproof up to 30ft, Fish-i captures angling action both above and below the water. Its lightweight construction allows it to pair well with any boom-stick, hat cam, or standard action camera mount on the market, and when two or more cameras are used with the remote, anglers can control all cameras with the simple press of the Tactacam Remote power button while capturing footage from a variety of angles.
This September, Tactacam will offer its replaceable lens system and direct-power back-cap for Fish-i, which will give anglers even more options. A 2x zoom and ultra wide lens will allow for unique shots and camera angles, and the direct-power back-cap will allow for all-day power on the water.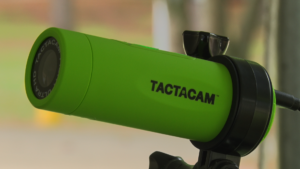 Tactacam Fish-i offers three film modes for anglers: standard film mode, time-lapse mode, and its unique loop record mode. The loop record mode offers unique back-save technology, which allows anglers to back-save the last  3, 5, or 10 minutes of action saving SD card space and time. When paired with the Tactacam remote, if all cameras are in loop record mode, all can be back-saved with the simple push of a button.
When paired with the Tactacam app, anglers can also adjust film speeds, color, and customize the way that their footage looks. The app also allows some footage trimming and easy sharing through any smartphone to social media.
Fish-i films in 1080 HD and has a low light sensor as well as a waterproof microphone. Combined with its waterproof, durable shell, quick change mode button, external battery indicator and rugged construction…this camera is made to perform on and under the water.
Tactacam Fish-i provides discounts and promotional opportunities to college anglers.  Student anglers are eligible for a 30% discount on cameras & mounts.  Follow this link to apply for the discount code.  Secondly, collegiate anglers have the chance to be part of Team Tactacam.  Team Tactacam is a pro staff style opportunity where collegiate anglers receive products and discounts in return for their use and promotion of the Fish-i camera throughout the season.  Learn more by visiting our website.
https://www.collegiatebasschampionship.com/wp-content/uploads/2020/09/101315.jpeg
960
1280
Kyle Curry
https://www.collegiatebasschampionship.com/wp-content/uploads/2023/03/2022_CBFS_JM-White-300x194.png
Kyle Curry
2020-09-22 15:08:57
2020-09-22 15:08:57
September to Remember Event Offers Great Deal on Tactacam Fish-i Camera